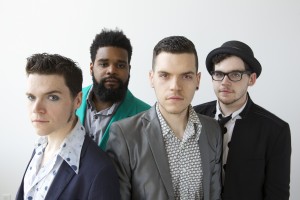 Charleston, SC four piece, A Fragile Tomorrow are releasing their fifth studio album Make Me Over, their label debut from MPress Records. The album was self-produced and self-engineered, recorded at Low Watt Recording studios in Savannah, GA the studio run by band members Sean and Dominic Kelly, identical brothers. They mixed it with Grammy® winning producer Malcolm Burn. Make Me Over is being released October 16.
Make Me Over is saturated with the transformative/transgressive air of rock n' roll androgyny inhabiting songs that are complex yet immediately infectious. The album explores new sonic territory for the band inspired by the bold aesthetic explorations of David Bowie, T. Rex, and Brian Wilson as well as the frantic energy of Cheap Trick and The Who. Their performances are thick and swirling with dense layers of multiple guitars and heady vocal harmonizing.  Special guests include folk legend Joan Baez, Amy Ray and Emily Saliers of Indigo Girls, Mark Hart of Crowded House, Vicki Peterson of The Bangles, and John Cowsill of The Beach Boys.
The group was formed in 2003 by Sean, Dominic (both of whom live with cerebral palsy) and their brother Brendan in their parents' basement in NY state's Hudson Valley, named in honor of Sean and Dominic's triplet brother who passed away some eight years earlier; Shaun Rhoades joined in 2006. That same year, they released their debut album, Wishful Thinking.  Early 2008 saw the release of the group's second album Beautiful Noise, produced by Grammy® award-winner Malcolm Burn (Emmylou Harris, Patty Griffin, and Patti Smith, among many others).  In 2009, they recorded their third record "Tripping Over Nothing," with singer-songwriter Danielle Howle producing and Amy Ray, songstress Susan Cowsill, and smart-pop legend Peter Holsapple contributing. Sean and Dominic also made an appearance on Indigo Girls' live Staring Down the Brilliant Dream album as well as Amy Ray's 2012 solo release, Lung of Love.
From late 2010 through early 2011, A Fragile Tomorrow joined Indigo Girls on tour, then later that year were invited to tour with The Bangles, the band's West Coast debut. More high-profile gigs followed throughout 2012, as they shared bills with Antigone Rising, Garrison Starr, Drivin' N Cryin', and Matthew Sweet. One Massachusetts critic who caught them opening for Sweet proclaimed AFT as "everything that is right with music."
In the midst of this hectic touring schedule, A Fragile Tomorrow nonetheless found time to record their fourth record, Be Nice Be Careful, with pop-auteur Mitch Easter (R.E.M., Pavement, etc.) and Ted Comerford co-producing. This batch of songs showed considerable growth not only as songwriters, but as musicians.
Audiophile Reviews said "Be Nice Be Careful redefines power-pop for the 21st Century", while SomethingElse Reviews boasts that "their smart sense of purpose, and a determination well beyond their years, ensures that A Fragile Tomorrow holds its own, even among much more famous contributors. This album ought to be the one that gets them there, too"
Following this album's release, the band toured the United States and Europe extensively and released a live album from the European leg of their touring "Belgique: Live at AB in Brussels" in 2014.
Since their inception A Fragile Tomorrow has won the respect of fans and fellow musicians alike through their venerable work ethic, stellar musicianship… and fans in high places!
https://www.facebook.com/afragiletomorrow