Bagetta, Keltner and Watt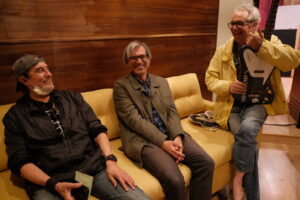 Everywhen We Go is the second in-studio convocation of the avant-garde, dream-team "power" trio of guitarist Mike Baggetta, Jim Keltner on drums and bassist Mike Watt; the "power" proceeding from the unfettered, visionary inventiveness of their performances delivered via explosive raw creative energy and prodigious instrumental prowess. The album mostly stems from a single day of recording at BIG EGO Studio in Long Beach, California with Chris Schlarb producing. Most compositions are by Bagetta with one by watt and two by the wole group. Everywhen We Go is being released on 12" vinyl LP, digital download and via streaming platforms on Schlarb's BIG EGO Records label November 18.
Jason P. Woodbury's liner notes shed invaluable light on the undertaking:
"There's a scene in The True History of The Traveling Wilburys short documentary in which the viewer is treated to footage of drummer Jim Keltner furiously smacking his sticks on cabinet doors, refrigerator shelves, and other surfaces in Dave Stewart's kitchen, trailed by a microphone capturing his every move. I keep thinking about that funny scene while listening to Keltner's playing on Everywhen We Go, the second album from the trio comprising the drummer, guitarist Mike Baggetta, and bassist mike watt. Everywhen is a much sparser and direct example of Keltner's rhythmic sensibility, don't get me wrong, but the same manic spirit is at work across the album's nine songs. Everywhen is a playful and forceful outing, a sprightly tangle of sand dune guitars, Los Angeles noir, spazzouts and honey-toned pastorales. Like Keltner in the kitchen, these lifers – whose back catalog spans the avant-garde, various Beatles solo albums, The Stooges, and strains of outsider punk and rock expression – are at play on the recording.
"Like 2019's Wall of Flowers, which found Baggetta, watt, and Keltner assembled for the first time with producer Chris Schlarb at BIG EGO, these selections were mostly captured over the course of a single day in Long Beach on November 23rd, 2021. Additional acoustic guitar overdubs were done near Baggetta's home in Florida, but the bulk of the tracking took place in that one extraordinarily generative day. A sense of possibility just on the edge of comfort fills these recordings, and the interplay is captivating. On 'Fake Break,' a Baggetta original, the rhythm section locks into a steady groove, giving the guitarist a chance to alternate between muted distorted riffs and slippery George Harrison-style slides. And is that a second Keltner drum kit overdub on the chorus? Then there's the watt composition 'Yank It Out,' a showcase for Keltner's dizzying rhythmic wonkiness and truly out there free playing from Baggetta and watt. Over and over again, things bloom in unexpected ways: a rock riff unlocks into a pocket universe of meter-less groove; meditative electric glissandos collapse into lyrical dobro acoustic guitars.
"Baggetta, Keltner, and watt are more acquainted than they were when they cut the first record, but there's nothing here to suggest anything like a comfortable rut. Baggetta riffs and presents wildly inventive melodies and solos, Watt taps into the spirit of primal rock & roll soul expression, and Keltner churns, thunders, and burrows, his sticks continually going some place other than where you expect.
"When there's not a lot of time to do a thing, you have only enough time to do exactly what you're going to do. The music of Everywhen We Go offers a tenuous but exhilarating and defiant kind of existence in the face of non-existence. In these days of considerable woe, it's a powerful thing to have music like this to explore, wander and get lost in. This is music to listen to while striving to stay human in the face of it all."