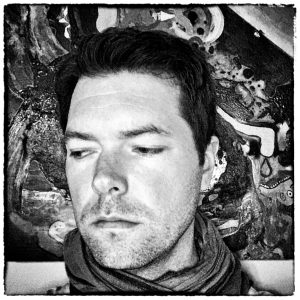 Theater is the second album recorded by the project that goes by the name "Benjamin Jayne," a project that revolves around brother and sister, Benjamin and Amanda Wright. This album was primarily a solo effort, written and recorded by Benjamin with Drew Skinner handling mixing and production and Amanda contributing singing, piano, and bells on multiple songs as well as a new composition of her own. Theater is being released by WhatAboutMusic on May 7th on all major streaming and download platforms: Apple, Amazon, Spotify, YouTube, and some boutique sites such as Qobuz.
The new album is wonderfully crafted. It is more rock-driven than their debut release, HI-LO, but still maintains a good deal of folk/singer-songwriter stylings while adding electronic elements and moving towards psychedelic-folk. Its tone is slightly darker than its predecessor's – not surprisingly since it was written primarily during the tragic and tumultuous year, 2020. Writing and recording these songs served as a catharsis to a lot of the chaos, merging anger, frustration, disbelief, depression, and anxiety, with reminders of youth, an innocence, joy, and hopefulness.
The Wright siblings have been making music independent of one another until early 2018. Amanda has lived abroad in Barcelona for the last 20 years, making music under the name Amanda Jayne as well as more recently teaching English and Spanish, while her brother Benjamin has been living in the States practicing as a Psychiatric Nurse Practitioner in southern Vermont.
Amanda has a background in musical performance and songwriting, primarily piano earlier on and then the accordion when she was playing throughout Europe in multiple bands. She is an established songwriter, having already created multiple albums in the past two decades while working with the record label WhatAboutMusic.
Benjamin also has a background in performance and songwriting, with guitar as his principal instrument. He studied film scoring and jazz performance at Berklee College of Music and played in multiple bands over the last two decades. He also worked as a multi-instrumentalist for hire, playing professionally in Los Angeles for a few years before changing fields from music to Psychiatry.
Their collaboration came as a result of feeling disconnected from one another. They decided to collaborate on music as a means of reconnecting and maintaining their connection. Drew Skinner was recruited early on to handle engineering but also took on a significant amount of production work as well. He was Benjamin's college roommate when the two were studying at Berklee College of Music. Drew comes from a background in electronic music, sound design, production, and engineering.
What was a simple musical conversation gained momentum and passion and they decided to release their accumulated work. Their debut, HI-LO, was released in the summer of 2019 and garnered some high critical acclaim.
Following the excitement they felt working on HI-LO, they decided to continue on and make more music, and Theater is the result. Benjamin predominates on the new album as Amanda had transitioned careers and was not able to spend as much time writing or recording but was still an integral voice in some decisions and performances and contributed the song "Shake the Vaults" and wrote the lyrics to "Running Around."
The entire project continues to be an experiment in having three individuals living worlds apart create music as if they were in the same room. This continues to be a learning process for all involved, but it has become clear that they can create intimate works despite the physical distance between them all.