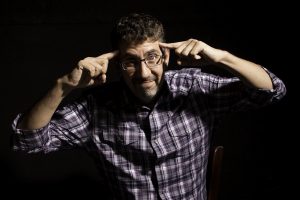 Playland Arcade, Dreadnaught bassist/co-founder Bob Lord's self-produced debut solo album is a convergence point of the disparate elements from what clearly is a remarkably diverse career.  It's being released April 27, 2021 by Bob Lord Music as a digital download and via streaming platforms
Hard-charging prog-rock blowouts, atmospheric orchestral potboilers, gauzy jazz improvisations, retro instrumental pop, straight up foley – this is a producer's album through and through, and it reflects Lord's own artistic experiences in a kaleidoscopic fashion.
The musicianship is as accomplished as it is audacious.  Highlighted by Lord's molten, overdriven 8-string bass and intricate keyboard work, the album features drummer Jamie Perkins from the Billboard chart-toppers The Pretty Reckless (Jon Wyman who produced their album engineered, mixed and mastered all the non-orchestral elements of Playland) and keyboardist Duncan Watt –composer for "League of Legends" —  with cameos by Ed Jurdi from Band of Heathens and Trigger Hippy, Andy Happel of Thanks To Gravity, and the Moravian Philharmonic Orchestra, with percussion recorded in Havana, Cuba.
Bob Lord is a producer, composer, and bassist based in Portsmouth NH USA.  In 1996 Bob co-founded the award-winning group Dreadnaught, described by Relix Magazine as "the country's best 'pure' prog-rock combo."  The band has performed with artists such as John Entwistle (The Who), Tony Levin (Peter Gabriel, King Crimson), and NRBQ, and their 25th anniversary album Northern Burner is set to drop in Summer 2021. "I'm a composer and performer by design, and a producer and music executive by accident," says Lord, "but at the core of it all is my constant urge to expand the definition of creativity, of being an artist, of being a producer, of being a musician."
Lord's resume is a particularly unusual one bolstered by some truly singular credits: with Pete Townshend of The Who, Bob co-produced the double album Method Music by Lawrence Ball, released in 2012 on Navona Records and hailed by Pitchfork for its "wondrous, rippling, and startlingly tactile music." He is also the music producer of Wild Symphony, an orchestral suite composed by the #1 NY Times bestselling author Dan Brown ("The Da Vinci Code") which accompanies the illustrated children's book of the same title released in 2020.  The book is published in more than 40 countries worldwide.
Formed in 2008 to present contemporary classical, jazz, and experimental music, Lord's company PARMA Recordings features work by GRAMMY winner Richard Stoltzman, Pulitzer winner Yehudi Wyner, and Emmy winner Bruce Babcock, among others.  PARMA's music can be heard in products and projects from ABC, CBS, Microsoft, HBO, Nintendo, and many more.  The company currently has more than 30 staff in four countries.
In 2015 Bob was named one of Musical America's "30 Professionals of the Year: Key Influencers," and as CEO of PARMA Recordings his work has been nominated for three GRAMMY Awards in 2019 and 2020. As of this writing Lord has nearly 1,000 recording/production credits on his resume, including the 2016 release Abrazo: The Havana Sessions, one of the first productions by an American music company in Cuba following the loosening of diplomatic relations.  With PARMA, he regularly produces sessions and events in the US, UK, Czech Republic, Croatia, Greece, Malta, Armenia, Russia, Cuba, Slovakia, China, and Poland.
Since 2005 Bob been the Music Director for the New Hampshire Public Radio/The Music Hall series "Writers On A New England Stage" in Portsmouth NH, where he has shared the stage with Margaret Atwood, Salman Rushdie, Patti Smith, Tom Brokaw, Supreme Court Justice Sonia Sotomayor, Alan Alda, Judy Blume, and others. Lord composed the theme song for NHPR's morning show "The Exchange" in 2005, and the music is still featured on the program to this day.  He is President of the Zagreb Festival Orchestra in Zagreb HR, a member of the Board of Trustees of The Music Hall in Portsmouth NH, and on the Advisory Board of the Portsmouth Symphony Orchestra, also in Portsmouth.
www.boblordmusic.com
www.linkedin.com/in/boblordmusic
www.twitter.com/boblordmusic
www.instagram.com/boblordmusic