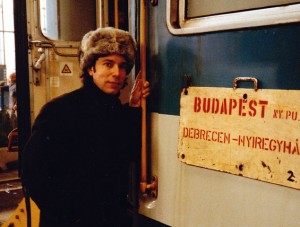 Brian Cullman grew up in New York City with a radio glued to his ear and a passport tight in his fist. Over the years, that radio has gotten larger as the world has grown smaller, and he has been a frequent explorer of the world's hidden musics, from Iran to Senegal, from Morocco to Trinidad, before coming home to his new albumThe Opposite of Time.
There's a long and tangled history behind the album that belies the ease and naturalness of the music, one that takes in years of bumping into and working with some of the most interesting musicians of the late twentieth and early twenty first century.
"When I was 15, I met Lillian Roxon, author of The Rock Encyclopedia," recalls Brian, "and decided to ask if my songs were any good. She said I should play them for her friend Danny Fields, so she dragged me and my crummy guitar down to his house in Chelsea. Danny was the house hippie at Elektra Records, he'd signed The Stooges and The MC5, and he knew everyone. We walked in, and it was dark, there were candles everywhere. Edie Sedgwick was in the corner, in bra and panties, cutting out pictures from Vogue Magazine. Jim Morrison was passed out drunk on the couch. Nico, I was told, was in the bedroom, hiding from Morrison. The phone keptringing. Once it was Leonard Cohen, looking for Nico. Danny told him to go away."
A few years on, still in his teens, Brian took a Summer job in London and found a more sympathetic audience for his songs. "I fell into a crowd of musicians in Hampstead who were all broke, but immensely supportive: John & Beverly Martyn, Nick Drake, Sandy Denny, Richard & along to sing back-up with her on a few sessions, and Nick Drake had me open for him at Cousins, a basement club on Greek Street."
Brian returned to the States and began working with some of the most inventive players on the scene, including Robert Quine, Mark Knopfler, Syd Straw and Vernon Reid. Alongside performing, Cullman worked as a journalist, writing extensively for now legendary publications like Creem, Crawdaddy and Musician as well as Rolling Stone, Spin, Details and The Paris Review, winning the ASCAP/Deems Taylor award for excellence in journalism three times.
His band OK SAVANT featured Sara Lee (Gang of Four, The B-52's) on bass, Steve Holley (Wings, Roxy Music) on drums, and Larry Saltzman (Paul Simon) & Vernon Reid on guitars wasa fixture at CBGB's and through the northeast during the late 80s and early 90s. When the band broke up after the usual record company wrangles, he retreated to the studio, where he oversaw recording sessions for Lucinda Williams, Ollabelle, and Persian-Indian group Ghazal; he collaborated with Senegalese superstar Youssou N'dour, producing a record for African guitar wizard Jimi Mbaye; helmed production on the soundtrack to the documentary Gypsy Caravan, and scored the film Padre Nuestro, winner of the 2008 Sundance Festival. Finally, he began working on his own songs again.
After Sunnyside Records approached him, Cullman began recording an album of new material at Phillip Glass' studio, Looking Glass, working with members of Ollabelle and with guitarist Reynolds, longtime collaborator of Marianne Faithfull. All Fires The Fire was released in 2008 to critical acclaim.
I wish I had a wife or a girlfriend. Every time I put this album into the player, I realize that I am not enough. I prefer to think it is a result of the music rather than myself, for there is a humanity in Cullman's music which is truly larger than life. It needs to be shared to be really appreciated. He uses universal themes, themes so simple and so large that you have to almost isolate yourself to even begin to understand— love, life, fear, loss. All bigger than myself and all somewhat beyond comprehension. They are subjects of a few million other songs, most mundane at best, but which he somehow makes new and fresh. It is the perspective, I guess, and I can't tell if it is his or mine. It doesn't matter, really. I only know that every song on this album strikes home hard. (Frank Gutch, Jr in Rock & Reprise)
His new album continues the work he began with its predecessor, but pares things down, opening windows to let in as much light and air as possible. Most tracks were recorded live in the studio to maintain a sense of spontaneity. Cullman says, "Much of the world's deepest music comes down to a guitar or two, a voice, a melody and a story, whether it's Hank Williams or Sufjan Stevens, Caetano Veloso or Skip James. That's how I approached this album, with respect for the simple power of a few chords and a few well-chosen words. I figured, if I swept the cave and built a fire, the spirits might stop by."