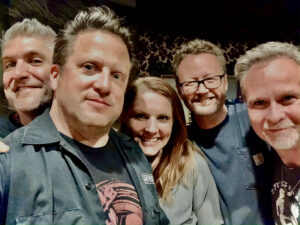 Brian Krumm and His Barfly Friends is the name of the first solo project from Brian Krumm, front man for Chicago's Americana-noir group The Great Crusades. His debut album, Just Fade Away was recorded with members of his regular band as well as a who's who of Chicago music scene notables with Crusader Christian Moder and Brian producing. Just Fade Away is being released by Pravda as a digital download, 12" vinyl LP, CD and via streaming platforms June 2.
Krumm wrote the songs on Just Fade Away in 2020. In an effort to stay sane during the first days of the lockdown, Brian would drink a shot of whiskey each evening at 5PM and try to write a song. Twenty-five days later, he had 25 songs, 11 of which he'd take into his and Moder's home studios. Along with long time band mates Brian Hunt (bass, vocals), Brian Leach (keyboards, vocals, guitars), and Christian Moder (drums, percussion, keyboards, vocals, production), he recruited Dana Anderson (vocals), Tony Artimisi (drums), Erik Attkisson (bass), Jake Brookman (cello), Laura Coy (vocals), Pete Galanis (guitars), Jessie Hotaling (vocals, co-lead vocals on "Just Fade Away," "Stuck in the Van" and "Wasn't Born Yesterday"), Hazel Krumm (vocals), Vivian Krumm (vocals), Dirk McElravey (bouzouki, mandolin), Kristina Priceman (violin), Nelson Strange (guitars), Brian Wilkie (pedal steel, guitars) and the Montrose Horns: Jon Boley (trumpet), Rich Lapka (trombone, horn arrangements) and Justin Past (saxophone). Many of these musicians had performed as special guests at his monthly residency at Chicago's Montrose Saloon that started in 2021 and continued into 2023. Additional vocals, guitars and horns were tracked at Chicago's JoyRide Studios.
Influences like Robyn Hitchcock, the Jayhawks, Warren Zevon and Dylan shine through all the material on Just Fade Away with his storytelling at the forefront. The album gives listeners a sonic snapshot of remembrances from Krumm and a life lived observing a perplexing yet utterly inspirational world.
Vocalist/guitarist Brian Krumm formed The Great Crusades more than 20 years ago, following his tenure with The Suede Chain. The Great Crusades' debut, The First Spilled Drink of the Evening was released in 1997 earning the praise of Rolling Stone's David Fricke: "The Great Crusades look at life through a shot-glass lens, mixing anger, muscle and minor-key remorse like a roughneck Tindersticks with the bonus of a singer who's got the tubercular pipes of Tom Waits and Axl Rose's love child."
In 2000, Damaged Goods was released by Glitterhouse Records in Europe and Checkered Past Records in North America. Next, the Never Go Home tour was presented by Musikexpress Magazine and the band appeared on the legendary TV program Rockpalast. (The band also played Rockpalast in 2015—one of only a few bands to play the show twice.)
Welcome to the Hiawatha Inn, Four Thirty, Keep Them Entertained, Fiction to Shame, Thieves of Chicago and Until the Night Turned to Day followed, each providing a new focus for Krumm's ever-evolving songwriting and storytelling. Two songs from Keep Them Entertained appeared in the season 4 finale of the HBO vampire series True Blood.
In 2020, as the COVID-19 pandemic put music venues on hold worldwide, Krumm focused on solo work and began writing the materials that'd wind up on Just Fade Away. With the album set for release, Brian Krumm and His Barfly Friends plans to tour in 2023.