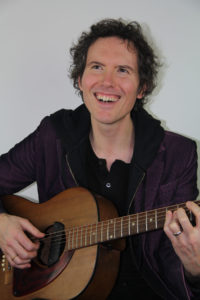 Byron Isaacs, who records and tours with The Lumineers and was one of the founders of Ollabelle, is releasing his first solo album, Disappearing Man. The album was co-produced by Hector Castillo (David Bowie, Bjork, The Brazilian Girls) and Brian Cullman (Lucinda Williams, Ghazal) recorded at Castillo's studio in Brooklyn. Disappearing Man will be released June 12 on the Cosmic Trigger label.
Isaacs was joined in the studio by keyboardist Glenn Patscha (Ollabelle, Roger Waters, The Holmes Brothers), guitarist Chris Masterson (The Mastersons, Steve Earle, Loretta Lynn, The Golden Palominos), drummer David Berger (Amy Helm, Alice Texas, Justin Bond, Mary Fahl), percussionist Joe Bonadio (Sting, Boz Scaggs, Roseanne Cash) and arranger John Lissauer (Leonard Cohen). Byron's songs combine the quietly relentless grooves of Curtis Mayfield with the oblique simplicity of Neil Young. If you turn the lights out and close the door, the songs continue singing themselves long into the night.
Byron Isaacs improves every musical situation he wanders into. Like Jim Dickinson and Al Kooper, he brings whatever song he's working on into clear relief, puts a frame around it, and gives it a shine and a sparkle.
Bass player, singer-songwriter Byron Isaacs is a native Texan now living in Brooklyn. A founding member of Ollabelle and Lost Leaders, Isaacs is currently recording and touring with The Lumineers. Over the past fifteen years he has also recorded and/or performed with Levon Helm, Willie Nelson, Joan Baez, Bruce Springsteen, Patti Scialfa, Roseanne Cash, Nina Nastasia, Ryan Adams, Chris Smither, Richard Shindell, Mary Fahl, Amy Helm, and Larry Campbell & Teresa Williams.