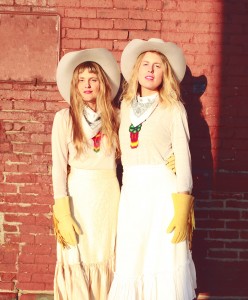 Recorded in the dreamy hills of Echo Park, California, Today's Not Yesterday, is the Chapin Sisters' first album of original material in 5 years, and the follow-up to their 2013 collection of Everly Brothers covers, A Date with the Everly Brothers, which debuted at #2 on the iTunes Singer/Songwriter chart, #2 on Amazon's Folk Best Seller chart, #14 on Billboard's Heatseekers chart and was featured on NPR's Weekend Edition with Scott Simon.
Produced by the Chapin Sisters along with producer/engineer/bass player Dan Horne (Conor Oberst, Allah Las, Jonathan Wilson) and drummer Jesse Lee (Cass McCombs, Gang, Gang Dance) the self-released Today's Not Yesterday, which was recorded at Jonathan Wilson's Five Star studio, has a classic 70's-rock feel, that at times recalls a Rumours-era Fleetwood Mac. The Chapin Sisters' lush harmonies are backed here by Horne and Lee's first-rate rhythm section and stand-out performances by Luke Paquin (Hot Hot Heat) and Omar Velasco (A Fine Frenzy, Conor Oberst) on guitars and Lee Pardini (Jonathan Wilson) and Bobby Rodriquez (the Tyde) on piano, Rhodes and keys.
"I can't imagine making it anywhere else besides L.A. We were with our tribe. Jonathan's studio is in a beautiful house. We recorded to tape, using Jackson Browne's old tape machine. We did some overdubs, but mostly everything was recorded live. There was fruit on the trees; you could hang-out on the rope swing outside. Everybody came by the studio. It was an idyllic time," says Abigail, who also happens to be married to Lee.
These 12 new songs, written mostly in New York, are as much about their past, and the eight years they spent living in Los Angeles as they are about their present lives on the east coast; they explore break-ups, leaving California, accepting change, reinventing oneself and returning home to the things that matter most.
Perhaps these themes are best heard on such tracks as "The World is All," where Lily's powerful lead vocals, accompanied by Pardini's soulful piano and Rhodes performances, seem to be saying goodbye to a lover and examining the idea of self-acceptance. Or "Child," where Abigail's sultry lead vocals, accompanied by a bluesy guitar rift from Velasco, explore the concept of being ready for unconditional love.
"Getaway," co-written with Lily's husband Seth Thomas, is an escapist's vacation with the one you love. Thanks to Pardini's psychedelic Rhodes-work, Horne's tambourine and Lee's foot-tapping drums, it is as sunny as a summer's drive along the Pacific Coast Highway.
"Angeleno," a bittersweet country infused postcard to L.A., features a pedal steel performance from Horne that would feel comfortable alongside anything Sneaky Pete Kleinow did with the Flying Burrito Brothers.
"We Will Not Stop Singing," a contemporary protest song, closes the album. First performed at the People's Climate March, the song, with its sing-a-long verses, has since become a staple at the Chapins' live shows and reflects their folk roots possibly more than anything they have recorded to date.
Raised in New York's Hudson Valley, the Chapin Sisters moved to Los Angeles straight out of college. During an impromptu recording session with their brother's friend, they, along with their third sister Jessica, decided to start a band. Another friend passed their demo (produced by Michael Fitzpatrick of Fitz and the Tantrums) onto KCRW DJ Anne Litt and almost instantly their dark, moody cover of Britney Spears's Toxic became one of the most requested songs at the station.
L.A. provided them with the opportunity to explore their musical identity independent of their family's folk legacy. As third generation musicians: their grandfather was the late jazz drummer Jim Chapin (who authored the definitive drumming text book Advanced Techniques for the Modern Drummer), their uncle the late folk icon/humanitarian Harry Chapin, and their father is 3 time Grammy Award winning Tom Chapin, the two started singing professionally on their father's children's albums, at ages 6 and 8, and at annual benefits for their uncle's organization, WHY Hunger.
"It was a completely separate musical community than the one we had grown up with. No one else we knew in L.A. was in a folk band it felt subversive," recalls Abigail of the early Chapin Sister shows.
"It was a completely separate musical community than the one we had grown up with. No one else we knew in L.A. was in a folk band it felt subversive," recalls Abigail of the early Chapin Sister shows.
"We were playing rock clubs, often between a punk band and a noise band. We would go on stage wearing these vintage wedding gowns and sometimes start our shows just us, no instruments. You would think these guys would laugh us off the stage, but it worked, " adds Lily.
Their haunted, sometimes ironic, vocals combined with their ethereal looks made them a favorite for media outlets such as Rolling Stone, Nylon, Spin, Paper, The New York Times T Magazine, The Hollywood Reporter and The Washington Post. They recorded 3 albums, as back-up singers they've appeared on such TV shows at Jimmy Kimmel Live, Ellen, The Late Show With David Letterman, Conan, The Tonight Show with Jay Leno, and Late Night with Jimmy Fallon, and they toured the country multiple times on their own and twice with the band She & Him.
Three years ago the Chapin Sisters decided to move back to New York. Romantic relationships were ending, new ones were beginning (they have both since gotten married) and it felt like it was time.
Quickly embraced by folk music community there, they found themselves newly inspired by activism. In Sept 2014, along with Cass McCombs, they ran the music block for the 400,000 person-strong People's Climate March in New York, and that same year they performed every day at the five day long Seeger Fest, including the Central Park Summer Stage show and the much publicized Lincoln Center event.
Today's Not Yesterday delivers what we have come to expect from the Chapin Sisters, enchanting harmonies and lyrics that are infused with as much hope as they are longing. They might have moved back east and surrounded themselves with impassioned activists and thoughtful folk icons, but this album captures an infectious Southern California vibe that leaves us wanting more.