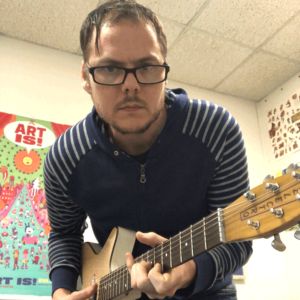 IF… is the second full-length solo album from David Heatley. All its songs were written, performed, and produced by David Heatley in 2023 joined in the studio by members of the Lost Bayou Ramblers and Givers, plus Julie Odell, Sarah Quintana, Lilli Lewis and Tony Award-winner Michael Cerveris. The tracks were recorded at Piety Street Arnaudville Studio with additional recording done at Restoration Sound with Lorenzo Wolff engineering. String, horn and woodwind arrangements were done by Jimbo Walsh. The assistant engineer was Kirkland Middleton. The album was mastered by Dave Glasser of Airshow. IF… will be available on all streaming and digital platforms March 24, 2023 from Dream Puppy Records.
Heatley describes If… as a portrait of someone in the throes of "impossible love," with all the attendant euphoria and longing pulsing beneath each track. "I've always had an issue with crushes and falling in love. I fell in love with all three guest singers on my last record." The bulk of the songs came to him while recording down in Louisiana for the first time in the summer of 2021, surrounded by an inspiring and passionate array of New Orleans musician-heartthrobs. What he couldn't have known was that by the time this new record was released, his personal life would be entirely rearranged and would line up in an uncanny way with many of the themes of the songs he had written. "It's honestly eerie how prescient some of these songs turned out to be. I've often gotten song ideas in my dreams, and I write them out and record them only to see how perfectly they fit some situation I'm living through years later. It's enough to make you believe in Carl Jung's theory of the archetypal field."
The title track, "If…" wouldn't be out of place on a Dionne Warwick record. Heatley longingly croons, "If we didn't share all our secrets and both understand, we could be in our separate lives. I wouldn't even try to see this through. Yeah, I'd be doing fine. I wouldn't know what it's like to be with you." The blistering rocker, and first single, "Mess," featuring the Ramblers Louis Michot on fiddle, is a timely anthem and ode to the type of woman that sets Heatley's heart ablaze—the wild, creative, free spirit who's barely holding it all together. "She's got her problems, but who doesn't? Proud to be the person her parents wish she wasn't. Been through hell, but still standing. Bet you when it's all said and done, she'll stick the landing."
"Beautiful Ending," brings the hammer down, a paean to the death of an idealized love: "It was sweet to believe you were the one. Now that's all ending. We can fade like the sunset above, a beautiful ending." But we're only at track 3. The other 7 songs explore a wide range of themes, styles and emotion. The giddily exuberant "Dancing Inside Out," featuring Mexican rapper and comedic actress Emma Ramos, has shades of Tom Tom Club or B52s. "Too Sad to Write This Song" gives voice to the fear that all art is futile and inadequate for expressing the depths of despair and longing in the rejected lover. There's a bouncy bossa nova tune "Run Away with You" featuring the Louisiana-born chanteuse Sarah Quintana, who also blesses "It's Midnight" with hypnotic French cooing that will make any listener swoon with their own crush.
"Stop Wasting Love" is a public service announcement of sorts, exhorting everyone not to fall for unavailable people. Finally, the album closer, "Clean Living," featuring Lilli Lewis, is a triumphant, queer-aligned declaration of the need to love who you want, unapologetically, in the face of the world's judgment and scorn.
Stereo Embers called Heatley's debut solo album, "a deftly composed mosaic, vigorous in its own right while being respectful to the various tesserae involved." Prism reviews described the album tracks as "poppy, indie numbers, with wordplay and wit for miles." This new record is no exception, but the production was purposely more lush and composed. With woodwind, string and horn arrangements by the legendary Dr. Jimbo Walsh, If… is purposely grand in the Bacharach vein while trading in the syrup for a saltier array of Bayou flavoring.
DAVID HEATLEY is a musician, cartoonist and animation director living in Queens, NY. He has recorded two albums with legendary Shimmy Disc label founder and producer Kramer back in the early 1990s. In the mid-2010s, Heatley performed as part of The Bischoffs and The Angel Numbers Band, releasing a series of well-regarded EPs and albums. His last record Life Our Own Way, helmed by Mark Bingham, found Heatley discovering and immersing himself in New Orleans' indie music scene. This album continues to highlight the chemistry in all of those evolving musical relationships.
Heatley's illustrations and drawings have appeared on the cover of The New Yorker, in every section of The New York Times, and in numerous other publications, including McSweeney's and Best American Comics (cover artist 2007). He's the author of My Brain is Hanging Upside Down (Pantheon, 2008), AMY (Desert Island, 2019), and Qualification (Pantheon, 2019). His work has been translated and published in Switzerland, Sweden, Belgium, France and Spain. A television adaptation of his graphic memoir Qualification, co-created with Adam Resnick (Letterman, Get a Life, Larry Sanders Show) and produced by Gaspin Media, is currently in development.