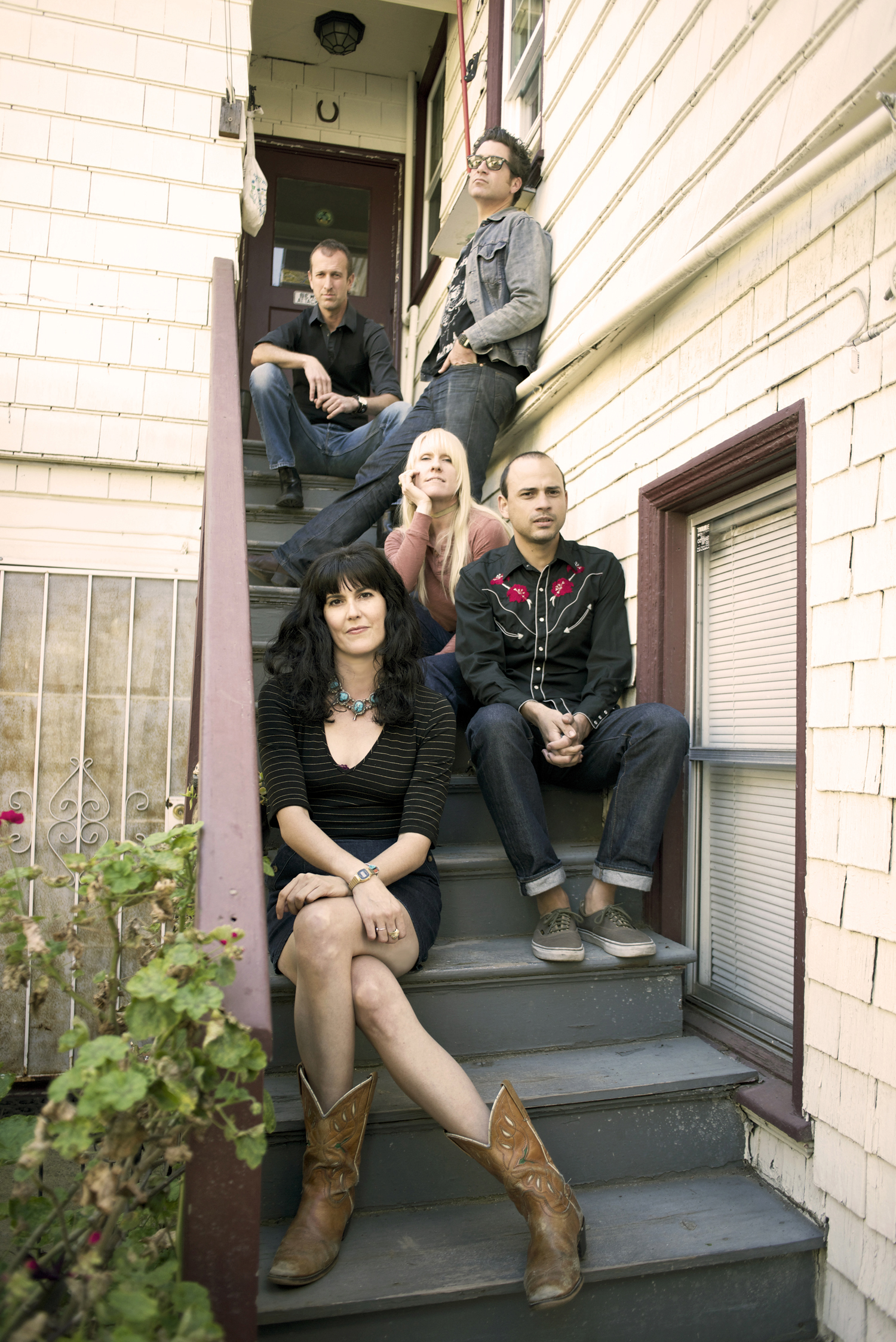 Dear County's debut LP Low Country, available August 26th on pOprOck Records, is a dynamic 9 song offering that seamlessly blends the Oakland based band's unique brand of California Country, Rock n' Roll, and 60's Soul. Low Country is a modern take on retro stylings, equal parts rough around the edges and dreamlike, laced with powerful yet heartbreaking vocals, four part harmonies and reverb-laden guitars.
Mark W. Lynn (lead guitar, vocals) and Arrica Rose (lead vocals, guitar) met on a spring evening at the Huntington Beach Library in Southern CA when Arrica was still a teenager and Mark was just a few years older. Her local punk band (Uxby) was opening for his touring band (Uranium 9 Volt). They had a brief conversation involving their mutual Italian heritage and New York family roots. Fast forward many moons, they re-met in San Francisco at Hotel Utah under similar circumstances. The stars aligned and their bands once again shared a stage, Arrica playing with her project Arrica Rose & the …'s and Mark with his, The Devil's Own. After the show, Mark recalled their initial meeting, much to Arrica's surprise. Within a few months a long distance love began and Arrica was arranging to spend a lot more time in the Bay Area (traveling up from Los Angeles). Just like that, Dear County was born.
Dear County was initially founded upon a mutual love of country music. Mark and Arrica began writing songs intending to start a simple classic country band. But given their vast and eclectic love of many genres their songwriting expanded toward 60's Soul, 70's Rock n' Roll, and California Country while also adding the impossible to avoid Indie Rock influences. Drawing inspiration from artists like Gram Parsons, Dusty Springfield, Big Star, Eagles, Tom Petty and The Heartbreakers, and The Replacements the aim of Dear County soon evolved into paying respects to their influences while creating something uniquely their own. Once a handful of songs were in place Michael Smartt (drums), Nelson Saarni (bass, vocals), and Julia Napier (percussion, vocals) got on board to create the five-piece band Dear County is today.
Low Country was produced by Dear County and recorded by Lee Bothwick at Jingletown Recording in Oakland, CA with additional recording by Arrica Rose at The Treehouse. Mixed by Jason Achilles Mezilis at Organic Audio Recorders in Los Angeles, CA. and mastered by Dan Garcia at Radio Hill.