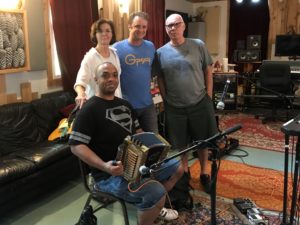 Nouveau Electric Records is proud to be releasing "La chanson des moustiques" ("The Mosquito Song") sung by Debbie Lagrange, who composed the song's lyrics. She is backed in the studio by Michot's Melody Makers: Louis Michot (who wrote the music), Bryan Webre and Kirkland Middleton joined by special guest, Zydeco eminence Corey Ledet.  The song was recorded and mixed by Mark Bingham at Nina Hwy, Henderson, Louisiana and mastered by Mike Hogan in New Orleans. "La chanson des moustiques" will be released August 28 as a digital download and via streaming services as a preview of a full length album devoted to her lyric efforts, realized by a variety of collaborators.
LaGrange, a native of Arnaudville, Louisiana has lived with Parkinson's Disease since 1999 and been widowed for 14 years. She'd worked most of her adult life as an Operating Room nurse, but as the disease progressed was no longer physically able to continue.  Debbie was in the midst of exploring other means of raising money to pay for her in-home care when she had an epiphany: "I was reading over a list of potential jobs when one word stopped me dead in my tracks: 'Songwriting'!  I decided right then and there that I would learn how to write a great song. My Dad left me with a love of words and music. My good friend told me I could do it!"
When LaGrange completed her final draft of the words for "La chanson des moustiques" she was faced with the dilemna of setting them to music and rather than settle for half measures decided to approach one of the most celebrated musicians in Arnaudville, Louis Michot, singer and fiddler for Grammy-winners the Lost Bayou Rambler and side project Michot's Melody Makers.
Once they met, they found they shared a commitment to ensuring that the language of their parents, grandparents and forebears — Cajun French — will survive to enrich the lives of their children and those that will come.  Both support and work for St. Luc's, a new school devoted to French language immersion, the only one of its kind in the United States. Louis happily went to work setting Debbie's lyrics to music.
"On the day we recorded, Louis had me take my place at the microphone, I thought I'd died," recalls LaGrange, "because the Nina Highway Louisiana studio of the famous, Mark Bingham, surely felt like heaven. Mark, close by and keeping watch as his angels, Louis Michot, Bryan Webre, Kirkland Middleton and the unbelievably talented, Corey Ledet, did their thing.