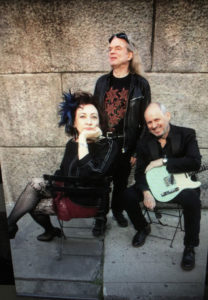 An integral part of the vibrant arts and music scene that animated the storied downtown NYC venue Club 57 (1978-1983), the band Disturbed Furniture reunited some two years ago to perform live and record new music. The first release of this new chapter in their career will be Continuous Pleasures, a five song EP, which was produced by Jorge Arévalo Mateus, Alexa Hunter and Mick Oakleaf, recorded at Mighty Toad Recording and The Honey Jar in Brooklyn, with additional tracks done at Blighty Music Studios in Los Angeles. Continuous Pleasures, features new compositions as well as fresh recordings of some of the group's original repertoire. It's being released by Arevarc Records on August 9.
The impetus to reactivate Disturbed Furniture came from MoMA's major 2017 retrospective, documenting the band's old stomping ground, "Club 57: Film, Performance, and Art in the East Village, 1978-1983" which opened Halloween that year. After meeting with the curators, lead singer Alexa Hunter agreed to contribute the group's music videos and their 45's cover art to the exhibition and appear in the accompanying catalogue. MoMA not only acquired Disturbed Furniture's music videos proper, but also a series of Hunter's super 8 films and other footage shot in 1979.
Galvanized by museum goers' enthusiastic reaction to the band's vintage output, Hunter began tracking down the original members still living in NYC and assembled a line-up featuring Jorge Arevalo on guitar, Mick Oakleaf on drums and special guest, Shin Sakaino on bass. They began playing select live dates, writing songs, and recording.
Thirty-five years ago, Disturbed Furniture cast a large shadow on New York's underground club scene, sharing stages with many now iconic local, national and international acts including the Psychedelic Furs, Stranglers, The Waitresses, and the GoGo's, toured regionally, released well-received music and videos. The band merged art world and punk sensibilities with the grittier dance aesthetics of the progressive Funk of Parliament/Funkadelic, Prince and so on. Hunter and company's performance were informed by both the noir cabaret vibe of the East Village scene, and the sensuality of contemporary urban sounds. They offered an alternative to the dogmatic shabbiness of NYC's post-punk scene as well as the banal excess that uptown disco culture settled into.
Alexa started Disturbed Furniture in late 1979, following several years of improbably fabulous woodshedding. She'd discovered punk rock while on holiday in Great Britain with her friend, actress / performance artist, Ann Magnuson; Magnuson would cast her in the legendary "New Wave Vaudeville" production mounted at Irving Plaza which also featured demi-monde luminaries like Klaus Nomi, Lance Loud and Kristian Hoffman of the Mumps, David McDermott and Donna Destri. Hunter also made visual art and had her first professional show as part of a group exhibition at Club 57 curated by Keith Haring. She worked as a performance artist / actress / singer as well, appearing in the independent films.
The first brief set by Disturbed Furniture was at Club 57 (naturally): three songs performed by her, a bass player she'd met at the Mudd Club, Tony Zebe, and a pick-up guitarist. After a number of line-up changes, Disturbed Furniture coalesced around Hunter, bassist Tony Zebe, Phil Schoenfelt on lead guitar, Stephanie Hameon on rhythm guitar and drummer Mick Oakleaf.
Oakleaf had studied piano during childhood, but switched to drums in 4th grade and never looked back. After years of serious study and a succession of local Connecticut bands he moved to New York to join The Nothing, an elegantly desperate and surprisingly successful punk band. But he and Schoenfelt defected to Disturbed Furniture, and the band's sound solidified. Phil brought an aggressive. dissonant British edge to the band's sound, while Mick provided a rock solid base.
The Furniture soon began to play the coolest downtown clubs on a regular basis, often opening for big touring acts. The group recorded and released a single which got spun in the clubs and aired on college radio. Disturbed Furniture started performing at au courant clubs throughout the Northeast. When several members decided to branch out on their own, their spots were taken over by lead guitarist Jorge Arevalo Mateus, rhythm guitarist Todd Kray, and a variety of rhythm sections. With Kray, Arevalo and Hunter's new material, Disturbed Furniture re-emerged, energized for the always changing club scene.
Before Disturbed Furniture, Arevalo had played with a number of notable downtown outfits, recording with the Terrorists, produced by reggae legend Lee Perry, playing alongside David Licht in Billy Snow's Young Turks, in minimalist composer Rhys Chatham's Very Merry Band among many others.
The rejuvenated combo continued to record and perform, being offered opening slots for bands like the Clash before calling it quits in the Summer of 1982.
Alexa continued to perform as a solo artist in avant-cabarets in NYC before moving to Los Angeles, where she kept working in various performing venues, writing, acting, directing as well as making visual art. She also got her Masters degree and became a teacher.
Jorge remained active in downtown New Music, performing with the likes of Jeffrey Lohn (Theoretical Girls), Ben Neil (Lamonte Young), and Petr Kotik's S.E.M. Ensemble. In addition, he has worked with modern dance choreographers Karole Armitage Jody Oberfelder, among others. Among Arevalo's commissioned works are Renewal (2005) and Emendatio (2008), composed for a collaboration with Native American performance artist James Luna, whose Pablo Tac installation was featured at the 2005 Venice Biennale. His compositions have been acquired by the National Museum of the American Indian / Smithsonian Institution for their permanent collections.
Jorge continues to produce, compose and perform with numerous music, dance, and film projects including Triage, Audiograph, Black Mambo Dream, Parranda Vallenata, the Hunter College Jazz Big Band and the FolkCOLOMBIA All Stars, producing the latter's annual FolkCOLOMBIA at the Queens Museum of Art event and winning a Grammy for producing Live Wire: Woody Guthrie in Performance 1949 (2008) in the Best Historical Album category An ethnomusicologist, Arevalo is executive director of the Alan Lomax Archive / Association for Cultural Equity in NYC.
Mick transitioned into pro sound engineering and audio electronics in 1981, mixing stage monitors on road tours with The Waitresses and Robert Gordon, mixing at venues for bands including Madonna, Aretha Franklin, and The Dead Kennedys. He later worked in corporate sound for clients such as The New York Stock Exchange, GM, Bankers Trust, and Trinity Church and then recording studios including Sony Studios, Unique Recording, and Kampo Studios among others. In 1996 he scored and wrote 5 songs in his home studio for the movie, Passion and Romance; Strange Desire (1997), shortly after starting at Howard Schwartz Recording. – https://www.imdb.com/title/tt0170627/fullcredits/?ref_=tt_ov_st_sm. He never stopped playing. Bands he has performed/recorded with over the years include Brett Smiley, Phoebe Legere ("Cajun Moon" CD), Shokei Harada (4 set CD – Japan), Antonia and the Operators (EP), Jim Sharpley and The Sharpshooters ("Northern Country" album) Paul Anthony (release pending), Val Kinzler and Validation (release pending), Krave (release pending),The Cynz, The Lee Lawless Band, Soul Cake, Jim Knable, Phil Gammage, The Bowery Boys, The Brooklyn Horns, Snake Monsters, Paintbox, Gary Knox, The Poorboys, The Hysterics, Electroflex, Hard Labour, Wendy Leeds, Social Register, The Seclusions (Isolation for Creation – album uncredited), and finally Thomas Chapin (jazz saxophonist) and Arthur Kell (bass) in high school. Theater credits include drumming for "Tyrone X" and "Werold (is…IS)". https://www.nytimes.com/1983/10/19/arts/the-dance-werold.html.
He currently performs regularly in a number of outfits including Don BlackCat & Friends, Density, Eve Blackwater, Rick Eckerle and The Archangels, Broken Time Machine, Michelle Fury, Cheri Dahl, Marlowe B. West, and The Next.