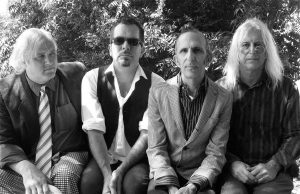 MOOF, the fifth release from Los Angeles' avant guitar-instrumental ensemble Double Naught Spy Car, features an all-star cast of guest musicians. Spy Car produced the project, their bassist Marc Doten engineered and mixed it, and it was mastered by five time Grammy winner Alfonso Rodenas. MOOF will be released Friday, September 8th. on 11 Foot Pole Records. CD release party in Los Angeles TBA.
The concept behind MOOF was for Double Naught Spy Car to invite their favorite adventurous musicians to get together, write, and record a tune.  The sessions with each guest took place for an afternoon or two over the last few years at Spy Car bassist Marc Doten's Trend Coma Bootlegs studio in scenic Echo Park, CA..  The chemistry between Spy Car and all the other players was undeniable—strong, fully realized tunes resulted every time.  There's lots of real reverb, real drums, and really burning guitar throughout.
Some highlights include:
Sylvia Juncosa, Ben Vaughn, and Joe Baiza brought their first thought best thought guitar melodies, yielding hesher metal, 50s smoky jazz lounge, and Krautmath tracks.
The watt session was a continuous three hour jam that Spy Car wound up chopping into separate three songs, with overdubs by The Atomic Sherpas horns (Vince Meghrouni and Carlos Alvidrez), and Joe Gore (done in his San Francisco studio).
Elvis Kuehn from FIDLAR brought youthful brash hollowbody feedback to the Spy Car noir.
Chris Lawrence, (Dionne Warwick, Shooter Jennings, Kool & The Gang, Roxy Music, Old 97's) brought the chiming Rickenbacker 12 string for the appropriately named "Rhymes of Chimney."
Woody Aplanalp (Bobby Womack, Thomas Mapfumo, Lauryn Hill, Lili Hayden, Old Californio, Banyan) led an extended work-out that evolved into an ambient cloud of harmony and darkness.
Two other guests recorded tracks in their own studios, and Spy Car dropped them right in to the basic tracks:  Nels Cline's space age/middle eastern shredding, and Italian guitar star Sara Ardizzoni's layered melodic Euro guitar lines over the basic bass/drums/guitar track.  Morricone is clearly in these players' DNA!
For a change of pace, keyboard wizard Danny McGough (Continental Drifters, Norah Jones, Social Distortion,  Eleni Mandell) brought his exotic keyboard collection for some classic Spy Car retro lounge.
Double Naught Spy Car sprang into existence in the 20th century to provide the soundtrack for the approaching meltdown of civilization. In sweat drenched shows harkening back to 50's jazz clubs, the stinging Stratocaster of Marcus Watkins, the Telecaster and spooky steel of Paul Lacques, the nihilist/classicist bass of Marc Doten, and the all-knowing, unyielding drums of Joe Berardi beguile, bewilder, bait, and beatify their audience–no pesky vocals, just twang and throb.   Their music has been described as surf noir, jazz on acid, spaghetti middle eastern, and "difficult."
Spy Car members are in demand session players as well as pioneers of new sounds associated with L.A.'s Silverlake and Echo Park scenes.  The band and members have scored several feature films, a History Channel documentary, numerous plays, placed songs in dozens of films and TV shows, and recorded/toured with Bo Diddley, Nina Hagen, Johnny Halliday, The Fibonaccis, The Bonedaddys, Stan Ridgway, I See Hawks In L.A., and countless other artists.
Cover art is by Swedish artist Mia Makila, photo manipulation and CD artwork by Kira Vollman, with Joe Berardi and Rachel Gutek.