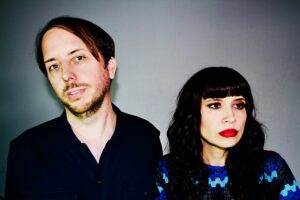 On July 15th, doubleVee releases their new album Treat Her Strangely, nine new songs whose conception began during the height of the pandemic, with their new material written and recorded while staying holed up in their home studio as much as possible, attempting to keep themselves, their loved ones and others safe from the virus.  Three guest musicians recorded parts on various songs on the album:  Brent Williams handled violin and viola, Christi Wans played the trumpet and piccolo trumpet and Kevin Webb performed trombone parts. The album was produced and recorded by Allan Vest and co-produced by Barb Vest.  It was mixed and mastered by Wes Sharon at 115 Recording in Norman, Oklahoma and co-mixed by Allan and Barb.  Single releases are set for May 20th and June 24th, with pre-orders beginning May 20th. Treat Her Strangely will be released on CD, digital download and via streaming platforms.
doubleVee was put into motion in 2012 when it became clear how Allan Vest and Barb [Hendrickson] Vest's musical backgrounds complemented each other and how well the two worked together in the studio.  The pair married in October of 2015 and went on to release their debut album in 2017.
Allan was the primary songwriter, lead vocalist, and multi-instrumentalist for indie/orchestral pop band Starlight Mints, having produced and released four albums between 2000 and 2009, with legendary producer Dave Sardy co-producing the critically acclaimed debut album, The Dream that Stuff was Made Of. Major motion pictures and television series have utilized his music, with TV shows including Malcolm in the Middle, Californication, One Tree Hill and Gossip Girl and movies including Barnyard and The Art of Getting By. The BBC mini-series Demons effectively used "Eyes of the Night" off the 2006 album Drowaton as the series' theme song. Allan's instrumental scores have been featured in Disney animated shorts, writer/director Mickey Reece's movies Seducers Club and Punch Cowboy, in projects by Canada-based writer/director Erahm Christopher, and features helmed by award-winning director Bradley Beesley, among other productions. He has produced and arranged music for clients including Francine, Skating Polly, Student Film and Bishop Allen.  He also composed the theme music for the podcast In Sickness and In Health.
Barb's diverse background includes sixteen years in public radio where her achievements included writing, hosting, and producing Filmscapes, a nationally syndicated film music program. Filmscapes gave her the opportunity to interview some of her favorite renowned artists including Danny Elfman and Philip Glass.  She edited a music webzine for several years and marketed and produced eight Rock 'n Roll Garage Sale shows featuring local bands and merchants.  While Barb's vocal music history includes appearing in themed cover shows and providing backing vocals on recordings for local bands, her love of music began with her family, with her grandmother regularly putting a tape recorder on her piano bench and singing along to her original compositions, before she passed away in 1986 after a sudden heart attack at the age of 57. Allan and Barb later orchestrated and added backing vocals to one of her grandmother's songs as a gift for her mother, who ensured music was a big part of her daughters' lives from a very young age.
doubleVee's debut album The Moonlit Fables of Jack the Rider was released on February 10, 2017. The concept album follows the story of the title character, with his tales being told in a theatrical style with Jack at the handlebars.  He's a traveler who descends into a world reminiscent of The Twilight Zone where nothing is exactly as it seems, with pieces of his history unfolding over the course of the album.  Their follow-up EP Songs for Birds and Bats was released April 12, 2019.  The five-song release concluded with "Last Castaways," selected the next year to be featured on the soundtrack for the immersive video game Beyond Blue.
When they're not creating new music, Allan and Barb love working with their clients (teaching, recording, producing music and videos and more.)  In their free time, they like to watch movies, hike, and spend time with friends and family.  They enjoy creating meals in the kitchen together and especially savor making Caesar salads at home and trying them anytime they're on the menu at a new restaurant.  Prior to the pandemic, they were fortunate to get to experience their shared love of travel and visit places including Kenya, Belize, Paris, London and Vancouver, Canada.  They are looking cautiously but optimistically forward, counting down the days until their new album is unleashed.