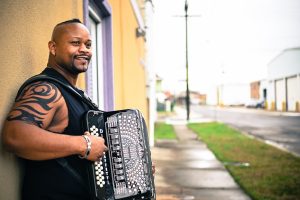 Two-time Grammy-nominated Dwayne Dopsie is releasing Set Me Free, his 11th album overall, his second for Louisiana Red Hot Records. The new album was recorded at FatTone Studio, Luling, Louisiana, produced by Dwayne and Brandon David and engineered by David. It's being released on CD, as a digital download and via streaming platforms on August 20.
Dwayne Dopsie represents the best of what Red Hot endeavors to offer the world: virtuosity, earnestness, the ability to bring traditions forward into multiple genres while retaining authenticity – not to mention the warmth and soul in his vocals! His live show is outrageously potent; his band is as tight as they come, and he's equally compelling when he plays solo.
Set Me Free is a soulful take on classic Zydeco, given extra bite with an infusion of swampy Blues. All the music and lyrics were composed by Dopsie, aka Dwayne Rubin, save for one, and performed by his band the Zydeco Hellraisers: Dwayne on accordion and vocals; Paul Lafleur on washboard; guitarist Brandon David; Tim McFatter on saxophone; bassist Dion Pierre; Kevin Minor on drums.  His brothers Tiger, Anthony and Rockin' Dopsie Jr. appear as special guests on several tracks including a cover of the Guitar Slim classic "The Things I Used To Do" performed in tribute to their father, Rockin' Dopsie.
Dwayne Dopsie hails from one of the most influential Zydeco families in the world; he's the youngest son of the Zydeco icon Alton Jay Rubin better known as Rockin' Dopsie. Building from that tradition, Dwayne developed his own high energy style of 21st Century Zydeco. He grew up in Lafayette, Louisiana, teaching himself accordion by watching videos of his father and Clifton Chenier, then recording hours of himself on video to study, critique and perfect his craft.
He has rocked audiences across the globe since debuting his band, Dwayne Dopsie and the Zydeco Hellraisers, at the age of 19 some 20 years ago. Playing not only Zydeco, but also rhythm and blues, funk, rock and roll, reggae and pop, Dwayne Dopsie and the Zydeco Hellraisers have built a thriving touring career — with Dwayne particularly known for his charismatic crowd work and getting an audience out of their seats. The band members have a combined century of experience in Zydeco they've displayed in exuberant performances around the world.
Dopsie is as beloved at home as internationally, winning the Offbeat Magazine Awards over a dozen times, and being named in a Louisiana Travel's "Top 100 Reasons People Come Back to Louisiana" feature.
Dwayne has been featured on CBS This Morning, The Travel Channel, Discovery Channel, Good Morning America and in media outlets from Brazil to South Africa, not to mention the New York Times and Rolling Stone Magazine; the latter called him "the Jimi Hendrix of the accordion."