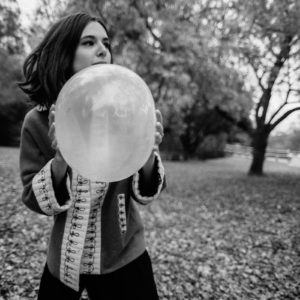 Easy Love is the solo project of Justine Brown, a multi-instrumentalist and DIY artist based in southern California. Wander Feeler, Easy Love's sophomore album is being released by Loantaka Records June 26 on 12" vinyl, for paid download and via all major streaming platforms.
Wander Feeler is a summary of sentiments arising from long drives, of reflections of relationships beginning and ending, of the feeling of freedom dissolving upon arriving home from traveling, and of the constant struggle with self-worth. Justine's instrumentals are the glue that holds it together; the sweetness one craves next after eating something savory. She wanted to create an album that flows naturally from start to finish, suggests the feeling of knowing what song is going to come on next, and gets you excited about it. Listening to whole albums over and over until they are memorized may be a rare past time today, but it's something Justine still does regularly.
Recorded in just one week during the month of January 2019, Wander Feeler was engineered and mixed by Eric Penna. He offered his newly built home studio outside of Boston to bring the project to life. Penna contributed to each song by carefully selecting from his collection of vintage equipment for Justine to play.
"Cool Type," the stand-out banger of the album, begins with Justine's voice and the flick of a lighter, plunging into 90's guitar world. She matter-of-factually states her feelings for a former lover that left her hanging. A wall of soft distorted guitars and harmonies sends shivers down your spine. "Never Alone" lures you in with a slide guitar riff and ends with layered vocals cushioned on top of an auto-harp, soothing you like ocean waves at sunset. Head bopper "Alright" attempts to free the writer of her self-doubts, suggesting that she must keep going despite the anxiety she experiences in life. The biggest hurdle for her now is fighting to make it in the music business as a woman. "You aren't taken seriously sometimes and it's like you're being put under a microscope," Justine said. "If you care about what other people think, the pressure can make you falter or question what you're doing. Occasionally, it hurts enough to make me want to give up. I've learned that the only way to inspire others is to do my best to keep my dreams alive."
Born and raised in Riverside, California, Brown soaked in the nature-rich surroundings and reveled in the inland city's fruitful arts scene. She was able to grow in her craft by playing free all-ages shows at Back To The Grind, downtown Riverside's local coffee shop and heart of the community.
When it came time to venture beyond Riverside, Justine gained a lot of experience on the road drumming and singing harmonies with Summer Twins, a band fronted by her sister Chelsea who sang and played guitar. Attracting the attention of Burger Records, Summer Twins worked with founders Sean and Lee on 4 albums and EPs. The sisters were offered spots on festivals and tours which helped them build a solid fan base. During a caravan tour out to SXSW, Justine found herself mesmerized as she watched Melle of Mozes & the Firstborn shred on guitar. It was like she had been struck by lightning – Justine was compelled to start her own project. Not long after that she was crafting her own guitar solos.
Easy Love's debut album was released on Burger Records in 2017. Influenced by 90's/00's indie rock, Justine arranged and played all the instruments on the recordings. Around the time of the release she joined her friend's band, Winter, on bass and backup vocals. Justine traveled as far as Brazil with Winter and become a seasoned touring musician during her time with the band. During several trips up the west coast alongside forests and streams, she wrote melodies on the guitar in the back seat, putting together instrumentals and shells of songs that would eventually become Wander Feeler.
For Justine, being creative as an artist is the most healing aspect in her life. Knowing that it could inspire and help others is a kick in the butt to wake up and stop making excuses. Within her own life, Justine strives to allow for self-Love to come Easy.
Loantaka-Records.com