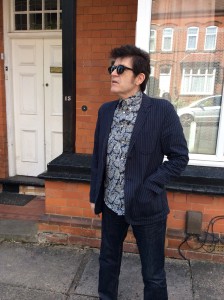 Glass Marbles is the sixth solo album from UK-born, NYC-based singer-songwriter, Edward Rogers, and his fifth on Zip Records. Glass Marbles is being released March 11.
One year's body of work, consisting of over 50 songs, was collected and Rogers, along with his producer, Don Piper, selected the best songs, the right recording venues and musicians to fit each of the 18 songs on Glass Marbles. This was accomplished by setting up a number of recording sessions at different studios with a number of diverse musicians. The concept of this album is to present to the listener a cohesive piece of work while offering a diversity of styles and sounds.
Edward was joined in the studio by core group of musicians including Don Piper (a don piper situation, Syd Straw), James Mastro (Ian Hunter, Bongos), Sal Maida (Roxy Music, Sparks, Cracker) and Dennis Diken (The Smithereens).  Guest players include Geoff Blythe (Dexy's Midnight Runners, Elvis Costello), John Ford (The Strawbs, The Monks), Matthew Horn, Ivan Julian (Void-oids, Matthew Sweet), Pete Kennedy (Nanci Griffith),  Joe McGinty (Psychedelic Furs), Konrad Meissner (The Silos, Laura Cantrell), Dave Schramm (The Schramms, Yo La Tengo), Gaz Thomas (Ronnie Spector), Tish & Snooky (Manic Panic, Blondie, Sic F*cks) and JF Vergel.
Born in Birmingham, England where he spent the first 12 years of his life, Rogers moved to New York City just as the British Invasion began in the States. He started his career behind the drum kit and played in several garage bands. When a subway accident in October 1985 left him without his right arm and right leg below the knee, he turned to songwriting and found he enjoyed singing and writing more rewarding than playing drums. Over the past decade, Edward has been extremely prolific, releasing five solo albums – the most recent being Kaye, taking inspiration from the late British troubadour Kevin Ayers — as well as two with Bedsit Poets, which he founded, a Folk/Brit-inspired trio whose name was given to them by The Zombies' Colin Blunstone. Rogers also co-hosts "Atlantic Tunnel Radio" featuring the best of British rock both old and news, airing live weekly on East Village Radio-Dashradio.com.
http://www.edwardrogersmusic.com/
https://www.facebook.com/edward.rogers?fref=ts
https://www.facebook.com/pages/Edward-Rogers-Fan-Page/228624228865