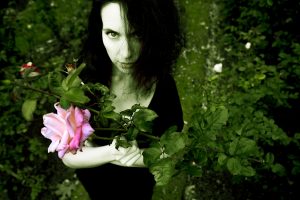 The new Elk City album, Everybody's Insecure, builds on a working relationship that started back in the early 1990s and hasn't used its safe word yet. From humble, noisy beginnings to a sonically rich sound that is full of depth and detail, Elk City's soundscapes encompass galaxies while retaining intimate and introspective thoughts and feelings, like epic adventures under the skin. Everybody's Insecure, the group's fifth album, is being released by Bar/None Records on March 16.
Collaboration is at the core of every great band, and Elk City's lead vocalist Renée LoBue and drummer/producer Ray Ketchem are two people ready to strap themselves into wet suits, climb into the immersion tank and get the job done. This pair is ably abetted by guitarist Sean Eden, who is currently splitting time with the re-invigorated Luna, extraordinary keyboardist Carl Baggaley and the propulsive counter melodies of bassist Martin Olson. The band has also just added a new guitarist, Chris Robertson.
Throughout the album's recording, Ketchem was building his new studio, Magic Door, a gorgeous, good-vibes HQ for musical expression and experimentation in the center of Montclair, NJ's arts community. Far from the humble beginnings of his first clammy basement studio, Ray has become now a sought-after producer/engineer, working with Guided By Voices, Luna, Versus, Chris Mills, Brother JT, and Glenn Morrow's Cry For Help.
Throughout the recording of Everybody's Insecure each track would begin with LoBue presenting her songs using late-night voice recordings she'd sung in a ghostly, whispered warble. The band would listen intently, then come up with instrumentation ideas, chord structures and tempos while Ray kept the recorders rolling – driven by his goal of capturing the creative spark at its most luminous. Every track on Everybody's Insecure is actually built on those very first impressions. Session after session, Ray went to work using an arsenal of studio wizardry, mining and combining, stretching and condensing, manipulating and re-amplifying sounds, building sub mixes and adding new instruments until the final mastered version is a spit-shined sonic delight, ripe for the memory box.
There's the atmospheric reach-for-the-stars feel of "Souls In Space," and a discussion with someone about the positive effect of imagining them dead: "The thought of you in the ground or maybe your ashes all over town…there's so much sunshine in my mouth…oh there is sweet music!" Perhaps the most succinctly introspective song is the opening track "Sparrow," in which Renée turns the lasers on herself and contemplates the desire to flee one's own personal demons by turning them into art—"I don't know if I'll ever be as free as a sparrow. I'll try."
In her lyrics, Renée is able to take the stuff of everyday life and add a layer of magic to the proceedings. Her songs often take the form of a conversation, as she finds intriguing entry points into relationships much more nuanced than boy meets girl; her lyrics might observe the woman who meets the man who's having a baby with someone else or finding trust and admiration for a guy with the sense to be wearing a pair of root beer-colored shoes.
Renée and Ray originally met when she was a recent high school graduate with a couple of dance tracks under her belt. Ray had moved to New York City after art school to work as an illustrator. He and a houseful of visual artists spent their days drawing storyboards for ad agencies while living in a cheap house in Belleville, NJ. Ray and one of his fellow artists thought it made sense to start a band and practice in the basement. Soon Ray was banging on a drum kit as the other roommates were fleeing and his first recording studio, The Womb, was born.
"Renée auditioned for us in that dank basement and she just started singing stuff off the top of her head," remembers Ray. "She was absolutely fearless and plugged into what we were doing. I was immediately sold." They named the group the Melting Hopefuls, released a single, album and EP, then broke up when a deal with Mercury Records fell apart when the label's management abruptly changed, with their label debut already in the can.
Rather than falter, LoBue and Ketchem set out to re-build their band. They found a new guitarist and co-lead vocalist and forged a new sound with a new name: Elk City.  They signed with a French imprint, released the albums status and Hold Tight The Ropes and supported them with incessant European touring, playing venues large and with groups like The National, The Walkmen and Luna; this is when they first met future bandmate Eden. After a major shake-up in personnel, they released two more albums, New Believers – their best seller to date – and House of Tongues and returned abroad for yet more extensive touring. Then, the group took a break from performing live and instead concentrated on gathering at Ketchem's studio to breathe life into LoBue's cutting words and melodies. Everybody's Insecure was the result.
So drop the needle into the grooves and float down the mysterious rotating streets of Elk City. Let Ray, Renée and their merry bunch of music makers be your guide. It's time to step through the Magic Door.