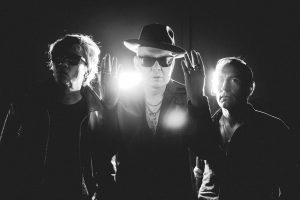 Flood Twin is the eponymous full length debut album from this determined, disturbing Atlanta trio. It was recorded at Madison Studios, in their hometown, produced by lead singer and bassist Grant W. Curry, an alumnus of New Orleans cult rockers Pleasure Club. Flood Twin is being released on CD, Bandcamp and Soundcloud October 8.
On Flood Twin, each band member wields his instrument with distinctive panache:
Sterling's tight, nothing-but-the-pocket approach to drums is executed exclusively on kick-drum, snare and hi-hat cymbal and hints equally at post-Punk, Industrial Dance and R&B. There is no dazzle or flash, just a rugged but artful framework for bass and guitar to build on.
On guitar, J. Leslie Hedberg is a master of negative space, intuitively knowing where to step out of the way, making for intense drama at his next entrance. Never overplaying and always delivering intrigue and blistering excitement, it often sounds as if he's finding inspired passages in the moment and simply letting his mark spill out.
Bassist/vocalist Grant W. Curry reminds listeners how a bass should sound: upfront, at that precise register where music meets menace.  "I make minimalist art, says Grant. "I like to use repeated motifs. Music is the same for me; I choose to play simply, using bass phrases over and over in the hope the listener will actually begin to feel something. Vocally and lyrically, it's equally powerful to intone the same word(s) many times, eventually resonating with the listener and allowing them to attach feeling and intention to it."
The opening track, "People," introduces the album and the band with a powerful swagger: howling guitar feedback and a "let's get this mother started" kick drum pulse gives the bass an opening to set the tone for the album, hammering home a jarring bottom whereupon Hedberg conjures the demented surf guitar nerve-twitch of the early Cramps and their Australian disciples, the Birthday Party.
After opening with an epic bass-drop, "Control" unscrolls another bottom-driven white-knuckler with surgically executed slide guitar blossoming into delicately revolving triads, as Curry's lyrics try to convince listeners (and maybe himself) having control over your life is worth a little self-inflicted pain.
The album closes with "America," a perfect summary of this exhilarating debut's intent. The track fades in with a hi-hat-propelled lagbeat and a bass line that evokes a back alley beatdown. Hedberg's psychotic, measured, one-note-at-a-time murder chords are always right where the rhythm section benefits from them most. Meanwhile, Curry calmly, sinisterly calls out: "I live in a carousel, a high-rise terror cell . . .America, America"; both an indictment and a desperate plea. Then the bass line climbs the neck, takes a step back followed by the rest of the band, ascends again, comes crashing down and the cycle repeats, and the words "America, America," keep coming until even the most clueless get the point.
It doesn't really matter how these three guys found each other, but it was a hallowed day when they did.
An early life diagnosis of chronic illness combined with extended stays in addiction treatment centers and a stint in a halfway house led Grant W. Curry to the arts. After dabbling in music in his late teens, he moved to New Orleans from his home of Slidell, LA to commit himself full time to music and joined forces with like-minded musician James Hall in several line-ups before calling it quits and moving into music production; Sterling was their drummer in the mid-90's. After relocating to Atlanta several years after Hurricane Katrina, Curry found guitarist J. Leslie Hedberg in early 2020. Hedberg, a longtime resident of Atlanta spent many years as a member of trashy, punk rock inspired bands such as Rotten Gimmick and Luchagors before meeting Grant. Their relationship produced immediate exciting results. Curry then called on his old New Orleans' bandmate Sterling to complete the trio. Before he fell in with Grant and Hall, Sterling had had a proper New Orleans high school experience, replete with intensive drum corps study while sidelining in local New Wave bands. When he joined Flood Twin as drummer, the chemistry was obvious, immediate and incendiary in the best way possible.
Flood Twin is offered to the world as an opportunity for inquiry; an invitation to have a listen and begin to feel something; anything.