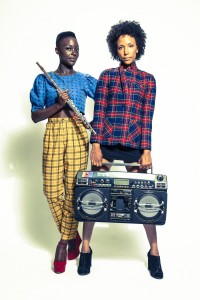 Flutronix, a critically acclaimed flute duo comprised of Nathalie Joachim and Allison Loggins-Hull, are releasing a new EP, City of Breath, a collection of four tracks that highlight the duo's classical flute playing, while staying true to their unique urban art-pop style. City of Breath features minimalist composer Steve Reich's iconic Vermont Counterpoint, as well as three Flutronix originals – Like a Storm, a tribute to master flutist Carol Wincenc, an acoustic version of Flock (to be released by classical music publishing house Carl Fischer) and a re-issue of She Is featuring the Melodia Women's Choir. The EP captures sounds that are cinematic, hypnotic, rhythmic and delicate. Primarily instrumental, City of Breath is the duo's way of nodding to the classical community with which they have a strong connection. Joachim was recently recruited by the Grammy winning classical ensemble, eighth blackbird, and relocated to Chicago while remaining committed to Flutronix.
City of Breath and their previous long player, 2.0, was co-produced by Joachim and Loggins-Hull with Tony Maimone (Pere Ubu) of Studio G Brooklyn. On 2.0, one featured track was produced by legendary hip hop producer Ski Beatz. Guest artists include drummer Joe Blaxx and the Melodia Women's Choir of NYC, Cynthia Powell, Artistic Director; Jenny Clarke, Executive Director.
Flutronix's multiple roles as composers, performers and producers has moved them to collaborate with artists and ensembles from different realms and disciplines, including electronic music sensation Dan Deacon and the International Contemporary Ensemble. In recent years, they've garnered some great critical notices:
…their sound has an ethereal, arty flavor that comes from years of dedicated classical music training." – Dan Grunebaum, Metropolis Magazine
"…a unique blend of classical music, hip-hop, electronic programming and soulful vocals reminiscent of neo-R&B stars like Erykah Badu." – Tad Hendrickson , The Wall Street Journal
"…redefining the flute and modernizing its sound by hauling it squarely into the world of popular music." – Richardine Bartee, MTV Iggy
"Nathalie Joachim and Allison Loggins-Hull are both accomplished players of the instrument in their own right, but together as Flutronix the duo conjure something special." – Alexander Abnos, WNYC Gig Alert
"Joachim and Loggins-Hull's success here lies in the duo's impressive timbral coordination of acoustic flute with the inherent polish of synthetic sounds – no simple achievement." – Doyle Armbrust, Time Out Chicago
Nathalie and Allison knew they had to master and manage every aspect of their work – from music publishing and business interests to sharing their hard-earned knowledge and experience – in order to achieve success on their terms. Flutronix's work is published both independently and by Carl Fischer, and they host an online web series, Real Flutists, which presents iconic flutists from all walks of music in an informal interview format. Much sought after as clinicians and educators, Flutronix has presented and lectured for The Juilliard School, the University of Michigan, the New York Flute Club, the Texas Flute Society and other institutions across the country. Flutronix also presents on-site workshops for university students to develop their confidence, know-how and awareness in developing and sustaining a music career in the 21st century. They teach musical workshops for grades K-12, and serve as faculty and advisor for The Juilliard School's Music Advancement Program.
Flutronix has gained traction and a growing fan base through performances at WNYC's Greenespace, the Brooklyn Museum, Virginia Arts Festival and Lincoln Center's David Rubenstein Atrium, and the duo produce an ongoing collaborative new music series, Flutronix and Friends. Their sophomore album was released independently in the United States and on Village Again Records in Japan to critical kudos. Their original music, as described in The Brooklyn Paper, "brings a modern sound to the classical instrument", navigating a shared landscape of pop, R&B, classical and contemporary styles using acoustic and electronic elements.
Nathalie regularly combines her exceptional performance skill as a flutist with her creative talents as a composer, producer and singer, navigating an array of musical genres. She is the newest member of Grammy winning classical ensemble eighth blackbird, and has performed with an impressive range of artists and ensembles including Miguel Zenón, Vampire Weekend, the Center for Contemporary Opera, Richard Reed Parry and The Lone Bellow. Her original compositions have been premiered at Park Avenue Armory, and the 2015-16 season holds several commissions, including one from Helen Simoneau Danse. She recently served as a faculty member at The Juilliard School's Music Advancement Program, and remains connected to the program as a proud alumnus and advisor. Nathalie received her training in flute performance, audio production and sound design at The Juilliard School and The New School. Her flute tutelage is accredited to Carol Wincenc, Bradley Garner and Jayn Rosenfeld.
Known for her agility in multiple genres, Allison has performed and recorded with an eclectic array of ensembles and artists including the Met Gala Orchestra, the Martina Arroyo Foundation Orchestra, Frank Ocean, Diplo and many others. She has performed at renowned concert stages including Carnegie Hall, Weill Recital Hall and at the Mostly Mozart Festival at Lincoln Center. Allison is a graduate of SUNY Purchase Conservatory of Music, where she studied with Tara Helen O'Connor. She completed her Masters in composition at NYU and her earliest flute teachers were Mary Barto and Melissa Sweet. In the fall of 2015, Allison will join the flute faculty of The Juilliard School's Music Advancement Program.