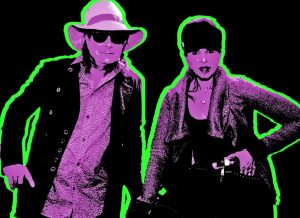 The World of Captain Beefheart is a comprehensive overview of the man also known as Don Van Vliet's towering legacy, re-imagined and infused with new blood by vocalist extraordinaire Nona Hendryx and avant-guitar legend Gary Lucas; this pair starred in a symphonic Beefheart Tribute with Amsterdam's famed 65-piece Metropole Orchestra at the Paradiso a few years ago.  The album was co-produced by Gary and Jesse Krakow and recorded at EastSide Sound in NYC. The World of Captain Beefheart is being released by Knitting Factory Records on November 10.
The World of Captain Beefheart strikes a fine balance between the more bluesy and groove-accessible songs in the good Captain's oeuvre and the more extreme, darker and weirder side.
The former is well represented by "Sun Zoom Spark," "Too Much Time" and "Her Eyes are a Blue Million Miles" from Beefheart's 1973 Clear Spot album, "When It Blows Its Stacks" from 1972's The Spotlight Kid, "Sure 'Nuff 'n Yes I Do" and "I'm Glad" from Safe as Milk, and "Tropical Hot Dog Night" from 1977's Shiny Beast. The latter is explored via "When Big Joan Sets Up" and "Sugar 'n Spikes" from 1969's Trout Mask Replica, and "The Smithsonian Institute Blues" from 1970's Lick My Decals Off, Baby.
Nona Hendryx is a longtime fierce admirer of Don Van Vliet's music, and possesses the huge voice and the commanding stage presence necessary to do full justice to repertoire that originally featured Beefheart's unforgettable multi-octave voice. Although she's best known as a funk/soul great thanks to her long tenure with international hitmakers Labelle (as well as the group's antecedent, Patti Labelle and the Bluebelles) as well as her own excellent R&B-rooted solo outings, she is no stranger to experimental rock territory, having been featured as guest vocalist with cutting-edge ensembles including Talking Heads, Bill Laswell's Material, and Jerry Harrison's Casual Gods.
Gary Lucas first made his mark as an incendiary, visionary guitar player on the final last two Beefheart albums, Doc at the Radar Station (1980) and Ice Cream for Crow (1982). A world-renowned instrumentalist and Grammy-nominated songwriter and composer, Gary has released over 30 acclaimed albums in a variety of genres—including last year's tribute to the soundtracks to Max Fleischer's cartoons: "Gary Lucas' FLEISCHEREI"— which was chosen as one of the Best Albums of the Year by DownBeat. Gary also collaborated most significantly with the late Jeff Buckley, co-writing "Grace" and "Mojo Pin", the first two songs on Jeff's 2-million selling "Grace" album.
Ably supporting these two are expert practitioners of Beefheartian derring-do Jesse Krakow on bass and Richard Dworkin on drums–both veterans of Fast 'N Bulbous, Lucas' free-jazz instrumental outfit that specializes in repertoire from the Van Vliet canon. Completing the lineup is keyboardist Jordan Shapiro, who's played with Gary in his long-running avant-rock crew, Gods and Monsters.
Don Van Vliet a/k/a Captain Beefheart   has been provoking and enchanting music lovers
since 1966, emerging full-blown out of the High Mojave Desert with a rendition of Bo Diddley's "Diddy Wah Diddy" which earned him an appearance cavorting in the surf on ABC's "Where the Action Is", and an on-air interview via phone with Dick Clark on "American Bandstand" while the kids dutifully boogied to this intense blues-rock blast.
In the years that followed, Captain Beefheart achieved worldwide notoriety as one of the most singular voices and uncompromising composers in relatively popular music, a trail-blazing maverick genius who single-handedly changed the face of music as we know it via a series of ground-breaking albums with a number of different Magic Band line-ups, starting with 1967's "Safe as Milk" and finishing with 1982's "Ice Cream for Crow." His music combined Delta blues, free-jazz, and proto-punk rock with surrealist imagery, ecological obsession, and the highest and airiest of wit. It was a unique and unforgettable sound which proved highly influential on the first wave of punk and new-wave pioneers including John "Rotten" Lydon, Joe Strummer of the Clash , and Talking Heads' David Byrne, as well as seminal artists such as David Lynch, Laurie Anderson, Ed Ruscha, Woody Allen, Julian Schnabel, and Matt Groening.  On stage and on record, Don Van Vliet explored musical and lyrical territory never before charted in the confines of a traditional electric band line-up.
He retired after releasing 13 astonishing albums to concentrate on painting. Van Vliet's tragic passing in 2010 (from complications of MS) saw him eulogized in the editorial pages of the New York Times.
Yet, to this day, Don Van Vliet remains a cult hero, relatively unknown in mainstream circles. If any album is able to change that, it's The World of Captain Beefheart.