George Usher and Lisa Burns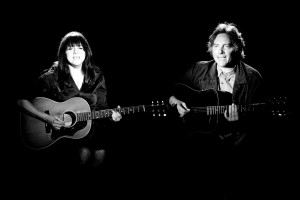 New York songwriters George Usher and Lisa Burns return with the release of their song-cycle collaboration, The Last Day Of Winter.
Moving between guitar and piano, Usher ("a beloved fixture on the downtown scene for two decades"-TimeOut New York, "one of New York's best pop-craftsmen"—Village Voice) and Burns (whose "sharp, smoky voice enables her to snake through soul ballads as no white singer has done in quite some time"-Rolling Stone) offer up their first recorded collaboration, The Last Day Of Winter, a work composed under difficult circumstances.
Unable to use his hands or play any instruments for over two years due to the chemo treatments from his long battle with cancer, Usher composed 12 song lyrics full of reflection and reverie that Burns has put to music.  The album features an eclectic set of folk-rock ("Wake Me When Tomorrow's Here", "More Than That I Cannot Say"), country ("Dark Blue Room" and stripped-down, intimate pop/folk("Depression Glass," Wasn't Born To Belong"). Musical guests include Capt. Kirk Douglas (The Roots), Sal Maida (Cracker, Roxy Music), and Dave Schramm (The Schramms). The Last Day Of Winter was mixed by Eric Ambel (Del-Lords, Roscoe's Gang).
George Usher has been a fixture on the NY scene since the early '80s, when his band the Decoys were mainstays of CBGBs and Village club scene. While putting in time with local legends Beat Rodeo, the Bongos, and the Schramms, Usher formed House Of Usher and the George Usher Group, releasing many well-received albums, including: Miracle School ("****"—Pulse, "marvelous folk-pop"—Alternative Press), Fire Garden ("a true pop masterpiece"—20th Century Guitar, "*** a textbook definition of power pop"—Uncut) and his most recent, Yours And Not Yours, ("put simply, another masterpiece"-Bucketful Of Brains).
As a songwriter, he's made his mark with songs recorded by Laura Cantrell ("Not The Tremblin' Kind,") Richard Barone ("River To River," "Clouds Over Eden"), and Edward Rogers; he co-wrote and co-produced Rogers' first solo record, Sunday Fables, and his stunning follow-up, You Haven't Been Where I've Been.
Lisa Burns has been a consistent presence in New York music circles since the late 70's. Her rocking, self-titled album, Lisa Burns (MCA) was produced by Craig Leon, and stints followed with Velveteen (After Hours, Atlantic) and country-folkers The Lovin' Kind (Along The Way).  In recent years, Burns has released a series of stunning folk-pop albums, including Unadorned ("It's the best thing I've heard in ages" –Russell Mael of Sparks, "An enjoyable musical journey" – Phil Manzanara of Roxy Music), a collaboration with poet Holly Anderson (New Randy) and her latest album, Channeling Mary, called "gutsy, sensitive and honest," by Mary Weiss of the Shangri-Las.