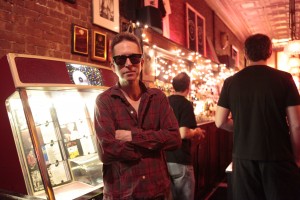 Incidental Hum is the newest work from guitarist/songwriter/vocalist Glenn Mercer, best known as a founding member of veteran New Jersey band The Feelies.  The album comprises fifteen instrumentals, including twelve original tracks along with three covers.  The recording was done at his home studio in Haledon with Mercer providing all the instrumentation and producing. Incidental Hum will be released on Bar/None Records October 9.
"My idea for the Incidental Hum was to try to create music that would evoke an atmosphere, "explains Glenn,  "that would, in turn, suggest images of a more specific location. I would, as an experiment, picture in my mind a scene with a particular environment and then write music to match the mood and place. Once the concept came together, I also allowed for influences from other movie soundtracks like cheesy B horror films, spaghetti westerns and teenage surf flicks."
Incidental Hum is Mercer's second solo album, the first being Wheels in Motion which came out in 2007. It is his first purely instrumental recording though, its roots go back to an earlier period in his musical career.
"Back in 1982, Bill Million [of the Feelies] and I wrote some music for the indie film Smithereens. That led us to a new way of working and writing: that was recording-based rather than performance-oriented. We soon formed the Willies as a vehicle to explore some of those ideas in a more experimental and improvisational, less restricted structure. I remember being influenced by music that stretched beyond the confines of rock and roll, like Phil Glass, Kraftwerk, Fripp and Eno and Bowie's Low."
One of Brian Eno's early classics "Here Come The Warm Jets" is among the covers included on Incidental Hum along with Jimi Hendrix "Third Stone From The Sun" (given a unique re-interpretation!) as well as the Wizard of Oz chestnut, "Somewhere Over The Rainbow."
Glenn Mercer started on his musical path playing bass guitar with friends in various neighborhood bands. While studying art in college, he switched to guitar and helped form the "Out Kids," with fellow Feelie Dave Weckerman on drums. At first, this outfit played covers of semi-obscure garage bands from the 60's, but soon began writing original material and playing shows in NYC. Bill Million was brought in soon after as a replacement for the original bass player who simply up and quit. When the Out Kids broke-up after a heated argument with the lead singer, the remaining members – Glenn, Dave and Bill – decided to stay together; Glenn took over lead vocals and Bill switched to 2nd guitar. When another local joined on bass, the group chose the name the "Feelies."
The Feelies released three records in the 80's (Crazy Rhythms, The Good Earth, and Only Life – the former two re-released by Bar/None a few years ago and the latter slated for re-release on the same label later this year) with their fourth in '91, (Time For A Witness – being re-leased simultaneously with Only Life), before disbanding. Glenn and Dave soon formed the band Wake Ooloo that put out three albums in the '90's. Glenn also began playing with other locals such as Sunburst and East of Venus, then put out Wheels In Motion. In 2008, he reunited with the Feelies for ongoing live performances, and releasing a new album Here Before in 2011.
The Feelies have continued performing at strategic intervals ever since and are gearing up for more recording. Their cover of "Paint It Black" appears in the latest Jonathan Demme movie, Ricki and the Flash.