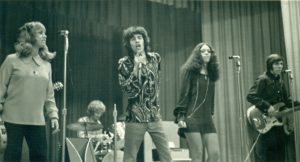 Music Is The Answer: The Complete Collection is the first full length release of long lost 1971 sessions from the East-L.A. supergroup God's Children. Featuring eight never-before-issued tracks as well as six from long out of print 45's, Music Is The Answer is being issued by Minky Records on CD April 13 with a strictly limited edition on brown vinyl for this April 21, Record Store Day.
"With God's Children, we thought we could speak to the people out there who were hurting, experiencing life and its battles" states the outfit's co-founder "Little Willie G." Garcia. It was a lofty mission, higher than simply acquiring luxury items or celebrity stature, but in 1969, it was a reasonable aim. While the Beatles called out "Revolution" and Sly and the Family Stone asked listeners to "Stand!," music, as a generation's dominant artistic expression, was not only raising the questions, it was providing inspiration, information, and answers. For young Latinos Willie Garcia, Ray Jimenez, and Lydia Amescua—the main voices in God's Children—the door was abierto, and the time was ahora for a mixed-gender, multi-racial Southern Californian combo to stake their claim in rock 'n' soul redemption.
God's Children was conceived of by Garcia and "Lil' Ray" Jimenez who had already experienced great regional success with Thee Midniters, crowned princes of the Eastside Los Angeles music scene. Swinging their repertoire from the evolving rock standards, to wild and loose garage jams and back to traditional barrio, they cast the mold for brown-eyed soul and helped define West Coast low rider music in the early '60s, post-Ritchie Valens-era of Mexican-American music. The sound would come to be known as "Chicano rock" and ultimately Latino rock 'n' roll, the kind practiced by second, third and fourth generation groups with diverse make-ups, but ultimately rooted in the fully alive culture of Spanish-speaking California.
Thee Midniters eventually ran its course and Lil' Ray left to pursue his songwriting dreams under the aegis of Seymour Stein, landing a staff position at Columbia Records in New York. Little Willie G. stayed on as singer for Thee Midniters, but eventually he too grew frustrated with the inherent limitations of a rock band. "We weren't evolving. There was so much going on around us and I just personally felt, in order to grow, I needed to move on and start experimenting with other musicians," he explains.
Ray's family never adjusted to city life and he inevitably brought them back to California and began performing in the Central Valley which is where Willie tracked him down. After several telephone conversations both agreed to work together on a new project, adding a teenage girl with a big voice, Lydia Amescua – to be known as Amesqua in the group — to the mix. It was she who christened the band on a car ride between LA and Bakersfield, "Because, well, we're all God's Children," she said.
Inspired by the work of artists diverse as Johnny Rivers and Stevie Wonder and seasons of festivals like Monterey Pop and Woodstock that introduced heavy showmanship to the stage, God's Children began to blend doo wop, funk, and choreography into their new brand of soulful sound. "There seemed to be a freedom of expression and I wanted to experiment with that," says Little Willie G. He and Lil' Ray envisioned a new morning for a Latino-led rock band that would not only be mixed gender but bi-cultural, adding two more women— Fawn and Stacy Rymal.
A local music entrepreneur Eddie Davis booked studio time for God's Children and arranged for a 40-piece orchestra to be present at the session. Soon, the band was signed to the UNI label and sent into the studio for more recording. This time Phil Spector's famed Wrecking Crew assisted at the sessions: Bassist Carol Kaye, guitarist David T. Walker, drummer Paul Humphrey, percussionist Victor Feldman and Leon Russell on piano.
At the time, two singles came out on Uni, but soon, dealing with label hierarchy disillusioned the band members who went their separate ways. Garcia would join the progressive Latino rockers Malo and eventually contribute to recordings by Ry Cooder, Los Lobos and others. Till just recently Amescua continued performing live under the name Lydia Verdugo and Jimenez still regularly works at his L.A. studio.
As you listen to these holy relics of Latino Rock and think about the circumstances and conditions under which they were made, you may also hear the sound of right now: Elation and heartbreak, pride of celebration and the ceremonies of Spanish-speaking Californians, living their lives out loud, contributing to the evolution of Chicano rock from Santana and El Chicano, to the Zeros and Ozomatli.