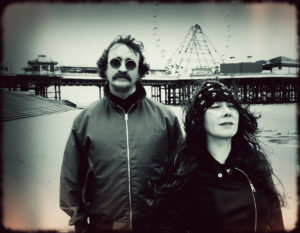 "The Current" is the fourth album hackedepicciotto have recorded since becoming nomads in 2010. It is their most powerful album yet. After composing desert drones for their previous album "Perseverantia " and dark foreboding melodies for "Menetekel", their new album moves forwards, gaining in speed and energy. Alexander Hackes background with Einstürzende Neubauten can be felt in the many rhythmic tracks. "We had the urge to include more percussive elements and electronic sounds to create a powerful rhythmic feel. A wilder and more danceable element. Something to get all of us on our feet, and moving. Away from depression and hopelessness." The classic background of Danielle de Picciotto has become more prominent as well. Glorious choirs and violin harmonies flow throughout the album giving it an almost symphonic sound.
The artist couple calls their music "cinematic-drone" and their album sounds like the film track to an apocalyptic feature-length film, hopefully with a happy end.
"hackedepicciotto" are Alexander Hacke and Danielle de Picciotto. Both are legends of their own making: Danielle de Picciotto moved from New York to Berlin in 1987, to become the lead singer of the band "Space Cowboys",co-initiator of the Love Parade, a collaborator of the Ocean Club with Gudrun Gut, and Alexander's partner in crime. Alexander Hacke is an original member and the bass player of Einstürzende Neubauten. The artist couple, romantically married in 2006, has creatively interacted with countless international projects for almost two decades now besides regularly releasing their own compositions.
GERMAN
"The Current" ist das vierte Album, das hackedepicciotto seit Ihrem Entschluss im Jahr 2010 Nomaden zu werden aufgenommen hat. Es ist das bisher kraftvollste Album. Nachdem sie für ihre früheren Alben "Perseverantia" und "Menetekel" langsame und schwere Drones komponiert haben, bewegt sich ihr neues Album schneller und energischer. Alexander Hackes Verbindung zu den Einstürzenden Neubauten ist in vielen rhythmischen Tracks zu spüren. "Wir hatten das Bedürfnis, percussive Elemente und ungewöhnliche elektronische Klänge einzubeziehen, um einen starken Energiefluss zu erzeugen." Der klassische Hintergrund von Danielle de Picciotto ist ebenfalls prominenter geworden. Glorreiche Chöre und Violinen Harmonien fließen durch das Album und verleihen ihm einen fast symphonischen Klang.
Das Künstlerpaar nennt seine Musik "cinematic-drone" und Ihr Album klingt wie der Filmtrack eines apokalyptischen Spielfilms der hoffentlich ein glückliches Ende hat. Hackedepicciotto" sind Alexander Hacke und Danielle de Picciotto. Beide sind unabhängig von einander Legenden: Danielle de Picciotto zog 1987 nach Berlin, um die Leadsängerin der Band "Space Cowboys", Mitbegründerin der Love Parade, Musikerin bei Crime & The City Solution, Mitinitiatorin des Ocean Clubs mit Gudrun Gut und seit 2001 die Gangsterbraut in Alexanders Abenteuern zu werden. Alexander Hacke ist Gründungsmitglied und Bassist von Einstürzende Neubauten. Das im Jahr 2006 verheiratete Künstlerpaar hat seit fast zwei Jahrzehnten kreativ mit unzähligen internationalen Projekten kollaboriert und veröffentlicht regelmäßig eigene Kompositionen.