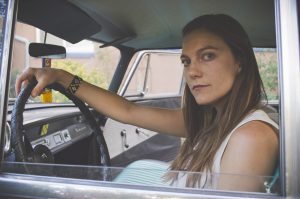 Heather Trost is best known for her work composing, and performing as one half of the duo A Hawk and a Hacksaw. She has also played with Neutral Milk Hotel, Beirut, Josephine Foster, and most recently Thor Harris of Swans. She has arranged and performed with the BBC Concert Orchestra, as well as conductor Andre De Ridder and his Stargaze Orchestra, and toured throughout the world.
In 2014 she released her first solo project, a 7 inch on Badabing records. In 2015, Trost completed "Ourobouros" a limited edition cassette of expansive electronic ambient compositions influenced by Basil Kirchin, Terry Riley and Angelo Badalamenti on Cimiotti recordings.
These two projects propelled the forthcoming full length album "Agistri." Named after a Greek Island, Agistri is a song cycle of freely formed pop songs touching upon Soul, Samba, and Pop music of the 60's and 70's, with an often subtle shade of psychedelia. Ambient and melancholic sounds interweave with hammond organs and 70's Italian synthesizers, reflecting the desert landscapes of New Mexico, and the sparse shrubbery and turquoise water of the Aegean sea and it's islands.
At the core of the record are Trost's wonderful, often surreal melodies and vocals- "Thunder clouds roll over the mesa, casting shadows, raining down remedies, medicine from the the deep. Yesterdays gone, today is here, was this all a dream? leaving me memories from ancestors…"
Featuring contributions from Neutral Milk Hotel's Jeremy Barnes on drums and bass, Deerhoof's John Dieterich on guitar, and Drake Hardin and Rosie Hutchinson of cult New Mexico band Mammal Eggs. Trost's talents as a songwriter and arranger have really exploded on "Agistri," which will see the light of day in May 2017 on Living Music Duplication. She'll be touring in the Spring and Summer.