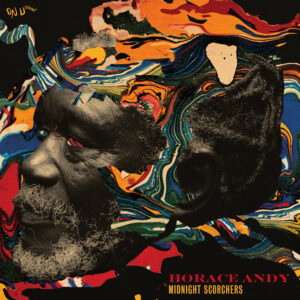 On-U Sound are proud to announce Midnight Scorcher, a sequel to the hugely successful Midnight Rocker album by Reggae veteran Horace Andy. This is the 'sound system' take by avant-dub icon Adrian Sherwood on the original sessions, featuring brand new tracks; radical dancehall re-works with guest toasters; and stripped back instrumental version excursions in deep dub reggae style. Midnight Scorcher is being released September 16 by On-U Sound on both transparent orange as well as black 12" vinyl LP, CD, digital download and via streaming services.
Horace Andy has remained a much-loved figure in a musical career stretching over 50 years, but in recent times has perhaps been more lauded for his work as a guest vocalist for Massive Attack, and touring a live set built on his rich catalogue of 1970s Jamaican hits. The Midnight Rocker album, carefully assembled by producer Adrian Sherwood with Horace over the course of several years, and released earlier in 2022, put the great singer back front and centre as a contemporary artist. Released to rave reviews across the board, including the Guardian putting it top of their albums of the year so far, and lauding it as a "late career masterpiece", the album is now into its fifth pressing and continues to disappear from the racks at record shops across the globe.
The Midnight Scorchers album takes the story one step further, with dubplate style re-rubs (including microphone contributions from Lone Ranger and Daddy Freddy); songs that didn't quite fit into the 'Rockers' sequence but are allowed a chance to shine on this new set; and fresh mixes that allow the striking arrangements to take rhythmic flight. In the same way as the music has been re-imagined, so has the artwork, with award-winning animator Ruff Mercy (Goriilaz, Earl Sweatshirt, Thom Yorke) putting a streetstyle graffiti spin on things, also in evidence in his psychedelic and colourful video for first single "Feverish", a massive new version of one of Horace Andy's Studio One era classics.
An essential second half of the 'Rockers and Scorchers' story, the album is a must listen for hardcore reggae fans and open-minded music lovers alike.
More about Horace Andy: 
Horace Andy was born as Horace Hinds on February 19, 1951 in Kingston, Jamaica. Andy, also known as "Sleepy," has become an enduring voice on the Jamaican music scene. His signature early 1970s hit, "Skylarking," defined his ability to deliver songs of black determination and social commentary, but he could equally deliver songs of love.
Andy worked with producer George "Phil" Pratt on his first single, "This Is a Black Man's Country," in 1967. His cousin, Justin Hinds, was starting to enjoy some success at that time, but Andy would not gain notice until working with noted Jamaican producer Clement "Coxsone" Dodd in 1970. "Got To Be Sure" became his first release for Studio One, Dodd's studio. Dodd gave him the stage name of Horace Andy – a reference to popular singer Bob Andy. With Dodd, Andy went on to record "See A Man's Face," the well-received "Mr. Bassie" and the breakthrough hit "Skylarking," among other songs. "Skylarking," which encouraged wayward youth to clean up their act, was released as a single and topped the Jamaican record charts, becoming a signature tune for Andy.
Although American R&B singers were Andy's early influences, he also comments: "I wanted to be like Jimi Hendrix, to play the guitar like him! I didn't see myself as having a great voice. I didn't know I'd be a great singer."
Andy has consistently recorded and performed around the world, and has remained relevant in reggae subgenres such as roots reggae, rock steady, lover's rock and dancehall, recording with some of the all time great reggae producers including Bunny "Striker" Lee, Niney Holness, Tapper Zukie, Lloyd Barnes and Steely & Clevie.
In 1990, he was discovered by the Bristol based trip-hop band Massive Attack, who cited Andy's work as a major influence. He recorded the song "One Love" for their 1991 debut album 'Blue Lines', and the band's popularity exposed Andy to a younger generation of fans, many of whom continue to seek out his earlier work. After Massive Attack launched their own label, Melankolic, they released Skylarking, a compilation of Andy's career hits. Andy is the only singer of Massive Attack's rotating group of guest artists to appear on each one of the band's albums. He also appeared on the British group Dub Pistols' 2001 album 'Six Million Ways to Live', and on the Easy Star All-Stars' 2006 Radiohead tribute 'Radiodread'.
More about Adrian Sherwood:
"Someone once described me as just a fan who'd got his hands on a mixing desk, They were probably trying to be nasty, but I took it as a compliment – that's exactly what I am!"
For over 40 years now, forward-thinking sound scientist and mixologist Adrian Sherwood has been dubbing it up, keeping the faith when others have fallen away and blowing minds and speakers alike.
Producer, remixer, and proprietor of the British dub collective/record label On-U Sound,  Adrian Sherwood has long been regarded as one of the most innovative and influential artists in contemporary dance and modern reggae music. His talent for creating musical space, suspense, sensations and textures have enabled him to pioneer a distinctive fusion of dub, rock, reggae and dance that challenges tradition not only in roots circles, but also in the pop world at large.
"I'd rather try and create a niche amongst like-minded people, and create our own little market place be that 5, 50 or 500,000 sales and also be true to our principles of making things, and to your own spirit that you put into the work."
Born in 1958, Sherwood first surfaced during the mid '70s and formed On-U Sound in 1981. While the On-U Sound crew's original focus was on live performances, the emphasis soon switched to making records and Sherwood began mixing and matching lineups, resulting in new acts including New Age Steppers, African Head Charge, Mark Stewart & Maffia, and Doctor Pablo & the Dub Syndicate.
All of these early records, according to Rock: The Rough Guide were "phenomenal, generally bass-heavy with outlandish dubbing from Sherwood, who worked the mixing desk as an instrument in itself."
Long influential and innovative on the UK reggae scene, Sherwood's distinctive production style soon began attracting interest from acts outside of the dub community and by the early-'80s Sherwood was among the most visible producers and remixers around, working on tracks for artists as varied as Depeche Mode, Primal Scream, Einsturzende Neubaten, Simply Red, the Woodentops, and Ministry. He became increasingly involved in industrial music as the decade wore on, producing tracks for Cabaret Voltaire, Skinny Puppy, KMFDM, and Nine Inch Nails, and although On-U Sound continued to reflect its leader's eclectic tastes, the label remained a top reggae outlet.
In 2003 he launched his solo artist career with Never Trust a Hippy, which was followed in 2006 by Becoming a Cliché. Both were released by On-U in conjunction with the Real World label.
Still one of the most sought-after producers in the contemporary music industry, Adrian Sherwood and his progressive style and interest in developing new ideas continue to propel On-U Sound's ongoing success. In 2012 he issued his third solo album Survival & Resistance, and began an ongoing collaboration with Bristol-based dubstep don Pinch. This brought two different generations of bass together and in 2015 the pair released their debut album Late Night Endless. Behind the mixing desk he has been working with the likes of Spoon, Roots Manuva and Nisennenmondai; and delivered remixes of Halsey, Congo Natty and Django Django. His production and remix works has also begun to be anthologised by On-U Sound with the critically acclaimed Sherwood At The Controls series.
"Music is lovely because it stimulates people, superficial music doesn't. If you make something that you put your heart and soul into and really try to push it so it leaps out the speakers at you, and if there's a good feel to it, then you've achieved something."