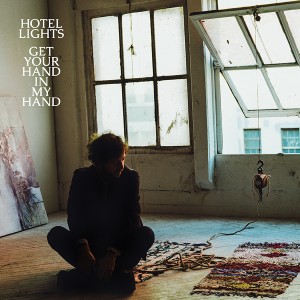 Since the 2011 release of Hotel Lights' last critically acclaimed record, Girl Graffiti, singer/songwriter/vocalist/musician Darren Jessee has been a very busy man.  Ben Folds Five – for whom Jessee has played drums and contributed songwriting since its inception in 1993 – had just released their 2012 album The Sound of the Life of the Mind, which debuted at #10 on the Billboard charts and soon sent them around the world on tour. Once home in Brooklyn, the North Carolina native found time to put the final touches on Hotel Lights upcoming fourth record, Get Your Hand in My Hand, only to then promptly leave to traverse the globe again, this time touring as a sideman for Sharon Van Etten for her 2014 release.  Finally off the road, Jessee is proud to announce the release of Get Your Hand in My Hand on March 4th on Bar/None Records.
"I was writing it between tours with Ben," Jessee says of the upcoming album, "and then recorded it after that tour was winding down. I still remember driving home through the mountains from mixing in Nashville, and waking up a few days later to begin rehearsals with Sharon."  By the time Get Your Hand in My Hand was completed, he found that he'd compiled a collection of songs both sumptuous and intimate, lush and personal, and all of a unified mood – one evoking late nights in low lights – that finds Hotel Lights at its best.
As with the past Hotel Lights albums, the new record bears the heavy imprint of Jessee's longtime collaborator, guitarist/engineer Alan Weatherhead (Sparklehorse, A Camp), with whom Jessee recorded the album in Richmond, VA.  Joe Costa mixed the album in Nashville.
A craft throwback of sorts, Get Your Hand in My Hand arrives as a complete album experience.  Marked by quiet grace, a sense of restraint, and impeccable craft and performance, Jessee's songs consistently deliver understated but unshakable hooks with evocative and impressionistic lyrics. From the louche bossa nova-tinged opener "Lens Flare" to the quietly anthemic "We're Really Gonna Do It" (whose chorus supplies the album its name), the songs collected here reveal themselves both immediately and slowly, layers of lyric and melody unfurling and sinking their hooks into you according to some magical slow-release delivery system. Also included is a cover of Nikki Sudden's little-known gem "Ambulance Station," originally from The Jacobites' lost masterpiece Robespierre's Velvet Basement.
Consistently just outside the spotlight as songwriter, Jessee has created songs that have been lauded – whether it's known he was the author or not. Some of Ben Folds Five's biggest hits, including their ubiquitous smash "Brick," the tender ballad "Magic" from The Unauthorized Biography of Reinhold Messner, and "Sky High" from The Sound of the Life of the Mind (also included on Get Your Hand in My Hand as a Hotel Lights arrangement), were written by Jessee in whole or part.
Since forming Hotel Lights in 2003, the combo has developed a loyal following for their lilting pop sensibilities and sumptuous melodies.  The band's first three albums – Hotel Lights (Bar/None 2006), Firecracker People (Bar/None 2008), and Girl Graffiti (Bar/None 2011) – each received an enthusiastic response from the media and saw their songs placed in a variety of popular films, TV programs, and international advertising campaigns.
Hotel Lights has become known for its poetic beauty that's decidedly relaxed and exquisitely shimmering—all at once.  On Get Your Hand in My Hand, for the most part, there is little to be found other than a variety of acoustic instruments and textures performed with great skill.  It's just the type of album to prove that, in the right hands, little else is needed.
https://www.facebook.com/HotelLights/