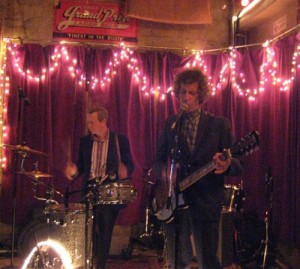 HUGElarge: 2 dapper gents + 1 cocktail drum + 1 Teisco guitar plugged into a 12 watt amplifier = a great self-titled debut album. Guitarist/vocalist Robert Malta (Pawpawblowtorch…) and drummer Matt Norelli (American Music Club…) recorded fifteen raucous rave-ups of garage, punk and pop gems and one original number at Bayview Studios and Jackalope Studios in Northern California, engineered and mixed by Karl Derfler (Tom Waits, Roky Erickson…) HUGElarge is being released September 29 by HWY 61 Records via special high-quality vinyl album collector's edition, digital download, and streaming services.
HUGElarge features underground classics by Sonics, Stooges, Johnny Thunders' Heartbreakers, and Standells among others rendered in the band's blistering "two-man power trio" style, an appropriately raw documentation of the live shows that've delighted Sonoma County residents since 2006.
This pair first started playing together in 2005 after years of extensive touring, long recording sessions, hauling equipment as professional musicians; the usual soul crushing grind. Convinced that it was possible to regain the excitement of banging out songs for fun, Malta bought an old Silvertone amplifier at a garage sale and talked Norelli into playing just one drum, "purely as a way to get together and have fun," insists Malta.  They were playing regularly in their "clubhouse" (Matt's garage) with no particular goals beyond that when a friend dropped by a rehearsal and after much coercion talked them into playing a show opening for his local punk band.
Soon after, they established a short set list of songs, mostly covers, a determination to not play outside their home turf and alway play as openers and wound up becoming the worst kept secret around Santa Rosa playing sold-out shows with artists as diverse as James McMurtry and Blowfly.  The local Russian River Brewing Company created a special beer in their honor called HUGElarge Czech Pilsner!
The respective careers of this duo go back a ways. When Robert was barely in his teens, he began singing in a band with older musicians, lying about his age to perform at now-legendary venues like Pandora's Box, The Galaxie, and Bido Lidos on the Sunset Strip during the first wave of "garage bands."  He shared bills with Love, The Music Machine, The Seeds, The Standells among others.  Eventually, Malta moved to San Francisco playing bass with a series of groups: The Dummy Heads (w/Penn & Teller), The SF Mau Maus, Pawpawblowtorch (with Matt) and Bermuda Triangle Service.
Meanwhile, Matt's history starts in the 80's drumming for the San Francisco "skinny tie" band The Ironics. He went on to provide percussion for alt-funksters The Farmers and then playing suitcase for the lo-fi outfit The Cubists. He would become a founding member of American Music Club performing on their first two albums and touring extensively with them. At this point, he took an extended hiatus from music until he joined Pawpawblowtorch, met Malta and finally started the garage-shedding that would lead to the distillation of HUGElarge.