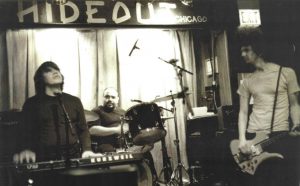 The Static is the latest and potentially last final release from Chicago indie rock supergroup, Hushdrops. It'll be released by venerable hometown label Pravda Records on November 12 on 12" vinyl LP in gatefold sleeve, CD, digital download and via streaming services.
Few things seem more inevitable than the convergence of these two Chicago institutions. Pravda Records has been documenting an impressive and varied roster of the city's greatest talents for more than 3.5 decades, while veteran supergroup Hushdrops have been loudly banging out their own brand of power trio melodicism for nearly as long. Friends and collaborators of the band have both worked and recorded for the label, and members of the group have contributed to several of the label's releases. That Pravda should deliver Hushdrops' third, and possibly final, full length feels like nothing so much as the closing of a circle.
Work on The Static was completed just after the tragic, sudden, and untimely death of Hushdrops drummer Joe Camarillo (at 52), and now exists – in part – as a final tribute to Camarillo's inimitable musical gifts. Bandmates John San Juan and Jim Shapiro have always regarded Camarillo as the soul of the band – not only for his unparalleled feel and creativity as a drummer, but also his ability to crucially drive the musical direction of each project, performance, and song – typically as a modest, unseen hand ("The Soft Alpha"). San Juan feels that The Static features some of Joe's most free and magical drumming: "Better to celebrate than to mourn him, and he has given us an abundance of very special playing to celebrate."
Though all three have given freely of their time and talents over the years (San Juan to Material Issue, Liam Hayes/Plush, Josh Caterer, the Webb Brothers, Kevin Tihista, etc., Shapiro to Veruca Salt, and Camarillo to the Waco Brothers, NRBQ and many more), it was Hushdrops that each considered his musical and spiritual home. "None of us played like this with anyone else", says Shapiro. After briefly drifting apart following the touring/promotional cycle for 2014's Tomorrow (a scrappy and raw double album, rendered in glorious mono), the music on The Static was developed with all of the renewed dedication, energy, and purpose of three friends/musical soulmates – more thankful than ever to have returned to their natural collaborative state.
These 14 songs were all committed to tape with a first take "live band energy" naturalism that also incorporates ghosts of the more decorative, deliberate, and baroque approach of their debut (2004's Volume One). Tracks like "Monday", "I Had a Room", and "Psychic Space" have all of the unguarded live-wire rawness of vintage Crazy Horse (as if secretly recorded), while singles "One of the Guys" and "The Sweetest Plum" provide an altogether more textured and layered feel. As always, veteran Hushdrops collaborators (Nora O Connor, Carolyn Engelmann, and John Perrin) are on hand to sprinkle additional magic dust.