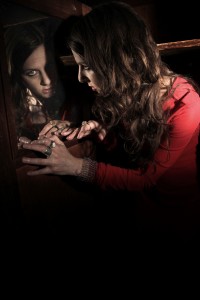 Insect Ark's debut full-length album, Portal/Well is the result of one years' work in composer/multi-instrumentalist Dana Schechter's Brooklyn studio. Exploring themes of corruption of the natural world and facing oblivion, Portal/Well continues the wordless existential narratives already established on 2013's Long Arms EP and 2012's "Collapsar" 7″ single. Autumnsongs Records will Portal/Well, on CD in June 9, 2015.
Portal/Well finds its voice in the sound of elements burning and crushing into each other: in the haunting groans and swells of the lap steel guitar, the stalking bass, the insistent drum programming, and the deep oscillations of synthesizers. From this morass songs are born, deeply melodic, dense, austere, and wildly unhinged
To say that Portal/Well is a dark album would be a grave understatement – Insect Ark is often called "Experimental/Doom" – but there are moments infused with bright shards of light and respite to breathe clear air, before submerging the listener once again into a deep cavern of lustrous shadow.
Over the year, Schechter wrote and recorded alone, at all hours of the day and night. The album was built with careful attention to immaculate detail, but also takes chances, pushing beyond personal barriers. Without the external influence of collaborators, it is the product of a journey into composition and sonic exploration using a small but dynamic palette of instruments and a singular compositional voice.
In 2015 Insect Ark gained a second member, drummer and electronics operator Ashley Spungin, who is known for her work with the Portland-based band Taurus. While Schechter appreciated the freedom of working alone, she ultimately decided that live drums would be a powerful addition to the project's releases and shows. The new duo incarnation of Insect Ark will begin recording and touring in spring 2015.