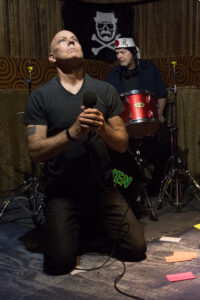 Crawling Through Grass is a new album from Ritual Tension/Carnival Crash frontman Ivan Nahem. The album was recorded at Deepsea Studios in Hoboken, NJ and Sleeveless Studios in Woodside, NY self-produced by Nahem.  Crawling Through Grass is being released May 13 by Arguably Records on CD, digital download and via streaming platforms.
Shortly before the pandemic struck, Ivan's longtime friend and collaborator Gregg Bielski suggested doing a series centered around his other sort of work, teaching yoga, posing the question: what could post-punks and noise artists do in a more tranquillizing medium? Crawling Through Grass is Nahem's answer.
Ivan takes center stage on Crawling Through Grass, writing the tunes, playing, engineering the recording sessions and orchestrating the hybrid sound collages integral to the album. His collaborators on this venture include Bielski (Easy Bake Oven), Ivan's brother Andrew (Ritual Tension), Norman Westberg (Swans, Heroin Sheiks, solo work), Mark C. (Live Skull, o13), Jon Fried (The Cucumbers, Campfire Flies) and Jadwiga Taba (Nac/Hut Report). Nahem's wife Helen reluctantly contributed some vocal material as well.
Ivan was born in the Fifties in New York City. His father played major league baseball and is credited with a significant role in the integration of the game – https://forward.com/news/453932/remembering-sam-nahem-the-syrian-jew-who-integrated-military-baseball/ . His family moved to the San Francisco Bay Area when Ivan was turning 5. Eventually there were two younger siblings, a sister and brother, and they settled in Berkeley.
Despite his intense attraction to all sorts of music, there were discouragements in his own musical ventures, so Ivan concentrated on writing stories and poems. In his early twenties he published fairly widely, including a book of poems. He married the poet Rachel Loden and they had a daughter, Skye; eventually they divorced.
During this period his musical tastes evolved from Dylan and Neil Young through to Tony Scott's Music for Zen Meditation, Coltrane, Dr. John, Beethoven, Junior Wells, to the Velvet Underground and the Stooges.
After obtaining a degree in literature from UC Berkeley, he wanted out of academia, and through the next decade or so supported himself with factory and restaurant work. He saved money for long hitchhiking trips in the US and Europe. He was listening to Bowie, Eno, Patti, the NY Dolls. Staying a year or so in New York he hung at CBGB in the early days, and was duly impressed with early Television, Heartbreakers and Ramones.
Back in the Bay Area he enjoyed the punk scene, and one night at the Mab he watched the Offs drummer falling off his throne and thought, I could do that just as well. He bought a Ludwig trap set and within weeks successfully auditioned for The Situations, a sort of punky B-52's fronted by the Soder sisters. It was a whirlwind for a time, as the band got suddenly popular in the scene, but all too soon imploded.
Ivan's younger brother had started with guitar, so they formed a nucleus of a band, soon joined by two Situations überfans, Mark C. and Tom Paine. They played around the scene as Crop and made some headway, but, after Andrew left the band, the other three decided to head to NYC. They auditioned guitar players but Ivan wasn't happy with the group's direction, and left to start a band with a friend from Bay Ridge, John Griffin, and Norman Westberg, who had tried out for Crop. (It might be noted that Mark and Tom eventually formed Live Skull.)
The new band called themselves Carnival Crash. Starting as a threesome they played around town. A futile search for a vocalist led to Ivan taking over vocals — he was writing much of the lyric content anyway and he was replaced on drums by the virtuoso James Lo. Main influences during this period: Beefheart, Joy Division, Birthday Party. The band recorded twice but broke up during the second session. Two of the tracks were released as a single by "Ivan X" in 1982, "Edge of Night" b/w "Tell Tale Heart." Remixed tracks from both sessions were released by Obelisk Records as the album It Is A Happy Man in 2020, material which according to some proves that Carnival Crash was ahead of its time.
By the time that band had crashed Ivan's brother Andrew had come east and they formed Tension, which debuted at White Columns. Gradually they added other players, eventually Marc Sloan, bass, and Michael Shockley, drums. As Ritual Tension they released two studio albums and one EP. These were all met with critical acclaim from Spin to Sounds, but the band was perhaps too uncompromising in its sonic abrasiveness and lyric intensity to generate popularity, and lack of proper management hindered them as well. Their songs "Social Climber" and their sarcastic cover of "Hotel California" generated interest, and CBGB owner Hilly Kristal loved the band and often gave them the headlining spot on Friday or Saturday, and together with Celluloid Records released a Ritual Tension live at CBGB album on his short-lived label.
Simultaneously in the mid-80's, Norman recruited Ivan to play drums with Swans. He created most of the beats for the album Greed but found working for Michael Gira taxing. Ivan was immersing himself in Native American culture, met Dennis Banks, and performed the Who Rites at the Pyramid and PS 122.
In the late 80s Ivan moved to Hoboken, married Alice Genese (Sexpod, Psychic TV) and they had a son, Jesse, but divorced by mid 90s. Ivan disbanded Ritual Tension to work on his writing. He had a play performed and struggled with several novels. He did some performance comedy and curated a reading series at KGB bar.
Since reading The Way of Zen by Alan Watts in the 60s he'd had an interest in eastern philosophies. On a whim he took a yoga class in 2003 and fell in love with the practice. In the same period, he was training in karate, and eventually became a black belt, first dan. When his son turned 18, he moved to Ireland with his then-girlfriend, Irishwoman Helen Nulty, but it was the housing collapse era and they only lasted there a couple years. However, while there, Ivan started teaching yoga, as well as English as a second language. They returned to the States. Ivan was still making music, writing songs, but not performing. In 2013 Jesse died tragically, accidentally. Ivan taught a style of non-New Age yoga for over a decade, doing several teacher trainings and writing extensively on the subject.
A fan named Gregg Bielski, who was known in the noise music circles in Pittsburgh, contacted Ivan in 2016 to ask if he would contribute spoken word to soundtracks he was making. Ivan brought in all three former Ritual Tension cohorts for a collaborative effort, resulting in the album The Kiss by ex->tension, and he began performing with various lineups around the Northeast by 2017 as ex->tension. It may be noted that The Kiss was re-released in 2021 on Meditation Records. run by Ichiro Tsuji (Dissecting Table) in Japan. A short film directed by Ivan – https://youtu.be/jIKs-B0iplE – was also released in Japan as a DVD.
Suddenly Ivan felt the pull of rocking out again, and re-ignited Ritual Tension with Mike and Marc. Andrew declined. They played a series of gigs and recorded at Mark C.'s Deepsea Studio, releasing It's Just the Apocalypse, It's Not the End on Arguably Records in 2020, again to fine critical reaction, but the pandemic spoiled performance plans.
Although Ivan's no longer what you might call a young man, his perspective now is that all things seem at this moment topsy-turvy, so maybe that means he's just getting started. He plans to perform a retrospective of his work as a solo artist and with collaborators beginning in the spring of 2022.