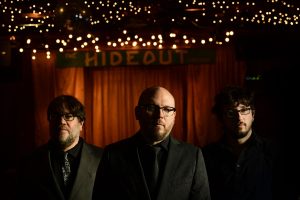 The SPACE Sessions is the second installment in a series of lockdown-inspired solo albums from Smoking Popes frontman Josh Caterer. Pravda Records will release The SPACE Sessions album on 12" vinyl LP in gatefold sleeve, CD, digital download and streaming platforms, available December 17th.
The SPACE Sessions follows in the footsteps of his critically-acclaimed early 2021 release The Hideout Sessions, which was recorded at the beloved small Chicago venue that album took its title from. Caterer reunites with bassist John San Juan (Hushdrops) and drummer John Perrin (NRBQ) for another electrifying performance, this time recorded at SPACE, an intimate concert hall on the city's north side.
In keeping with the format of The Hideout Sessions, this powerful, poppy trio performed to empty house, live-streaming as a virtual concert event. Josh and his cohorts played with all the inspired intensity of the performance at the Hideout, but with an even more tangible sense of self-assurance. The band tears through an ambitious setlist including visionary arrangements of standards like the Etta James' classic "At Last", Frank & Nancy Sinatra's "Somethin' Stupid" (delivered here as a stirring duet between Josh and his daughter Phoebe) and a handful of original compositions, spanning the breadth of Caterer's impressive songwriting catalog.
The band's performance also included an incendiary version of the holiday favorite "White Christmas" which is not included on the album but being released separately as a digital single, available November 26th
Caterer first burst onto the Chicago punk scene in 1991 with Smoking Popes who he formed with his brothers Eli and Matt. From their early indie releases to their critically acclaimed major label albums, Smoking Popes developed a unique blend of buzzsaw guitars, caffeinated rhythms and heartfelt crooning vocals. During a band hiatus in the early aughts, Josh wrote and recorded music as a solo artist and with the pop-punk band Duvall which featured other Popes alumni. Reuniting in 2005, Smoking Popes released three more albums, the most recent being Into The Agony in 2018. Josh also released an album with the Blues outfit Jackson Mud Band along the way.
Life under the pandemic has forced many in the creative community to find ways of innovating around it. As Josh and his band recorded The Hideout Sessions and then The SPACE Sessions, they created events that were good for the band, good for the venue, and great for the fans. They captured that unpredictability, that sense of "anything could happen," that sits at the core of the live music experience.