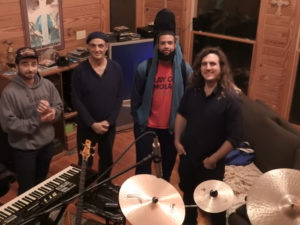 Satirifunk is the sophomore effort from New Orleans Progressive Funk outfit Junko Beat. The album was recorded over a two year period at New Orleans' Big Branch Ranch, Rabadash and Word of Mouth studios respectively, documenting the stylistic experimentation the band was pursuing in their live performance. Produced by the group's founder, drummer/composer, Chris Lacinak, Satirifunk is being released on 12" vinyl, CD and as a paid download on June 5 by Drumparade Records, available at junkobeat.com.
Junko Beat's goal with these songs is to fuse the rhythm-heavy traditions of classic New Orleans funk, raw, West African tribal-Jazz, myriad Latin-Caribbean sounds as well as Rock with the hypnotic, trance-inducing effect of cutting-edge electronic dance music. Their immersive polyrhythmic grooves are interwoven with graceful melodies and daring solo improvisations.
Their lyrics make a forceful response to ongoing onslaught of negative experiences too many people all around the world are subjected throughout their lives whether it's on the job, in their relationships, contemplating the political scene or spending time on social media.
Junko Beat was formed in 2012 upon Lacinak's return to New Orleans after a year spent in Los Angeles formulating his venture for this new venture. He reconnected with bassist Vernon Rome whom he'd played with in the successful local outfit Tribe Nunzio. Next, he recruited cellist Will Snowden who he'd met buying an instrument for a niece. This core trio worked with a variety of guest musicians for live performances and to record Junko Beat's debut album Jamkronic. They would repeat this strategy with Satirifunk bringing in a range of collaborators including West African master percussionist Sigeunon Kone, Jane Brody on vocals, Dave Easley on pedal steel, and guitarist Ian Cunningham among others.
Chris Lacinak started playing professionally at age 16, performing in street parades, at neighborhood clubs, Bourbon Street tourist traps, hotel lounges… you name it. Over the years, he'd perform with many iconic NOLA musicians including Henry Butler, Gatemouth Brown, Tab Benoit, Papa Mali, Walter "Wolfman" Washington, Bo Dollis & the Wild Magnolias as well as Jazzmen like Rick Margitza, Carmen Lundy, Sandy Patton and many others. During a 10 year stay in NYC he was a member of Family of God along with alumni from Echo & The Bunnymen and Siouxsie & The Banshees.
He's also conducted drum clinics worldwide and published two drum method books including A Modern Approach to New Orleans "Second Line" drumming. He is former faculty member of the Drummers Collective in NYC.