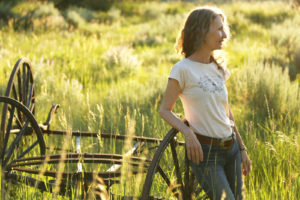 Tobiano is the 3rd full length release by guitarist/songwriter Karen Haglof. The bulk of the ten songs included were written and recorded in the same time frame as the 2018 EP Palomino Steady Rocking. The album was produced by Steve Almaas, recorded at Cowboy Technical Services in Greenpoint Brooklyn in 2017, engineered by Mario Viele. It was mixed at the Fidelitorium in Kernersville NC by Mitch Easter and mastered by Scott Craggs at Old Colony Mastering in Boston, MA. Guest musicians include: Easter, Pete Holsapple, Liza Colby, Josh Graboff, Sherryll Marshall, Crispin Cioue and Lianne Nelson. Tobiano is being released April 12 and is a loose companion to Palomino.
Karen explains the genesis of the album's title: "Tobiano is a type of genetic color pattern for a pinto horse—a horse with patches of white on a base coat color. The effect is flashy contrasts, pulled together and linked on fabulous creatures in life and of my dreams."
Like its predecessors, Tobiano revolves around Haglof's hard-hitting yet spry, stripped-down blues-inflected playing and writing, ably supported by longtime musical ally Steve Almaas on bass and CP Roth on drums. The album is a fully–realized showcase for her master¬ful fret work, spirited singing, and impossibly catchy riffing, and finds her continuing her development as a complete creative artist in her own right – after years performing primarily as a supporting musician. Haglof says about the music in this collection:
"I like to play in the fringe of a variety of styles and the Tobiano title feels appropriate to that. Songs of this group include forays into country, pop, hard rock and avant roots rock, and just general indy mayhem I'll-do-what-I-want-thank-you attitude. Half of the songs were written and recorded in 2016-2017; 4 are from 2018. A couple were written in 2013 and recorded at the time of the Perseverance and Grace album. The cover song included is a favorite from past glory years.
"I love a heavy drum beat and thick deep bass. I love noise and wall of sound guitars and idiosyncratic rhythms. I love open D and finger style. I love a crunchy guitar. I love sly lyrics and depth of feeling. I love a pop song and a pop groove. I love a dance groove. Does all this come through in my music? I don't know, but I am always trying for it to come through."
Tobiano is the latest in a flurry of music activity by Haglof that came after many years away from the recording studio, a period during which she earned a medical de¬gree and joined the hematology/ oncology department of New York University Hospital where she still serves. Prior to her career in medicine, Karen had been an active participant in the much-vaunted Minneapolis indie rock scene that gave the world the Replacements, Soul Asylum and Bob Mould's Husker Du among many others. Eventually, she left the MidWest for Manhattan and joined renowned avant-garde composer Rhys Chatham's Ensemble, one of the city's seminal guitar army / orchestras, leaving to join the Band of Susans with other veterans of Chatham's crew. After serving a stint a kitchen staff at the early years of East Village institution the Great Jones Café (and creating its legendary brunch menu), she entered medical school and didn't seriously pick up a guitar for decades.
The impetus for making music again came from two directions. The first was the un¬timely passing of Karen's friend and mentor Jeff Hill, an old friend in Minneapolis who Karen calls "my first real guitar instructor and inspiration. We had kept in touch and he was encour¬aging about playing, and also picking up old interests beyond a workaholic medical career. His death was a huge blow." Later that same year, Karen caught the music documentary It Might Get Loud at an East Village theater. "The old Jimmy Page and The Edge footage brought back all the early excitement about playing. I hadn't kept up with rock or guitar music at all, and seeing Jack White was a bit of a revelation. I felt like I wanted to play again." Karen says: "I [now] work in a field where very often I have to deliver bad news to people who thought they had more time to do all they'd planned. If you think you want to do something, you'd better do it now."
Her first two releases Western Holiday and Perseverance and Grace were heralded by outlets like NPR's All Things Considered, Guitar Girl Magazine, and Popdose among many others. The Tobiano album and preceding Palomino Steady Rocking are sure to win her even more fans!