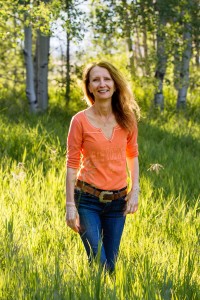 Perseverance and Grace is the second solo album from Karen Haglof whose past music credits include the Rhys Chatham Ensemble and Band of Susans among others. It's being released April 22.
When last we heard from Karen Haglof, in the summer of 2014, she'd just released her debut solo album Western Holiday. It was a rewarding return for the singer/songwriter/guitarist after many years away from the recording studio, during which time Karen earned her medical de­gree and joined the hematology/ oncology department of New York University Hospital (where she remains on staff).
"Western Holiday deserves to be experienced by a wide audience without many preconcep­tions," wrote Wesley Britton for the Seattle Post-Intelligencer, "and a willingness to hear the vo­cals, guitars, and quirky songwriting of an artist who can be infectious, creative, and reflective in sur­prising musical settings." PopDose declared the album "a total winner," redolent with "warmth and toughness, sweet melodies and biting riffs."
Karen kept at it. "I turned 60 on October 29, 2015 and to mark the date I put up a song called  'Chains' on SoundCloud. That was a song I'd written almost 40 years earlier with Jan King, when she and I were in an all–female band in Minneapolis."
Before she knew it, Karen had enough quality new songs to fill out a second album, which she would entitle Perseverance and Grace. "This album was written in bits and pieces, over the course of a year. I'd get two or three songs together, make demos and send them off to [album producer] Steve Almaas for feedback, then go into the studio to cut them."
Work on Perseverance and Grace was spread among three studios: Cowboy Technical Services (Brooklyn NY), with engineering by Mario Viele; The Fidelitorium (Kernersville NC), where studio founder/owner Mitch Easter mixed the tracks; and Old Colony Mastering (Boston MA), with mastering by Scott Craggs.
"Western Holiday felt like an art project, like making a painting" – drawing and painting are two more preferred KH pastimes. "That album felt a continuation of those kind of impulses. I wanted to get back to playing guitar, thinking I might play around the campfire. Then I was gonna record an EP. But my musician friends encouraged me, saying 'oh no, don't stop there – you can write a whole album.'"
As a self–released recording, Western Holiday floated on a vast sea of sonic competitors, with­out the promotional boost that touring can afford: Karen wasn't about to give up her day job to hit the road. But those who chose to listen were richly rewarded.
Just three musicians laid down most of the backing tracks: Karen (guitars, vocals), Steve Almaas (bass, occasional guitar, harmony vocal on "Seesaw"), and C.P. Roth (drums, percussion, piano and Hammond B–3). Mitch Easter played lead guitar on "Trouble" and East Village chanteuse Liza Colby added backing vocals on "Monday Under My Belt."