King James & The Special Men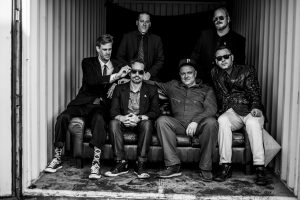 When both Sturgill Simpson and St. Paul & The Broken Bones began borrowing horn players from King James & The Special Men, band founder Jimmy Horn knew he and his group had conjured something singular and potent.  On July 21, music lovers the world over will get to experience that special something for themselves with the release of King James & The Special Men's debut album, Act Like You Know via the Special Man Industries imprint. The album was recorded at House of 1000Hz Studio in the 9th Ward, engineered by Andrew "Goat" Gilchrist.
Consisting of James' originals, Act Like You Know sees the King and company doing to their hometown New Orleans' legendary canon of 50's and 60's R&B and its rowdy stepchild that the world came to know as rock 'n' roll what Brooklyn's Dap Kings did to 60's funk 'n 'soul – they  honor these traditions while bringing them back to raucous, ass-shaking life in the 21st century. James keeps his songs simple and catchy, so listeners can grab on and roll with them.
King James & The Special Men forged their sound through a five-year Monday night residency (many New Orleans residents work in the hospitality industry, so Monday is the big party night for locals) at BJ's Lounge, followed by a year at Sidney's Saloon, then for the past few years at Saturn Bar in the Bywater. They play to a young, discerning and usually rowdy crowd as well as out of town celebrities in the know: Elvis Costello, Robert Plant and devoted fan Greg Dulli of the Afghan Whigs. Besides their hometown gigs, James and his cohorts have travelled to Europe, Los Angeles and New York to perform. One New York show as part of the prestigious Lincoln Center summer concert series.
Act Like You Know blasts off with "Special Man Boogie," with a driving vintage NOLA R&B style bass riff and a tasty "Spanish tinge." Two mournful blues, "Baby Girl" and "Tell Me (What You Want Me to Do)" call up the restless spirit of the city's first six string icon (non-Jazz division!) Guitar Slim. The rollicking, ribald "Eat That Chicken" was inspired by the sorely underappreciated oeuvre of longtime Dr. John writing partner Jessie Hill – a local hero.
Horn got his first taste New Orleans when he was a 4-year-old in Utah. His young heart was set pounding by one of his dad's 45s, Little Richard's pioneering 1955 hit, "Tutti Frutti," recorded at Cosimo Matassa's J&M Studio on North Rampart Street, backed by the city's finest R&B and Jazz musicians.
After trying out a couple different cities, he spontaneously moved to New Orleans from Seattle in 1993, and immediately thought to himself "How have you lived 19 years without being here?" as he recalls.  Horn quickly received a deep education in local music lore from the staff-obsessives at Rock N Roll Collectibles on Decatur Street and Magic Bus Records on Conti Street.
After busking on French Quarter streets, playing solo club gigs and in dozens of other people's bands running the gamut from punk to avant-garde jazz, Jimmy formed King James & The Special Men.  Jimmy's partners in crime are: Ben Polcer on piano, bassist Robert Snow, guitarist John "Porkchop" Rodli, Chris "Showtime" Davis on drums, Scott Frock on trumpet and the sax section – Jason Mingledorff and Travis Blotzky on tenor with baritone man Dominick Grillo. Appropriately enough, the group made its debut at the Mother-In-Law Lounge, the club founded and operated by R&B star and self-proclaimed "Emperor of the Universe" Ernie K-Doe and his wife Antoinette. "In the first days at K-Doe's, we had a book of 400 songs," Horn recalls. "We were playing every single song." Their repertoire comprised local standards originally recorded by Fats Domino, Professor Longhair, Jessie Hill and Smiley Lewis among others. When James began writing his own material, it was to honor this awesome, inspiring legacy – one of the most powerful canons in American song. His heroes would be proud.