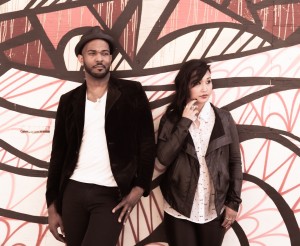 On the heels of the release of 2014's critically acclaimed remix record, Black Sheep Remixed, featuring a reworking of the title track by Justin K. Broadrick (Godflesh/Jesu), Oakland's La Fin Absolute du Monde released its debut full length studio record, Clarity Amongst the Rubble on January 22nd on Wicked Wonderland Empire/Gramercy Records.  The avant garde metal/electronic duo, Jason Myles (bass, guitar, drum programming) and his wife-collaborator Cyndy Melanio (vocals, piano, orchestration), whose name was inspired by John Carpenter's movie "Cigarette Burns", a short film he did for the "Masters of Horror" series for Showtime, has been creating sonic soundscapes and stirring emotional content since they first met in November 2009.
With the band's goal of utilizing dark, lovely and ambient timbres and ignore conventional structures and boundaries, Clarity Amongst the Rubble was produced by Jason and Cyndy at Oakland's Soundwave Studios.  Most of the tracks were mixed by Andrew Ragin of the Atlas Moth in Chicago.  Each of the thirteen tracks on the record show not only the duo's talent as musicians, but more importantly, their unbridled zeal and enthusiasm for creating adventurous music.
According to Jason, the album title, Clarity Amongst The Rubble, with its lurking darkness, "Came from the struggles we've been through while in pursuit of the dream of making the most creatively heavy passionate music we can possibly make."  He continues, "We had broken down last year in Portland, a few days into a two month tour.  We junked the van, rented a car and finished the tour out.  We had just enough for about two weeks of car rental.   In late June of this year the same thing happened in North Dakota.  Having two vans break down in less than a year made Cyndy question if this was the right path they should be on at this point in their lives.  We, like many musicians, were making just enough to eat, put gas in the van, pay rent and all our other expenses while on tour, but we didn't/don't have a lot left over.  So the van breaking down AGAIN was a bit of a breaking point for her.  It looked like not only the end for the music, but also an end to our marriage.  I didn't want to quit music, but she was done.  Doing that time, a couple of fans started a successful GoFundMe campaign to raise money for us to get home and not have to sell our gear.  A wonderful Native American family kept our gear and stored our broken down van for us until we were able to get it a few months later.  The family also gave us some money for food on the train ride home.  At that moment we both knew, that maybe our music is effecting people more than we think.  We're in it too deep to quit now."
The first single from Clarity Amongst The Rubble, "Immaculate Consumption", "Comes from our disgust with an economy that is no longer built on the products we make here domestically, but on the back breaking labor of the Third World and the disposable products we consume without any real need for them," says Jason.  "The vanity of social media, the need to be seen, the need to be IMPORTANT is creating a vile class of people that base your worth on your possessions."
The origins of La Fin Absolute Du Monde began in November 2009 with a chance meeting of Cyndy and Jason in Las Vegas.  At first encounter, he wooed her heart when he suggested with a very serious face, "You should quit your job here in Las Vegas and move to San Francisco because we can make music and walk around the city holding hands because you are going to be my girlfriend".  Intrigued with the notion of playing music with a beautiful stranger and not knowing which musical direction to proceed, the couple intertwined their own diversely bold auditory flavors.  While Jason's background is heavy music, Cyndy, (nickname Chicky), has multiple degrees (including from the world renowned Royal Conservatory of Music) in classical music, majoring in classical piano performance with a minor in Spanish classical guitar.  In addition, she grew up playing various woodwind and brass instruments.  They did find some common ground though – she had a soft spot for Nine Inch Nails and Nirvana and shared with him a love of trip-hop groups like Portishead and Massive Attack.
Although Clarity Amongst The Rubble is the duo's first length studio record, they have released several EPs and 7"s: 2010's "She's Gotta Be A Pirate/Black Sheep" (Foolscircle Records UK); 2011's "Debut de la fin; La Genese" (Foolscircle Records UK), 2012's "Au Revior (Self Released); 2013's "Descend" (Foolscircle Records UK); and 2014's "Black Sheep:REMIXED" (Self Released, Neo-Noir Records).
Not for conventional mass appeal, La Fin Absolute Du Monde has traveled relentlessly throughout the US, UK, and parts of Canada and Mexico (including shows in Juarez, which has become infamous for widespread drug cartel-related violence), and opened for Godflesh in Portland, Seattle and LA.  Living out of a van, they gave up all comforts of living and packed their music gear and few clothes to bring themselves closer to like-minded individuals who share the same struggle of finding purpose and acceptance in one's own environment.
It hasn't been an easy road, but LFADM's focus is to provide an intense musical listening experience. "We are two people who come from entirely different worlds, both enamored by smart people who love smart music", Jason says.  On Clarity Amongst The Rubble the combination of elegantly layered guitars, samples, and Chicky's gripping sultry vocals, creates a powerful sonic debut of dark rock compositions.
http://lafinabsolutedumonde.com/
https://www.facebook.com/lafinabsolutedumonde