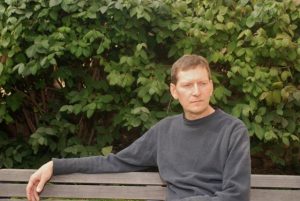 "Lanterna does something that's not easy. His songs are heavily atmospheric but instead of the enclosed, immersive feel that sound often yields, his compositions gallop along pastoral back roads and across desert plains, open to the sky and gathering light like a sun-catcher." – John Diliberto, Echoes
Champaign, Illinois' Lanterna are pleased to announce the release of their seventh album, Hidden Drives, available June 4th, 2021 on Badman Recording Co.  The new album is guitarist Henry Frayne's latest offering as Lanterna, a mostly instrumental side project, begun some thirty years ago.  Since the '80s, Frayne has played in Champaign bands such as Lodestone Destiny, The Syndicate, ¡Ack-Ack!, Area, and The Moon Seven Times.  The past experiences in these bands influenced every song on the forthcoming Hidden Drives as it had with most previous Lanterna albums.
"Hidden Drives features more electric guitar and synthesizer than previous efforts," explains Frayne, and he adds, "Most of the songs were written on an old Gibson SG with or without cascading digital echoes suggesting additional harmonies and melody lines."
In the last thirty years Frayne has maintained a notebook and series of cassette tapes filled with song ideas.  And after thirty years and six Lanterna albums, the songs that constitute Hidden Drives are ideas that might have needed a bit more time, give or take a decade, to come together.  A song like "Maine 262" (referring to "Song Idea 262") needed a final section which came about with Frayne accidentally striking an open low E string while trying a new chord pattern.  The acoustic guitar driven "Chagrin Boulevard" existed as a fragment at the end of a cassette tape for many years, with Frayne relying on his memory for the rest of the song, because in those days, he says, "Surely I'd remember how the rest of it goes."  Famous last words!  Lastly, the title track from the album, "Hidden Drives" was just three lush chords played on an old analog synth.  Frayne says, "I had to figure out how to arrange the chords on the guitar to retain those ringing notes for the recording (and for live performance) and also to imagine the twists and turns of the rest of the song."
In May of 1991 in an Urbana, Illinois living room studio Frayne met with The Moon Seven Times' Brendan Gamble to record drums for what would become Lanterna's self-titled first album.  At first a cassette release, then an LP released in Greece, then a CD, then a reissue on CD, the '90s saw the same Lanterna album released again and again.  When Lanterna came to the attention of Badman Recording Co.'s Dylan Magierek in 2000, the new decade saw four new Lanterna albums before it was half over.  After a brief respite, Badman released Backyards in 2015, with a vinyl edition licensed through Bruce Licher's Independent Project Records.  For Hidden Drives, Badman will issue the album on vinyl as well as CD, and digital download.
Twenty years ago when Lanterna began working with Badman, Frayne enlisted the help of producer/engineer/guitarist Mike Brosco at Waterworks Audio in Champaign, as well as Chicagoan Eric Gebow (Blue Man Group, Mouth Captain) who would drum on Lanterna's Highways, Desert Ocean, and tour the US, and Greece.  In 2018 with some of the songs on Hidden Drives already fleshed out with guitar, synthesizer, and bass, Eric Gebow traveled down from Chicago to Waterworks to lay down drums for half of the album's 10 songs.  Frayne says, "As the day played out Eric identified 'Redwoods' as a song that needed drums.  Being a song with modulated, looping guitar figures, I hadn't thought that drums could be integrated without a blinking bank of computers.  Mike Brosco brought up the tracks for 'Redwoods' and Eric performed the lush, driving beat that now defines the song.  For me it evokes the feeling of driving down tree lined streets after a summer rain shower."
For five of the songs on Hidden Drives, Frayne asked Mike Brosco to "have some fun" and manipulate the tracks to create five additional remixes to bring the album to a total of 15 tracks.  "This gives one a chance to enjoy those instrumental parts that might otherwise go unnoticed on the more upbeat songs.  As a listener, I wish more bands would do this," adds Frayne.
Boston-based Kevin Salemme has been taking photos with Lanterna in mind almost before Lanterna was a project.  Salemme shopping a photo/music book idea led to Rykodisc's reissue of Lanterna's first CD in 1998, a happy accident that continues to amuse Frayne and Salemme 20 years on.  Frayne, a longtime fan of Bruce Licher's design work and a musical collaborator (since Licher's Scenic, and Lanterna toured together in 1996), asked Licher to design album artwork for Hidden Drives (and it being 2021, still designing for both CD and vinyl).  As with previous Lanterna albums, the music that was created, with Salemme, and Licher in mind, is perfectly complemented by both artists.
As with 2015's Backyards, much of Hidden Drives was pondered and formulated by Frayne while "commuting" between Illinois, and Maine, or between the coastal regions and the interior of Maine.  One particular winding stretch of backroad in Knox County, Maine called "Buttermilk Lane" sports an inordinate number of twists and turns, and hidden driveways, with signs warning of "HIDDEN DRIVES."  It only took a few summers of driving and pondering the songs that make up Hidden Drives to realize that a perfect album title was flashing by around every turn.