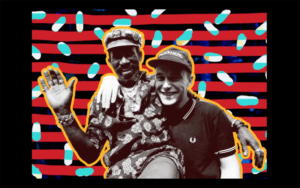 On-U Sound are very proud to announce the return of the mighty upsetter to the label. 9 brand new tracks recorded in Jamaica, Brazil and London with longtime friend and collaborator Adrian Sherwood at the controls.
"It's the most intimate album Lee has ever made, but at the same time the musical ideas are very fresh. I'm extremely proud of what we've come up as a piece of work". – A.M.S
Without hyperbole, Lee Perry is a musical titan with few equals, the man Brian Eno has called "one of the geniuses of recorded music", a massively influential Grammy-winning producer and serial collaborator with everyone from Keith Richards to David Lynch, The Congos to The Clash, Junior Murvin to The Beastie Boys.
Adrian Sherwood has been an influential and innovative figure on the UK reggae and independent label scene for nearly 40 years, not to mention being invited to apply his mixing desk sound science to artists as varied as Depeche Mode, Nine Inch Nails, Sinéad O'Connor, Primal Scream, Blur, The Fall and Roots Manuva.
Perry's friendship with Sherwood stretches back to the mid-1980s, and a fortuitous meeting brokered by underground broadcasting legend Steve Barker. This led to the creation of On-U classics such as Time Boom X De Devil Dead and From The Secret Laboratory, as well as Lee gracing Dub Syndicate records with some vital vocal injections. This new set is the culmination of over two years work, recorded in three different countries by a crack crew of brilliant musicians. Determined to craft a work of lasting power, Sherwood likens to the album to the work that Rick Rubin did with Johnny Cash on the American Recordings series, a deeply personal work (tha album title refers to Lee's birth name) and arguably the strongest batch of original material that Perry has released for many years.
From the atmospheric field recording and wah-wah guitar of album opener "Cricket On The Moon", to the gothic cello embellishment on "Let It Rain", the chopped-and-compressed horn section of "Makumba Rock", to the layered, carefully arranged backing vocals like a heavenly chorus throughout the record, this is an album with true love, care and attention poured into it's every groove. It culminates in the truly extraordinary "Autobiography Of The Upsetter", in which Scratch narrates the story of his life from growing up on a plantation in 1930s colonial Jamaica to becoming a worldwide musical superstar.
More about Lee "Scratch" Perry:
He began making music in the late 50s for Clement Coxsone Dodd's label. Following a stint at Joe Gibbs's Amalgamated Records, Perry formed his own imprint, Upsetter, in 1968.
In the early 1960s, Lee's mixing board experiments resulted in the creation of dub. He is synonymous with his innovative production techniques and renowned for his studio band The Upsetters.
He was instrumental is launching the career of Bob Marley, producing many of the pre-Island Records Wailers sides, and working with him sporadically throughout his entire career, including 1977's "Punky Reggae Party", the same year that Perry worked on a session with the Clash for their "Compete Control" single.
In 1973, Perry built Black Ark studios, where he produced records for iconic musicians like Junior Byles, Junior Murvin, The Heptones, Susan Cadogan, The Congos and Max Romeo.
Perry has recorded with Keith Richards, The Beastie Boys, George Clinton, David Lynch, Andrew WK, Moby, Ari Up of The Slits, Bill Laswell, Tunde Adebimpe (TV On The Radio), Sly Dunbar, Brian Chippendale of Lightning Bolt, Mad Professor and porn star Sasha Grey.
In 2003 he won the best reggae album Grammy for Jamaican E.T.
Lee's song Enter the Dragon was sampled by Panda Bear from Animal Collective. He was then selected by A.C. to perform at All Tomorrow's Parties, which the band curated in 2011.
Rolling Stone Magazine featured Perry in their list of the 100 Greatest Artists of All Time. Although 82 years old, Lee is fit, sprightly and plays live on a regular basis to rapt audiences around the world. He divides his time between Jamaica and Switzerland.
More about Adrian Sherwood:
"Someone once described me as just a fan who'd got his hands on a mixing desk, They were probably trying to be nasty, but I took it as a compliment – that's exactly what I am!"
For over 40 years now, forward-thinking sound scientist and mixologist Adrian Sherwood has been dubbing it up, keeping the faith when others have fallen away and blowing minds and speakers alike.
Producer, remixer, and proprietor of the British dub collective/record label On-U Sound, Adrian Sherwood has long been regarded as one of the most innovative and influential artists in contemporary dance and modern reggae music. His talent for creating musical space, suspense, sensations and textures have enabled him to pioneer a distinctive fusion of dub, rock, reggae and dance that challenges tradition not only in roots circles, but also in the pop world at large.
"I'd rather try and create a niche amongst like-minded people, and create our own little market place be that 5, 50 or 500,000 sales and also be true to our principles of making things, and to your own spirit that you put into the work."
Born in 1958, Sherwood first surfaced during the mid '70s and formed On-U Sound in 1981. While the On-U Sound crew's original focus was on live performances, the emphasis soon switched to making records and Sherwood began mixing and matching lineups, resulting in new acts including New Age Steppers, African Head Charge, Mark Stewart & Maffia, and Doctor Pablo & the Dub Syndicate.
All of these early records, according to Rock: The Rough Guide were "phenomenal, generally bass-heavy with outlandish dubbing from Sherwood, who worked the mixing desk as an instrument in itself."
Long influential and innovative on the UK reggae scene, Sherwood's distinctive production style soon began attracting interest from acts outside of the dub community and by the early-'80s Sherwood was among the most visible producers and remixers around, working on tracks for artists as varied as Depeche Mode, Primal Scream, Einsturzende Neubaten, Simply Red, the Woodentops, and Ministry. He became increasingly involved in industrial music as the decade wore on, producing tracks for Cabaret Voltaire, Skinny Puppy, KMFDM, and Nine Inch Nails, and although On-U Sound continued to reflect its leader's eclectic tastes, the label remained a top reggae outlet.
In 2003 he launched his solo artist career with Never Trust a Hippy, which was followed in 2006 by Becoming a Cliché. Both were released by On-U in conjunction with the Real World label.
Still one of the most sought-after producers in the contemporary music industry, Adrian Sherwood and his progressive style and interest in developing new ideas continue to propel On-U Sound's ongoing success. In 2012 he issued his third solo album Survival & Resistance, and began an ongoing collaboration with Bristol-based dubstep don Pinch. This brought two different generations of bass together and in 2015 the pair released their debut album Late Night Endless. Behind the mixing desk he has been working with the likes of Roots Manuva, Clinic and Nisennenmondai; and delivered remixes of Congo Natty, Peaking Lights and Django Django. His production and remix works has also begun to be anthologised by On-U Sound with the critically acclaimed Sherwood At The Controls series.
"Music is lovely because it stimulates people, superficial music doesn't. If you make something that you put your heart and soul into and really try to push it so it leaps out the speakers at you, and if there's a good feel to it, then you've achieved something."