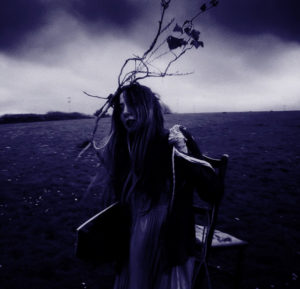 "After ten, fifteen years", says KatieJane Garside of the times she spent as lead singer with legendary alternative rock bands Daisy Chainsaw and Queen Adreena, "I was done with the assault of drums and guitars obliterating me. Which is a beautiful thing, on the one hand, but I enforced on Ruby Throat that it should be mainly acoustic, and there should be no drums. I wanted the voice to lead it, without being held down by someone else's rhythm."
Now comes the incarnation of Liar, Flower – a mixture of both the gritty, rhythmic elements of Daisy Chainsaw/Queen Adreena's past, and the acoustic sound of KatieJane Garside and Chris Whittingham's Ruby Throat.
KatieJane Garside first exploded into the public consciousness in 1992 with Daisy Chainsaw's debut single "Love Your Money". 2 minutes 42 seconds of clattering Bow Wow Wow drums and deliciously unhinged New York Dolls guitar, featuring Garside screaming a bitterly sarcastic j'accuse to the music industry..) Improbably, for such a raucous and radio-unfriendly racket, it spent five weeks on the chart and, assisted by an unforgettable performance on Channel 4's The Word, a Melody Maker front cover and a stint as Gary Davies' Record Of The Week on Radio 1, climbed to No.26.
Daisy Chainsaw's trashy glam-grunge sound, once described as "a cross between Mudhoney and Mud", was augmented by their equally startling image. The line-up included a cross-dressing rhythm section and an elegant wastrel on guitar who looked like a stray Manic Street Preacher and claimed to be distantly related to Oscar Wilde, but all eyes were on KatieJane. Barefoot, smeared in grime and soot, wearing torn babydoll dresses and flowers in her flame-coloured, dreadlocked hair, she was an unhinged and unpredictable presence whose live performances variously involved self-mutilation, leaping Iggy-style into the crowd, drilling dolls' heads, drinking from baby bottles and nearly strangling herself with a microphone lead.
The band's short but brightly-burning lifespan featured a number of unlikely landmarks. They were courted by Madonna for her Maverick label, but turned her down. They received the ringing endorsement of MTV's Beavis And Butt-head. They toured with Hole, whose Courtney Love described KatieJane as "one of the first true Riot Grrrls" (even though Garside, and Daisy Chainsaw, had no affiliation with that movement). They even provided the storyline for an episode of the sitcom Roseanne, when Darlene became a fan, attended a concert and put their poster on her bedroom wall. Despite their evanescence, the band made an imprint not only on the outer world, but on Garside's own sonic lineage, where traces of the band's dark, gritty sound can still be heard in its furthest and latest descendant, Liar, Flower.
Being a public figure, however, did not come easily to KatieJane. "I was young and I had an ego, and I could justify it, but I was dying of panic attacks." After just one album, Eleventeen, she parted company with Daisy Chainsaw and went into seclusion in the Lake District, living in a Victorian house called Rigg Beck, a bohemian retreat previously frequented by artistically-inclined visitors from Ted Hughes to Tom Courtenay. Give or take a couple of guest appearances on albums by Test Dept and Frostbite, Garside withdrew from the music industry altogether.
One call, out of the blue, changed that. Crispin Gray, KatieJane's main songwriting collaborator in Daisy Chainsaw, contacted her in 1999 about working together again. The result was the more metallic but equally chaotic Queen Adreena, who released four albums, Taxidermy (2000), Drink Me (2002), The Butcher And The Butterfly (2005) and Djin (2008), and a run of captivating singles including "FM Doll", "Pretty Like Drugs" and "Medicine Jar", reprising many of the topics – psychosis, emotional trauma, addiction, sexual exploitation – that Daisy Chainsaw had previously explored. Queen Adreena gained a fiercely loyal following, particularly as a live act, where the fertile creative tension between KatieJane and Crispin was made manifest in extraordinary performances which often deteriorated into onstage fights, with Garside hurling chairs at Gray. "The thing with Queen Adreena – and I think Crispin would agree – is that it never felt quite right. Our combative relationship meant that we didn't get what we wanted from it, and it was always too much of a compromise. I wanted to turn Crispin into something that he wasn't, and that was a battle I was never gonna win."
KatieJane had already ventured outside the band's confines with her first solo album, Lalleshwari/Lullabies In A Glass Wilderness, in 2005. The project comprised a series of 4 track tape recordings and films which served the function of "anchoring and keeping me sane during the cyclone that was Queen Adreena", and which came together over a period of four years during the solitary hours in her Highgate bedsit after she'd been dropped off at the end of her road at 4.00am by the QA transit van. Furthermore, in 2008, she worked with French composer Hector Zazou on the album Corps Electriques.
While Queen Adreena were still extant, KatieJane met Chris Whittingham while he was busking on the London Underground and suggested that they should collaborate. The first Ruby Throat album, The Ventriloquist, was released in 2007 on their own Sleeplikewolves label in an initial limited edition of 500 copies bound in an Indian red leather book with the CD held in a cloth pocket inside. This unusual handmade approach became Ruby Throat's modus operandi on subsequent releases Out Of A Black Cloud Came A Bird (2009), O' Doubt O' Stars (2012) and Baby Darling Taporo (2017), and echoed their stripped down, intimate music. Albums would typically be restricted to limited editions of 500, each sent out in a unique ribbon-bound sleeve, with signed art prints, handwritten lyrics and other individual touches, in defiant inversion of the lazy, impersonal homogeneity of normal music retail methods.
The interval between albums three and four was caused by a career break like no other. KatieJane and Chris own a 43ft ketch called Iona, a boat they call home unless practical land-based concerns forbid it. (KatieJane refers to Iona as 'she', and still says "I live on her in my soul", even when on terra firma.) In 2012, the couple and their very young daughter climbed aboard Iona, left Falmouth harbour and spent four years sailing around the world, stopping off at exotic tropical islands for a few months at a time.
On the very first stretch, a two week sail to the Canaries, severe weather struck. "They call that a 'shakedown cruise'," Katie explains. "Learning what your boat does, and what you can do. The self-steering system broke, so Chris was helming for 24 hours straight through in phenomenal seas." A second potentially life-threatening incident happened on the opposite side of the planet. After leaving the Galapagos Islands for the month-long 'Big Sail' to the Marquesas – 3,500 of pure ocean desert – Iona collided with a humpback whale. "We were down below when we heard a massive crash, which you don't wanna hear when you're in the middle of the ocean, and came up and saw the whale breaching behind us. It was phenomenally huge, bigger than our boat. We thought there was a crack in the hull, but luckily there wasn't. We don't know whether we hit it while it slept, because they do sleep at the surface, or it hit us. But we saw a lot of other whales from the deck, so we felt it was warding us off, protecting its young."
This wasn't KatieJane's first round-the-world voyage. As a child, her father had taken the family on the same trip. "It was the second time in my life, so I was finding a lost utopia." Was it inspiring? "Ultimately, yes. Inevitably. But it was utterly terrifying, utter madness, and sensationally beautiful, but always marred with a sense of exposure, and 'Why am I bringing my tiny child into this environment?' There's some kind of madness in all that. But once you've done it, it's hard to do anything else, which is why I had to do it again. And it's why we will do it again, although we won't go around the world next time. I don't need to sail around the world again, believe me."
The fourth Ruby Throat album Baby Darling Taporo was recorded entirely at sea, using only a five-string mini guitar, the size of a ukulele. Unsurprisingly, aquatic themes and marine metaphors are common in Ruby Throat's work, with lyrics about sails and sinking. Imagery from nature in general abounds, red in tooth and claw: the songs on Stone Dress are populated by swans, foxes, pigs, sheep, dogs and fish, almost always ciphers for the more bestial aspects of humanity.
Asked whether there are unifying themes in Ruby Throat's eleven-year body of work, KatieJane has an intriguing reply. "You only ever write the same song over and over again. You just try to say it better. I struggle in this world. I do. But as much as I struggle, there is also beautiful thread running through all of it, and I try to find my way to that. And to get out of my own way."
Songs from all four Ruby Throat LPs (and one EP) are gathered on Stone Dress, but KatieJane is reluctant to call it a best-of. 'We haven't just taken the best songs of the last four albums. They've got to speak to each other and play together. It has to flow, and work as a good album." For that reason, a number of fan favourites which didn't fit that flow are included on a bonus disc, titled Liar Flower.  "I thought 'Fuck, we've left off loads of tracks that everybody likes!' These songs that in the back of my head, I knew they were there, but they don't sit that comfortably with me. I don't know if it's 32 years of self-sabotage, or what. So I thought 'I might not be married to them, but they can have them'."
Stone Dress, whose original working title The Shallows was abandoned when it emerged that Lady Gaga had a new song called "Shallow", is named after its opening song, which has particular significance for Garside. "I wrote 'Stone Dress' when I was pregnant with my daughter. 'My stone dress swims with birds…' My stone dress is me walking through the world, weighed down by the agony of life, but I'm swimming with birds because, in utero, I've got a baby inside." Yet Ruby Throat's sound retained a sense of tranquility, disturbed as it was by such agony, though KatieJane notes their stripped-down set-up bore some influence. "The last record was defined by circumstance. You can't make a loud record on a five-string mini guitar. But that is coming. It is in both of us. I'm ready to make some noise."
From a bonus compilation of sounds into a physical manifestation, Liar, Flower stems naturally from Ruby Throat as an estuary stems from a river, into a body that is completely its own. The duo's new form freely manifests the turmoil simmering away underneath the stiller waters of Garside's previous works, mediating between calmness and restlessness. "I feel it all so hard," says KatieJane, "All the feelings in the same moment. There's rape and murder happening in this moment, somewhere. And it's all so visible now, after the internet revolution. An incredible atrocity happening, and a flower blooming at the same time."
2020 sees Liar, Flower bring the 30 years of KatieJane's eventful and impactful career to its latest evolution of sound, a varied amalgamation of those which were and those that still are her emotional and material landscapes. Repelling genre, Geiger Counter sees Chris Whittingham weave together themes of grunge and folk and psychedelia and blend them with existentiality, spirituality, modern media and society, wrapped within the "purge and surge" of KatieJane Garside's intuitive writing.
KatieJane remains known as the face of a cult-like legacy, but she has little appetite to regain the status she once had. "I have no interest in being a public person. I'd like to play gigs, but I don't want any of the rest of it. Making music is the only thing I can do, and I have an imperative to do it. So I'm eternally grateful to anyone who takes part in it and buys it."
my name is katiejane garside, i have sailed around the world two times (once as a young teenager and once as the mother of a one year old baby girl)
i have fronted these bands:
daisy chainsaw
test department
queenadreena
lalleshwari
hector zazou's corps electronique
ruby throat
and now this band liar, flower
that is all