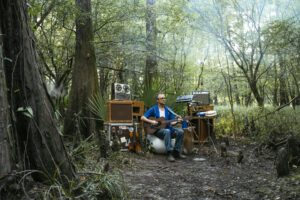 Rêve du Troubadour is the first solo album from Louis Michot, fiddler songwriter and lead vocalist for Grammy winners Lost Bayou Ramblers. Special guests on these recordings include Nigerian Tuareg guitar wizard Bombino, and critically acclaimed singer / cellist Leyla McCalla among others. Kirkland Middleton of the Ramblers engineered and mixed the album at Nina Highway Studios in Arnaudville, Louisiana with various musicians building on basic tracks Louis had recorded at his home, houseboat studio. Rêve du Troubadour is being released by Nouveau Electric Records on September 15 CD, streaming platforms and digital download as well as 12″ LP vinyl. The LP will be pressed on Ivory-Billed Woodpecker inspired red and black marbled vinyl and include a four panel insert with the lyrics in Louisiana French and English.
The album's title, "Rêve du Troubadour" — "The Troubadour's Dream" in English — refers to the manner in which Michot pulls his music from dreams into daylight, then fills it with storytelling. Though Michot has published over 100 songs, he feels that Rêve du Troubadour is his first collection of "writing" as these songs tell their stories in much greater depth than he's achieved before and utilize words peculiar to Louisiana French which seldom appear in musical compositions.
Known as a fiddle player, Michot primarily performed on guitar, bass, T'fer (triangle), samplers, percussions, and accordion. Some of finished tracks feature him playing every part, while others find him backed with bassist where Bryan Webre and drummer Kirkland Middleton of the Ramblers and Louis' other regular band, Michot's Melody Makers as well as guests like Bombino, McCalla, guitarist Langhorn Slim, Shardé Thomas with and without her Rising Stars Drum and Fife group, Grammy-nominated accordion player Corey Ledet, and Dickie Landry on sax.
Rêve du Troubadour came from long months during the first years of the pandemic of Michot documenting musical ideas in his backyard "studio," a dry-docked houseboat named "Sister Ray, given to Louis by Korey Richey of LCD Soundsystem. Sometimes waking up at 4AM, he'd have his parts nailed down before daylight. While recording, Michot kept a pair of stereo mics live outside Sister Ray to capture the sounds of birds and insects; as the bird and bug population would change throughout the days and seasons each song wound up with a unique environmental seasoning. More tracks were then added at Nina Highway Studios, a short walk from Michot's house, by Louis, his rhythm section and various guest musicians.
The final track sequence is highly diverse. There are songs that incorporate poetic rapping to hand-laid beats, updates of vintage Acadiana, environment soundscapes, acoustic guitar driven ballads, and even Michot's interpretation of a seminal work by 19th century Creole composer Louis Moreau Gottschalk. But they're all tied together beautifully by Louisiana French language and Louis' vivid storytelling throughout.