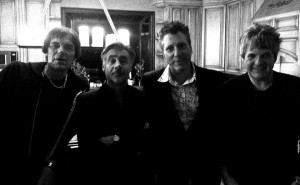 Bubbling Up From Underground: The State Of The Art-Rock Pt 1 is an ambitious, eclectic and unashamedly aggressive showcase for the infectious, in-your-face songwriting and powerful, distinctive bass playing of punk veteran Steve "Trash" Fishman and a revolving cast of friends, cheekily presented as a label sampler.  His guests include Hugh Cornwell (Stranglers), Clem Burke (Blondie), the band Chrome, Pamela Hutchinson (The Emotions), and video artist Doug Aitken among others. Bubbling Up From Underground is a musical party hosted by Fishman who's played with various Sex Pistols, members of the Damned, Blondie, NY Dolls, Stranglers, Attractions, and James White as well as some others: Paul McCartney, Elton John and Roy Orbison. The album is the inaugural release from Major Records, in stores June 29.
The performances on Bubbling Up From Underground are fun, poignant, smart-ass infused with distilled DNA of The Who, Beatles, Stones, Kinks, Iggy, Lou Reed, Bowie, Roxy Music, T. Rex, Dolls, Pistols, and The Clash. They a document cross-pollination of creative scenes based primarily in London, Los Angeles and New York. Steve has assembled a variety of line-ups to achieve specific and determinedly virulent ends: TRASHBEAT who combines Punk, 70's Glam, Post-Pop and Art-Rock with flavors of Garage and Psych; TRASH KULTURE mixes multiple flavors of Rock with Noise, EDM, Industrial and Punk-Funk; THE SHADES is Steve with Shawn Lee yielding a pronouncedly British vision of all that is funky and freaky and their output to date is a fave of many influential DJs including Tom Middleton, Coldcut, and Giles Peterson among others.
CHROME are, of course the 70's psychedelic art-punk originals; JAPAN SOUND ENSEMBLE is an open door project based in Tokyo with guests from all walks of musical life ala Mod comp, improv, Electro.
The guiding force behind all these units, Steve Fishman arrives at this undertaking with impressive credentials and a sordidly romantic personal history in music. His first notable undertaking was late 70's L.A. band "Bent," a reinvention of seminal artpunks The Deadbeats which was subsequently re-reinvented as a new edition of The Deadbeats.  As this wound down, Steve wound up in DFO, an early 80's Punk/Jazz/Art vehicle with players from on loan from Oingo Boingo and others who'd go on to Queens Of The Stone Age; guests included Red Hot Chilli Peppers and James Chance/White, the latter then recruiting Fishman to play with his "Blacks".
In 1986 Fishman moved to London and adopted the name "Steve Lawrence" and joined Steve Nieve's "Perils Of Plastic" group which then became house band for Jonathan Ross' popular late night TV show "The Last Resort." Renamed The Playboys (also featuring the Attractions' Pete Thomas), they'd go on to act as backing band to Paul McCartney his first live TV performance since The Beatles), Roy Orbison, Elton John, Julian Cope, and Tom Jones to name but a few.
When "The Last Resort" went off the air, Steve became the go-to bassist for discerning veteran punks recording and/or touring with Hugh Cornwell, Dave Vanian (The Damned) & The Phantom Chords, Blondie, and Glen Matlock (Sex Pistols); he's currently bassist for psychedelic art punks Chrome. Fishman also recorded with emerging artists like FKA Twigs.
MAJOR Records is a collaborative a co-operative of colleagues formed when several related projects needed a home where they'd be treated with proper respect. The line-ups blur, blend and overlap and the genres addressed vary and crossover. Steve says of the label's vision: "People say there are two kinds of music… but there are three… really good, really bad and everything in between. I love the first, often the second but try to avoid the third." Major Records shares offices with Major Talent in Hollywood, CA.