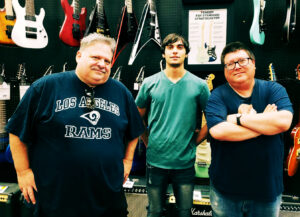 Trans-American "soft punk" trio Man's Body is releasing its second full-length album A Set Of Steak Knives on 12" LP vinyl via NocturnalSol, a division of Heyday Media Group on March 25.  The album was recorded at KooP in Queens, NY, Kingsize Sound Labs in Chicago, IL and Grandma's Warehouse in L.A., CA, self-produced by the band. Man's Body consists of vocalist Greg Franco (of Rough Church), and J. Niimi (of Ashtray Boy) on guitar as well as guitarist Marco Obaya, the former residing in Los Angeles and the latter two in Chicago. On the new album, they're augmented by Gerald Dowd on drums, bassist Jeff McElroy and a host of other guest musicians.
A Set Of Steak Knives is filled with the group's signature post-punk sound, a blend of rhythm-heavy, grinding, yet intensely melodic, guitar-driven rock, inspired by the likes of seminal 90's Indie Rockers like Pixies, Dinosaur Jr., and early Lemonheads. This heady brew is sweetened with organic accents of mandolin, strings and acoustic guitar among other instruments. The music provides a richly textured backdrop for thought-provoking yet seemingly effortless lyrics.
"The Natural Host" is celebratory and anthemic with emphatically lush guitars, resounding, layered vocals and expressive strings. "Contact Sigh" contemplates how social distancing necessary during the pandemic evokes the bittersweet pangs of unrequited love, expanded to a global scale. "Hit The Bricks" is meant as a tribute to Mark E. Smith, the late frontman of iconic UK Post-Punkers The Fall, replete with a soccer chant style sing-along refrain. The video for "40 Oz. Kid" was filmed in Los Angeles by Steve Hanft who directed Beck's "Loser" video, his big breakthrough.
Greg Franco is a veteran rock and roller born in Hollywood so he grew surrounded by Showbiz, but with Punk Rock in his backyard.  At 16 years old, he formed The Blasphemous Yellow with his stepbrother and left his suburban life for the grit of the East Hollywood underground music scene. They played L.A.'s Anti Club and Lhasa Club with the likes of Perry Farrell's Psi Com and Tex & the Horseheads. His next band, Ferdinand, was part of emerging Silverlake scene, and they would tour the Pacific Northwest with acts like Smart Went Crazy and Possum Dixon. In 2004, Franco quit to travel to New Zealand and record Southpawwest with David Kilgour and Robert Scott of The Clean. Returning to Los Angeles, he formed Rough Church and would issue eight albums with them.
J. Niimi has been involved in the Chicago music scene since the late '80s as a multi-instrumentalist, songwriter, luthier, and music journalist; he is the author of R.E.M. – Murmur*, a title in the acclaimed Bloomsbury33 1/3 book series. His other group, Ashtray Boy, recently celebrated its 25th year with the release of their tenth album.
Marco Obaya is a young multi-instrumentalist at home with a wide range of musical styles. His Punk band, The Remedies, recently put out their 3rd full-length album. He works as a recording studio engineer when he is not rocking the casbah.
Franco and Niimi first met at an Ashtray Boy show in Los Angeles that Greg attended. A year later, he invited J. to fill in on drums with Rough Church at a gig at Schubas in Chicago, then a Daytrotter session. A year later, the pair agreed to work on some songs at Electrical Audio in Chicago, and J.'s co-worker Marco Obaya was recruited to play bass, resulting in the Found EP.  The ball kept rolling from there with A Set of Steak Knives being their latest and most distinctive effort yet.