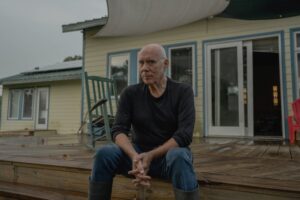 Guitarist-singer-songwriter-arranger and esteemed producer Mark Bingham (a 2021 recipient of Offbeat magazine's Lifetime Achievement in Music Business Award), has dedicated over 50 years to pursuing creativity regardless of category. From working with seminal punk and No Wave bands MX-80 Sound and Bush Tetras to Cajun groups Michot's Melody Makers and Lost Bayou Ramblers to Beat poets Ed Sanders and Allen Ginsberg to jazz artists John Scofield, Wycliffe Gordon and Nicholas Payton to celebrated pop stars like Marianne Faithfull, Dr. John, R.E.M. and Jon Batiste, Bingham has always sought out projects that get his creative juices flowing. "There's been no linear path," he said of his storied career. "It's been up and down and all around, and you just try to find good people to work with."
A true child of the '60s, Bingham is from an era when 'Question Authority' was de rigueur. He ended up taking it to heart, both politically and musically. While attending Indiana University in the early '70s, at the peak of the anti-war movement on the campuses all across America, the Bloomington, Indiana native formed the Screaming Gypsy Bandits, a sprawling 10-piece theatrical psych rock group with an absurdist/prankster bent that shared the renegade stance of such bands of the day as Frank Zappa and the Mothers of Invention, Captain Beefheart and His Magic Band and the Hampton Grease Band (led by visionary frontman Col. Bruce Hampton). With fellow Hoosiers Bruce Anderson and Lloyd T. Jones, Jr. on guitars, Rick Lazar on drums, Mark Gray on keyboards, Eric Hochberg on bass, Steve Eisen, Terry Cook and Larry Williams on saxophones, Michael Bourne and Caroline Peyton on vocals and guitarist-singer Bingham contributing a bulk of the tunes like "Rot Nozzle," "Limp Dick," "Insect Soup" and "White Teeth," they stirred up the local scene. "We were  cranking out songs, we rehearsed a lot and we did  all these shows, and we were packing all the places we played," he recalled. One notorious gig on Nov. 20-21, 1970 at Cincinnati's Ludlow Garage found the Screaming Gypsy Bandits on the bill with the Hampton Grease Band and Beefheart's Magic Band.
Bingham's audaciously creative streak with Screaming Gypsy Bandits, and later with an off-shoot group with Michael Bourne dubbed The Brain Sisters (which has recently been renamed The Crisco Mountain Boys for reissue purposes), set the tone for his against-the-grain approach to music-making over the next five decades. This subversive aesthetic was in some ways a reaction to the status quo of the pop music machine of the day, which a decidedly younger Mark Bingham had a brush with in 1966 after being signed to a publishing contract with Elektra Records in Los Angeles. "I got a record deal when I was 17, and by the time I was 19, I was washed up," he laughed. "I lived in Laurel Canyon. Eric Burdon, Joni Mitchell and Nico lived on my block. I came to realize that being a rock star was not something I wanted to do."
Following the Screaming Gypsy Bandits lone release, 1973's In the Eye (their recently released Back to Doghead is a compilation of studio and live material originally recorded in 1970), the group continued to play as a sextet until 1975 when they finally called it quits (their last gig together was in January of 1975 at Amazing Grace in Evanston, Illinois, opening for blues-rock guitarist Harvey Mandel). During the band's five-year span, such now-famous jazz musicians as bassists Mark Dresser and John Clayton passed through the ranks of the Screaming Gypsy Bandits. Bingham also wrote and produced two albums for Screaming Gypsy Bandits singer Caroline Peyton — 1972's Mock Up and 1977's Intuition. And he produced the debut recording of Screaming Gypsy Bandits guitarist Bruce Anderson's seminal punk band MX-80 Sound, 1977's Hard Attack.
In 1976, Bingham moved from Bloomington to New York City and quickly immersed himself in the invigorating scene there, soaking up the sounds of No Wave/art punk bands like Richard Hell & The Voidoids, DNA, The Contortions, and Teenage Jesus and the Jerks along with experimental and avant garde jazz groups like Massacre, Material, Curlew, Liquid Liquid, The Lounge Lizards and Ornette Coleman's Prime Time.  After subbing occasionally in Glenn Branca's theatrical No Wave pop band, Theoretical Girls, he produced Branca's first album Lesson #1 For Electric Guitar.  In 1979, he formed The Social Climbers, a stripped-down trio of Bingham on guitar and vocals, Jean Seaton Shaw on bass and A. Leroy on Farfisa organ and Korg Rhythm Machine. Their self-titled 1981 recording on Hoboken Records is being reissued in 2023 on Louis Michot's Nouveau Electric label.
In 1982, Bingham left New York for New Orleans. While settling into the Crescent City music scene, he continued to make return trips to New York, where he worked with producer Hal Willner on a number of tribute projects, including 1984's That's the Way I Feel Now: A Tribute to Thelonious Monk, 1985's Lost In The Stars  and 1988's Stay Awake: Various Interpretations of Music from Vintage Disney Films as well as Allen Ginsberg's 1990 recording, The Lion for Real.  Bingham's debut as a leader, 1988's  Willner-produced I Passed for Human, featured guests John Zorn, Joey Baron, Elliott Sharp, Allen Ginsberg and Syd Straw on Bingham originals like "Delta Sierra," "Cain Had Relations," "Outcast Lament," "Another Jimi Hendrix" as well as an audacious second-line interpretation of John Coltrane's "Giant Steps." It would be another 20 years before he released his second album, 2009's profoundly personal Psalms of Vengeance, which found him expressing a range of vulnerability and emotion on confessional and cathartic tunes like the intimate title track, the tender "Remember Everything," the angry "pissoffgod.com" and "Earth Cracks," the punk-ish "Harlot's Ghost," the thrash anthem "M-My G-Generation (40 Years Later)" and the dark minor key ode, "Disgraceland."
In 1992, Bingham opened The Boiler Room, a recording studio in the heart of the same Gert Town neighborhood where New Orleans icons Allen Toussaint and Dave Bartholomew were born. Located in an ornamental Italian Renaissance brick structure built in 1911 for the American Chicle Company (purveyors of chewing to the region and South America), The Boiler Room was the site of recordings by such artists as trombonist Wycliffe Gordon, Italian guitarist-singer Zucchero, pianist Jon Cleary, guitarists John Mooney, Steve Masakowski, John Scofield and Phil deGruy, singers Charmaine Neville, John Boutte and Leigh Harris, poet-commentator Andrei Codrescu and such bands as Dash Rip Rock, Stavin' Chain, Cubanismo and Bo Dollis of the Wild Magnolias Mardi Gras Indians.
In 1999, Bingham relocated his operation to the Bywater in what was originally a U.S. post office building. After a two-year renovation, his Piety Street Recording opened in 2001 and remained a locus for New Orleans bands as well as national and international acts over the next 12 years. With a 1700-square-foot playing room, Piety Street was spacious enough to accommodate larger ensembles. Projects there included albums by Dr. John, Hal Willner's Rogue's Gallery , Elvis Costello & Allen Toussaint,  John Fogerty, Dave Matthews Band, Green Day, Garage A Trois, Charlie Hunter Trio,  The 9th Ward Marching Band, Dr. Michael White, The Black Eyed Peas, Ryan Adams, Dirty Dozen Brass Band, Cassandra Wilson, Marianne Faithfull, Nicholas Payton, Peter Stampfel, Steve Earle, the Blind Boys of Alabama, Beat poet Ed Sanders, Hugh Laurie, Less Than Jake, Morning 40 Federation, Big Freedia, James Blood Ulmer and John Scofield, who named his 2009 album after the studio.  In a 2009 Offbeat magazine cover profile of Bingham, writer John Swenson called the studio "a production line turning out memorable sessions," likening it to Cosimo Matassa's legendary New Orleans studio from the 1950s and 1960s. Bingham shuttered Piety Street studio in August 2013. When asked about his decision to vacate the space, he told NOLA.com: "The spiritual intention of the city of New Orleans and its music scene is vastly different than it was 10 or 20 years ago. It would have been fine to keep going, but I felt the world had changed." Less than a year later, Alex Ebert, lead singer of Edward Sharpe and the Magnetic Zeros, purchased the studio. Bingham subsequently left the Crescent City for Cajun country, first setting up temporary shop in Henderson before relocating to his current headquarters in Arnaudville, South Louisiana.
The past five years have seen Bingham returning to performing mode as a member of the unconventional Cajun group Michot's Melody Makers, which has released three albums to date — 2018's studio album Blood Moon, 2020's live Cosmic Cajuns from Saturn, recorded at The Saturn Bar in New Orleans, and 2021's Tiny Island, featuring special guest Leyla McCalla. In 2018, he performed his "Lost Hoagy Carmichael Project," which drew source material from the Hoagy Carmichael Collection at the University of Indiana Archive of Traditional Music, at Joe's Pub in New York City. Bingham's last three recordings — 2017's Gooseneck, 2018's Mushroom Crowd and 2022's William Blake in Bakersfield — are scheduled for upcoming release in late 2022 and early 2023 on Nouveau Electric Records.
Each of Bingham's solo projects bears the stamp that the singer-songwriter-guitarist-produced has cultivated over a 50-year recording career: an amalgam of the wonderfully weird and slightly left-of-center with the tender, thrashing and poetic. It's a sound that defies easy categorization while reflecting a lifetime of influences, from Mozart and Stravinsky to New York post-punk and No Wave, from New Orleans brass bands and Mardi Gras Indians, with bits of Yellowman, Boozoo Chavis, Xenakis and Van Dyke Parks thrown into the heady gumbo. As he recalled, "I always point out that I started making episodic chopped up songs as a result of two things in the late '60s — The Incredible String Band and Archie Shepp's 1965 record Fire Music, which is all full of chopped up tunes. Fire Music is what turned me out from ever going down the road of being a singer-songwriter." All thanks to Mr. Shepp for launching this spirited renegade into the musical universe.