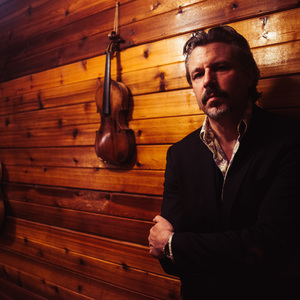 Above Ground Fools formally launches Matt North as a singer and songwriter of great emotional power and artistic depth. It is the self-produced debut solo album from a veteran session drummer, currently based in Nashville after a long tenure in Los Angeles who's also enjoyed success as an award-winning screenwriter among other things. Above Ground Fools is being released on Round Badge Records February 21.
The album boasts ten North-ern originals that address doomed romance, the death of newsworthy news, male jealousy, legal battles, and other upbeat tales of personal failure…all of them true and stemming from personal experience. Matt was joined in the studio by Nashville A-listers including bassist Chris Donohue (Elvis Costello, Emmylou Harris), guitarist Stuart Mathis (Lucinda Williams, Wallflowers), keyboardist Michael Webb (Sturgill Simpson, Chris Stapleton), Michael McAdam (Steve Earle), Billy Livsey (Brendan Benson), Christopher Wild, and The Nashville Horns.
"I always saw singing and writing as part of what's expected," North explains. "When other kids were drumming to Rush, I was more impressed with how Neil Peart wrote their lyrics. I grew up practicing to the first three Police records, but paid closer attention to Stewart Copeland's solo work as Klark Kent and how Levon Helm, Stan Lynch, and Keith Moon all sang from behind the drums. And of course I noticed every Kiss concert was pretty much built around Peter Criss singing Beth."
Matt was raised on equal doses of serious literature, Soul Train and Hee-Haw – all influences on his music; his great uncle is novelist and Kentucky poet laureate, Jesse Stuart, and his father's family were Scotch-Irish coalminers in Harlan County, Kentucky. North played gigs in Champaign, Illinois; he started as a teenager drumming with the late Jay Bennett of Wilco and Coltrane bassist, Rafael Garrett. He dropped out of college, forfeiting a music scholarship to play with University of Illinois jazz band director, John Garvey, touring Russia and Ukraine.
Moving to San Francisco, he began working as a fact-checker for Mother Jones Magazine, playing in garage bands and when he needed a break from music, performing nights at The Punchline Comedy Club as opening act for Mitch Hedberg, Marc Maron, Jimmy Fallon, and Dave Chappelle; North wound up roommates with comedian Patton Oswalt in the Haight for some two years.  At 26, North was signed to the William Morris agency by talent manager, Dave Becky whose roster included Maron, Louis C.K., Hedberg, Dave Attell, and Chris Rock.
Matt moved to Los Angeles, and began composing songs, answering "Drummer Wanted" ads, and writing a screenplay, Best Western; the latter won multiple awards, and led to regular work as a story analyst – a skill he's transferred to his songwriting. In 2000, North starred opposite James Woods in the Golden Globe-winner Dirty Pictures and was soon cast by Larry David in seven episodes of Curb Your Enthusiasm as Jason Alexander's William Morris agent (ironically Matt himself had been dropped by that same agency two years prior). When Alexander left the show to star in his own NBC sitcom, North's character was written out of the series and Matt only wound up appearing in one episode.
Matt shifted his focus back to making music and raising his son who was born on the autism spectrum. During his time in Los Angeles he'd perform onstage and in the recording studio with Maria McKee, L.A. punks The Buxotics (fronted by ex Pandoras Rita D'Albert), Peter Case, Andy Prieboy, Jesse DeNatale, Mink Stole (of John Waters fame), and Blondie Chaplin (Rolling Stones, Beach Boys).
A referral by Maria McKee to Grammy-winning producer, Ray Kennedy (Steve Earle, Lucinda Williams), led to session work in Nashville with Kennedy as well as at Welcome To 1979 Studios. "Turning 40 in L.A., I was an old drummer," chuckles North, "but the Nashville musicians doing what I want to do are in their 50's and 60's. So somehow at 46 I'm a young drummer again!" After settling into Nashville, North began learning guitar and piano, and started work on what would become Above Ground Fools.