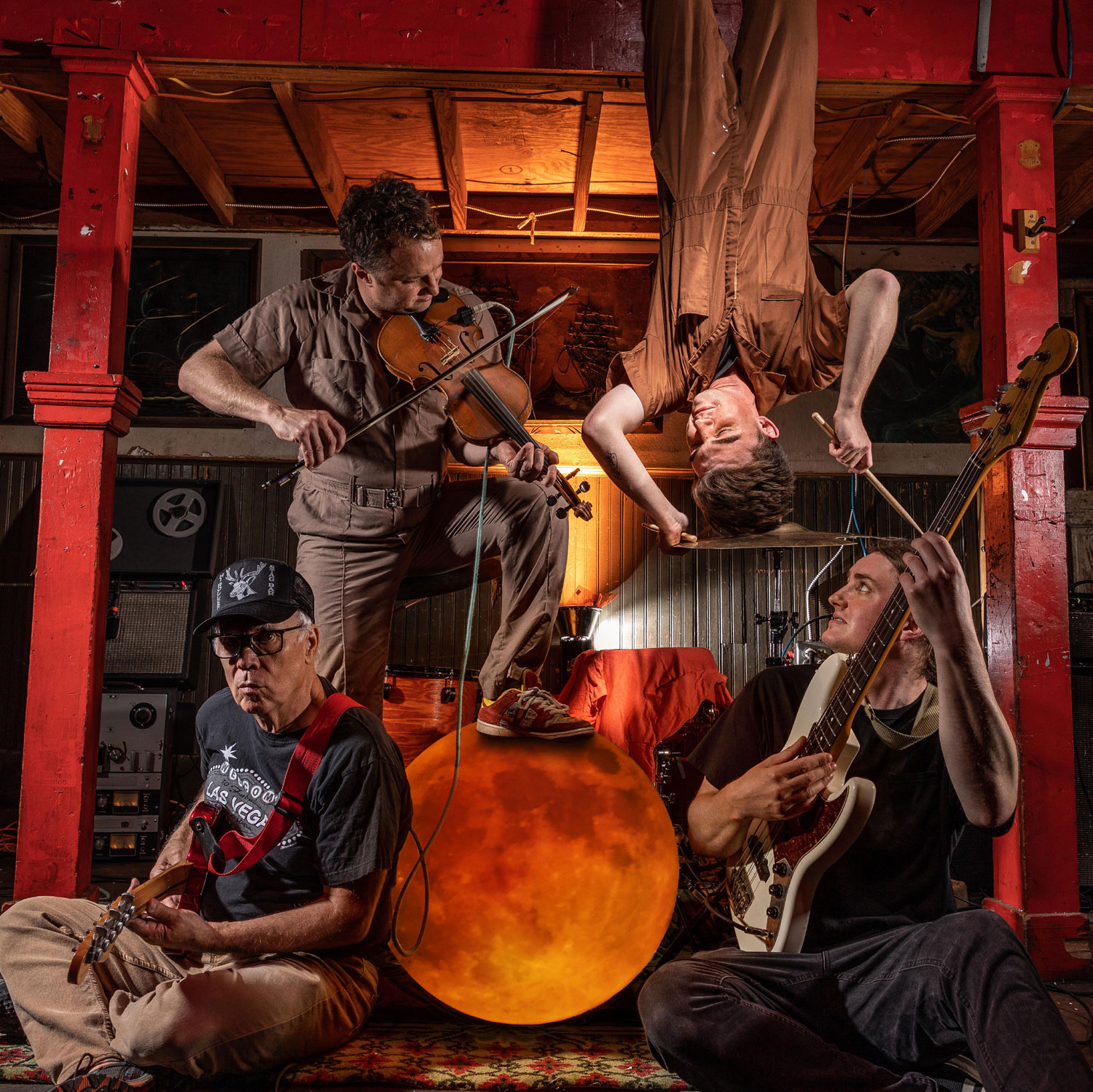 Michot's Melody Makers, a trio led by its namesake Louis Michot (lead singer/fiddler with Grammy winners Lost Bayou Ramblers), will be releasing its debut album, Blood Moon. The album was recorded at Dockside Studios in Maurice, Louisiana this Summer, produced and engineered by Korey Richey (LCD Sound System, Lost Bayou Ramblers); featured guests include Colby Leger on accordion, Ashlee Michot on t-fer (triangle), and Bad Chad on percussion. Blood Moon is being issued on 12" vinyl by Sinking City Records November 9.
The group is composed of Louis Michot on fiddle & vocals, and Ramblers Bryan Webre on bass & drum pad and Kirkland Middleton drums & drum pad, plus the legendary Mark Bingham on electric guitar. Their repertoire is composed of Louisiana-French fiddle tunes, some that are effectively century-old Acadian fiddle blues as well as some that stem from the pre-accordion Creole-Celtic-Afro-French canon. MMM serves as an opportunity to try out new compositions, recently unearthed Cajun and Creole tunes. and experiment with samples.
The Melody Makers were booked for a month-long residency at the Saturn Bar in New Orleans' notorious Ninth Ward this past July. They were recording their sets and mentioned that they were hoping to assemble a live album from the tapes while being interviewed atthe venerable local radio station WWOZ. The owners of Sinking City Records consequently came to a show, agreed to issue an album and offered the group studio time. They enlisted regular collaborator Korey Richey, spent a fevered two days at the storied Dockside Studios and Blood Moon is the result; the title commemorates the moon phase during the sessions.
Michot's Melody Makers' first show was at the Pine Box Rock Shop in Brooklyn in 2015, and began as an opportunity for Louis to perform live with ad hoc line-ups. The first show featured LCD Soundsystem's Korey Richey on bass, Jason Robira on drums, and Jonny Campos on guitar.
The band has maintained a fluid line-up ever since and had many distinguished charter members pass through its ranks including Josh Leblanc of Givers, Bad Chad of Imagine I Am, and Roy Durand of Underhill Family Orchestra. Over the last year, performances have usually featured Louis' LBR bandmates, Webre and Middleton, the latter of who first played with Michot as a Melody Maker, and eventually was enlisted as a full time Rambler.
Aside from being represented on Blood Moon, Louis will be releasing the single "Baby Girl" backed by King James & The Special Men, on the Special Man Industries label. The song is a waltz written by the Special Men's King James and translated by Michot into Cajun French. He's also featured on a series of 12 releases, stemming from his 2016 residency at John Zorn's venue, The Stone on NYC's Lower East Side – L.E.S. Douze: Volumes 1-12.