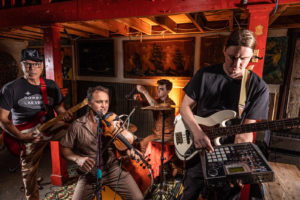 Michot's Melody Makers' sophomore release, Cosmic Cajuns from Saturn is set for release on Nouveau Electric Records on July 17, 2020 on CD, cassette, download and streaming services. The album was recorded live on Dec 9, 2019 at Saturn Bar in New Orleans' 9th Ward engineered by Chris Bloch and produced by the band's guitar player, Mark Bingham (Allen Ginsberg, Glen Branca, Ed Sanders). Bingham is no stranger to "cosmic" music, having co-produced Sun-Ra's version of "Pink Elephants on Parade" with Hal Wilner, and played in the Cosmic Krewe in the early 1990s; Mark also mixed and mastered the release.
Cosmic Cajuns from Saturn comprises eight numbers, none of which appear on the band's debut studio release, Blood Moon. These performances capture their unique, atmospheric, avant-garde reconstruction of age-old Creole and French songs at its most visionary and puissant.  The Melody Makers reinvigorate these historic compositions, introducing sublime new melodies, while evoking the raw, exhilarating feel of the music Cajuns made when they first got their hands on electric guitars and drums. Also included on the album is improvised original the group titled "Blood Moon" in honor of their debut album. The song rhapsodizes over Avoyelles, Louisiana's Red River and Bayou Noire, fish swimming on land, deer swimming in the sea… all under the light of a red moon that appears to be bleeding onto the earth.
Michot's Melody Makers' first show was at the Pine Box Rock Shop in Brooklyn in 2015, and began as an opportunity for Louis to perform live with ad hoc line-ups; the first show featured LCD Soundsystem's Korey Richey on bass, Jason Robira on drums, and Jonny Campos on guitar. For a while, the group's line-up remained fluid and many charter members passed through its ranks including Josh Leblanc of Givers, Bad Chad of Imagine I Am, and Roy Durand of Underhill Family Orchestra. Finally the rotating cast of characters coalesced into a dedicated line-up featuring Mark Bingham on guitar, Bryan Webre on bass, Kirkland Middleton on drums and Louis Michot on fiddle and lead vocals; the latter three are also members of Grammy-winning Cajun progressives, Lost Bayou Ramblers.
Michot's Melody Makers' won the Best Cajun Band honors in 2018 and again in 2019 at Gambit Weekly's Big Easy Awards. Their debut release on Sinking City Records, Blood Moon, provided the first glimpse of how this electric string band could push the boundaries of Cajun traditional music. Cosmic Cajuns from Saturn pushes those boundaries even farther.