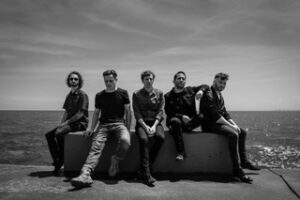 The upcoming debut album from Chicago's MIIRRORS was recorded in Chicago in Studio B at Electrical Audio, engineered by Gregoire Yeche with additional recording done in Los Angeles and Nashville. Motion And Picture was produced by MIIRRORS and mixed by Brian Deck at Narwhal Studios. It's being released March 24 by Pravda Records on CD, cassette, 12" vinyl LP, digital download and via streaming platforms.
Motion And Picture is a cinematic soundscape of honest lyrical introspection and reactive abrasion, a personal timespan of disillusionment, resolve and return of hope. Waves of cascading textures blur the sonic lines between synthesizers and guitars a la My Bloody Valentine and Slowdive as Shawn Rios's atypical rhythms anchor the songs while Brian McSweeney's voice ascends beyond Andre Miller, Patrick Riley and Dmitri Rakhuba's expanding colors.
What began as a chance encounter on an airplane between McSweeney and Rios 22 years ago grew into a decades-long friendship which ignited the inevitable musical partnership that formed Chicago's MIIRRORS. They reverse-engineered the usual process of becoming a band by prioritizing album creation over live performance while at their own pace, morphing the duo into a cohesive quintet of seasoned multi-instrumentalists along the way­ veterans Rakhuba, Miller, and Riley completed the lineup and they evolved the collective sound quickly, momentarily trading the stage for the tracking room.
While recording, the group began self-releasing singles just two months before the pandemic took its toll on the music community, but not before the public took notice with their imagined "completed" version of Jeff Buckley's rare 1997 four-track demo "Gunshot Glitter," with Steven Edelstone of Paste Magazine professing, "No one has ever been able to recapture Buckley's lightning-in-a-bottle essence since he passed in 1997. MIIRRORS come the closest of anyone." As artists suddenly found themselves on a forced indefinite hiatus, MIIRRORS saw opportunities for further creation despite the industry stalemate: documenting a live set at Narwhal Studios in the upcoming self-directed Definitive Version, filming their video for "Nightwalk" in a barren, beautiful late evening Chicago landscape during the height of the shutdown, featuring their single "Sinistry" as the lead-off track on the acclaimed Situation Chicago! 2 CIVL benefit vinyl compilation and writing material beyond their first album while simultaneously working on their eventual live performances.
Stagnancy has not been an option, yet the band has maintained a low profile. Fast forward to a post-pandemic scene starving for live music, the group finally set sail with a series of packed hometown headline performances, immediately establishing a word-of-mouth reputation as a band to see.
"You can never predict the whims of a fickle public, but as MIIRRORS work on their first full-length album, they certainly seem to have all the elements in place to be the next big thing."
-The Chicago Reader
"Covering Buckley is a near herculean task-Buckley had one of the biggest vocal ranges in music history after all-and MIIRRORS pass with flying colors."
-Paste Magazine
"Genre-bending compositions of epic proportions- MIIRRORS remains a bit of a mystery, but the band's anonymity aside, listening to their stories and lyrics feels like catching up with an old friend."
-Basement Magazine