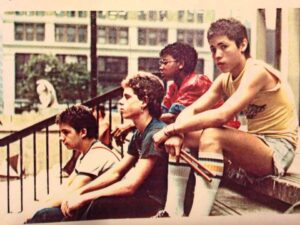 Left For Dead Records is re-issuing the long-out-of-print, HIGHLY collectible sole release from 80's teen-punk phenoms, Brooklyn's Nastyfacts, Drive My Car. The original sessions were recorded at Media Sound Studios in New York City in 1980 produced by Ramona Lee Jan (Comateens, Dizzy & The Romilars, Nursery School, etc.),  an engineer who'd worked at the studio with the Ramones, Brian Eno and countless others. The re-release was remastered by Jack Control (aka Jack Butcher) at Enormous Door in Austin, TX.  Drive My Car is being issued by Left For Dead Records on November 18 on 12″ vinyl, CD and Cassette as well as digital downloads via Bandcamp.
Nastyfacts were fronted by bassist/lead singer/songwriter Cherl Boyze, an 18 year old Queer POC with the rest of the band being in their mid-teens or younger in 1981 when their three-song, 7-inch debut, Drive My Car, was released on the independent Jimboco label. The record was a word-of-mouth hit and sold strongly in the U.S. despite group members being too young to tour. John Peel played it repeatedly on his legendary indie-centric BBC show and helped get it released in the UK. Over 40 years after their release these songs still capture the imaginations of music lovers the world over, showing up on OG punk compilations like Killed By Death while rabid collectors pay $300 for original copies, and counterfeiters regularly sell out bootleg pressings.
The reason for the EP's continued appeal is nicely captured in Steve Gardner's (editor of Noise For Heroes / Another Tuneless Racket fanzines) description of the music contained here in this re-release's liner notes:
"The drums were crazed and hammering, as wild and primal in their own way as Rat Scabies on "New Rose". The bass motored up and down, laying out a great melody but reinforcing the rhythm as well. The guitar was power-chording nirvana, and when the lead break came it was perfect. The vocals weren't the hyper-aggro thing that was the stock-in-trade most of the furious punks of the day; the lead was handled deftly by Cherl Boyze, who, I wrote in NFH  #9, was 'black, female, and at 18 the oldest member of the band". She didn't snarl, but she didn't croon, either, and when her male bandmates added backing vocals the result was pop/punk magic. And finally, the production had all kinds of wild bad driving sound effects that just elevated everything.'"
Nastyfacts were part of a Brooklyn teen-punk scene that included the Speedies and The Stimulators. Their core line-up consisted of Cherl Boyze on bass and lead vocals, guitarists Brad Craig and Jeff "Range" Tischler with Genji "Searizak" Siraisi on drum; these last three also sang back-up. They began playing music together while attending St. Ann's School in Brooklyn and after a year of playing covers locally began building a following in Manhattan playing amateur nights at CBGBs and then regular slots at Max's Kansas City and other venues that'd host all-ages shows. They soon accumulated a full album's worth of solid original material, but unfortunately only made studio recordings of the three amazing songs that make up Drive My Car.
As Gardner's notes point out. "A key tenet of music is: always leave them wanting more. Job done!"