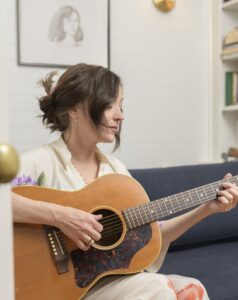 My Heart is Chicago-based, vocalist / multi-instrumentalist Nora O'Connor's long overdue return to center stage after touring and recording with The Decemberists and Neko Case among many others. The album was recorded at Reliable Records, Kernal Studio, and Susu Studio in the Chicago area as well as Sonic Piranha I Phoenix, AZ with O'Connor and Alex Hall producing, aided by veteran Chicago singer/songwriter Steve Dawson on two tunes. My Heart will be released by Chicago's venerable indie label, Pravda Records on CD, digital download and streaming services October 7.
Nora O'Connor has been an in-demand supporting singer/musician for decades, performing around the world with Iron and Wine, Andrew Bird, Robbie Fulks, Mavis Staples etc. The constraints wrought by the COVID-19 pandemic limited her to touring the backyards of her hometown alone and reminded her that she can hold her own on guitar and she can sing the hell out of anything—and she can write a song, too. With time to spare at home, she began recording a series of new home demos that slowly became her third solo album.
My Heart features ten songs of pure Nora, a stunning reflection of her eclectic taste and spectacular talent. Songs range from Linda Rondstadt-esque 70's country-rock to heartbreakingly sweet folk reminiscent of her heroes The Roches, Norma Tanega and Margo Guryan (one of whose composition O'Connor humbly covers on this new release) to classic Bacharach-inspired piano pop. My Heart is sonically driven by her smooth acoustic guitar playing and impossibly rich vocals, with lush harmonies that push the performances right over the top.
She was joined in the studio by three of her bandmates from Chicago vocal supergroup, the Flat Five: Casey McDonough supplying vocals, bass and acoustic guitar; Scott Ligon on organ, Wurlitzer and guitars (Casey and Scott are also current members of NRBQ); Alex Hall providing drums, percussion, piano, Wurlitzer, mellotron, vibes, and vocals. Steve Dawson also pitched in on guitars, Wurlizter, harmonium, along with Robbie Gjersoe on dobro, electric guitar and Jon Rouhouse who contributed pedal steel.
O'Connor isn't new to working solo. She released Cerulean Blue in 1996 and Til the Dawn in 2004 before she carved out a livelihood making other people's songs sound better. She has no intention of stopping—in fact 2021 found her back out on the road with Neko Case and The New Pornographers. But her recent solo shows increased her confidence and stretched her ambition, moving her to experiment with her voice, to play with new sounds and textures, and to envision a next chapter in her long and dazzling career; one where she takes her rightful seat at the table of the luminaries, she has supported for all these years.