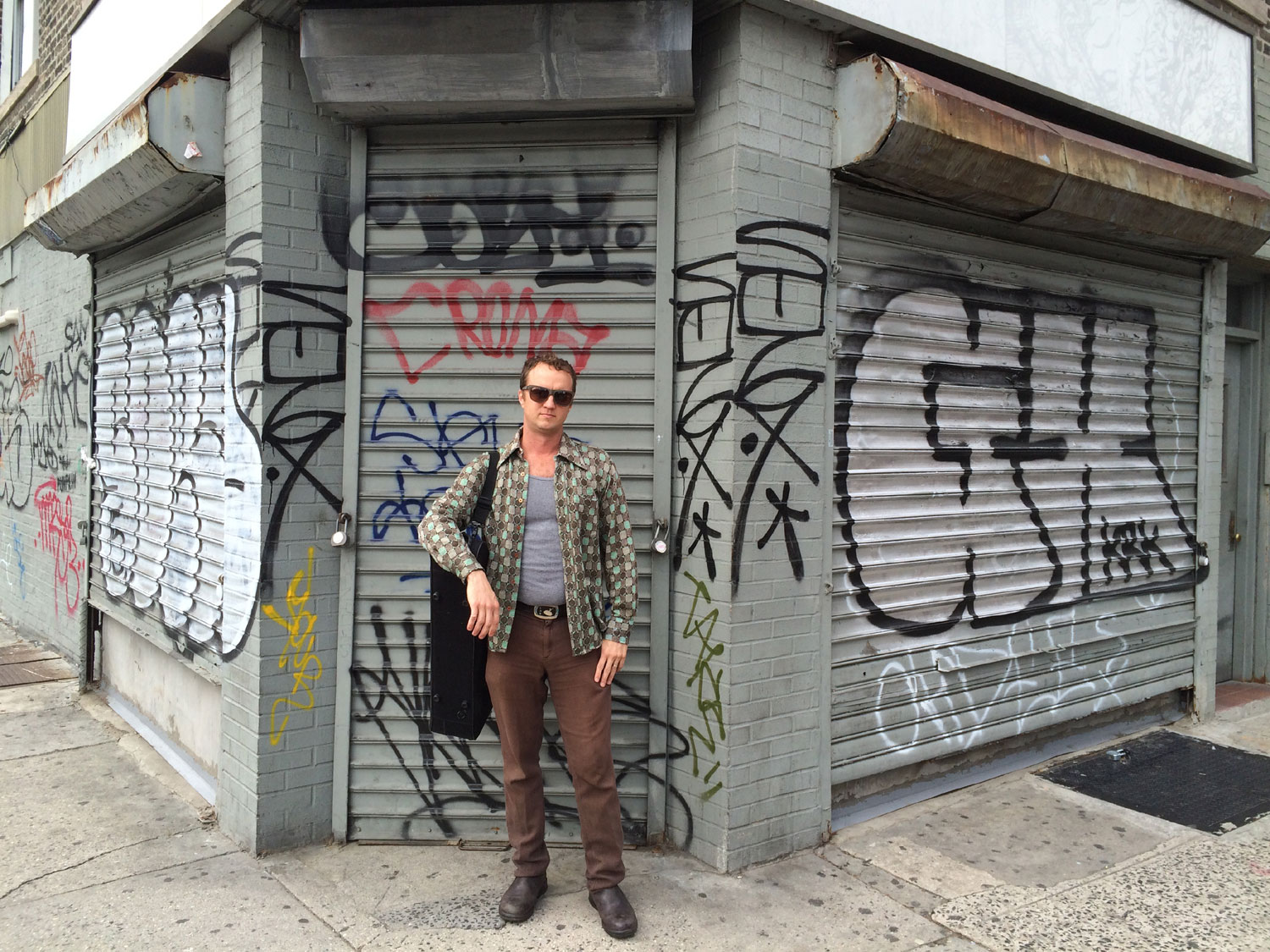 "The Stoned" is the line-up captured on L.E.S. Douze Volume 1, the first release from a collection of 12 live recordings made during Lost Bayou Rambler fiddler/vocalist Louis Michot's residency at The Stone in NYC's Lower East Side. This album, recorded live on June 3, 2016 by Kirkland Middleton is being issued via 12" vinyl, CD, digital download and streaming services by Nouveau Electric Records on September 28.
"The Stoned take a deep dive into Cajun music's subconscious, a radical reimagining of form through an improvised and deconstructed waltz."
-Ryan Brasseaux
In 2015, Louis was invited by The Stone's artistic director John Zorn to perform a residency at this experimental music venue that has no bar and allows no talking during performances, a room where the music is the sole focus. Each artist residency consists of 12 shows in 6 days, a simultaneously retrospective and explorative series of performances, each unique.
Michot started his residency on May 31, 2016, performing with Les Freres Michot and Lost Bayou Ramblers, his family bands, and ended June 5 with a set featuring French icon Charlelie Couture and one of solo a capella renditions of the Cajun-French ballads of Ethel Mae Bourque. In between came such presentations as: Le String Noise with Leyla McCalla – 3 violins and a cello performing a mix of String Noise's avant-garde compositions with McCalla's Haitian Creole tunes and Louis' traditional Cajun fiddle numbers; music from the score of the film Beasts of the Southern Wild; Pogues vet Spider Stacy's Poguetry; and the fiddle-drum duo Pilette's Ghost, to detail a few.
The one set that was not part of one of Louis' bands or collaborations was a completely free improvisation session with a line-up nicknamed "The Stoned" drawn from players from other residency sessions: Spider, Ryan Brasseaux, among others abetted by Jason Robira and and Jeff Tobias of Brooklyn's Sunwatchers. They created a 45 minute wave of rhythms and sounds weaving between ambient swamp journeys and rural industrial reminisces, a communication project where music is the mother tongue.
The first release from Nouveau Electric was issued last month, the debut from the Levee Bandits, "Bé," a collaboration between Lost Bayou Ramblers and Louisiana vaporwave artist/remixer IMAGINE I AM; the track was mixed by Korey Richey (Lost Bayou Ramblers, LCD Sound System), mastered by Bob Weston and stems from a vast trove of LBR remixes undertaken by IMAGINE I AM.
Nouveau Electric Records is an independent record label based in Arnaudville, Louisiana with the mission of promoting experimental and traditional music inspired by the language, people, and culture of Southern Louisiana. The label will prioritize work sung or spoken in Louisiana French but won't be exclusively Francophone. It seeks to bridge the gap between tradition and evolution by introducing new creative visions to the centuries-old instrumentation and expressive vocabularies of the region.
https://www.nouveauelectric.com/home/
Louis Michot – fiddle, vocals
Spider Stacy – tin whistle, vocals
Ryan Brasseaux – t-fer, vocals
Jason Robira – Drums
Jeff Tobias – Saxophone
Bryan Webre – Bass
Jonny Campos – Electric Guitar
Tundaminous courtesy of Ash Reese– Cajunerd Media